Add a Dash of Professional Development to Your Blended-Learning Program
Teachers need exposure to technology and pedagogy at least 20 times to feel comfortable going forward, according to a blended and online learning expert.
When Cincinnati Public School teachers need extra training to help them better run their blended-learning classrooms, the ­professional development sometimes comes to them — rolling up in the ­district's Tech Truck, a training center on wheels, outfitted with current and emerging classroom teaching tools and a one-on-one coach for the educators.
Advertising its unique purpose with an eye-catching exterior, the large, boxy Tech Truck travels around the city and makes a stop two or three times a year at each of the district's 63 schools. 
That gives busy teachers a chance to tweak their skills with a minisession before and after school and during planning periods.
The Tech Truck is just one of many professional development formats that CPS leaders have deployed to provide the ongoing and in-depth PD that teachers need to fully embrace and succeed with the technology they're expected to incorporate into their pedagogy, says Erin Heinrich, one of the district's blended-learning coordinators.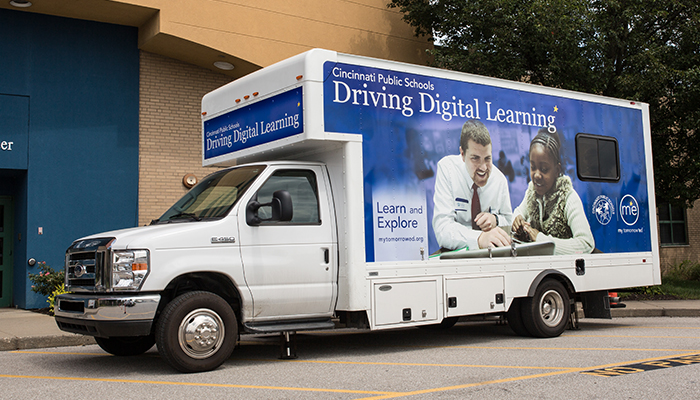 Cincinnati Public Schools' Tech Truck takes professional development to go. Photography by: Jonathan Robert Willis
That technology includes HP and Lenovo laptops, tablets, G Suite for Education, NEC projectors, eBeam, Schoology learning management system, LanSchool classroom management software and Kajeet hotspots (for students to use at home). Teachers also have a range of digital curricula at their disposal.
"A lot of the challenge is helping teachers make the transition from the sage on the stage to the guide on the side, in addition to helping them understand and leverage technology tools in the best possible way," Heinrich says. "In doing that, we realize there's no ­one-size-fits-all. So, we try to meet our teachers where they are because, just like our students, not every teacher learns in the same way."
Blended learning, where students split their time between in-class lessons and online work, has become increasingly popular in K–12 education due to its success. Realizing this, school districts like CPS have invested in training for teachers to get with the program. 
MORE FROM EDTECH: Read about the five key areas of professional development for K–12 teachers!
Take a Multifaceted Approach to Professional Development
CPS teachers can participate in traditional group-based workshops, ­one-on-one coaching, live webinars and self-paced online courses for their PD. 
In addition, at the end of the school year, the district puts on a two-day Innovative Practices Conference to give teachers new ideas on how to integrate technology into their pedagogy.
And within each school, technology coordinators and "rock star" teachers with blended-learning experience are available as mentors for other teachers.
This multipronged PD approach is working, says CPS CIO Sarah Trimble-Oliver: "We now have enough sustainability in the schools and enough teachers in every building with the know-how and experience to help other teachers. But we're still on the journey to making the transition. Helping our teachers using a blended-learning approach is an ongoing effort."
Teachers Need Exposure to Technology to Learn the Ropes
Most schools recognize they need PD to support teachers as they work to incorporate technology into the classroom, but schools too often use a strategy that lacks diversity and is one-stop in nature, says Amy Valentine, executive director of the Foundation for Blended and Online Learning.
"Teachers need to have exposure at least 20 times — at least 20 touchpoints of how to integrate this new approach into their ­classroom," she says. "It takes very strong training to give teachers the tools and support they need to feel empowered and to empower their students. Without it, it's just too easy to default to the traditional educational approach, which relies mostly on books and worksheets and using technology from a superficial perspective."
Officials at Highline Public Schools in Burien, Wash., agree that more is better when training teachers. 
The district, which has 20,000 students and 900 teachers, put PD front and center as it gradually incorporates blended-learning ­programs across its 32 schools.
Highline's Superintendent Susan Enfield says the school district realized early on that, despite the myths, PD begins with the recognition that teachers have varying comfort levels with blended-teaching practices. Even millennials who grew up with technology, she says, may struggle with the ­paradigm shift.


Photography by: Jonathan Robert Willis
"It's important to acknowledge that challenge up front so the discomfort our teachers may feel is allayed a bit because we're saying, 'Look, we get it. This is new, it's different, it's big,' " says Enfield. "Part of our strategy was, how do we provide multiple entry points for teachers who are at different places on that comfort continuum?"
To ensure that their PD strategy met varying needs across the district, each school is asked to identify a teacher leader to take part in the districtwide Personalized Learning Cohort, which also includes participants from the district's departments of technology, curriculum and instruction and career technical education, as well as the personalized-­learning team.
"Our vision is that those teachers go back to their school leadership and see where they need to home in on specific areas of work that are relevant to each school's goals. Our team then supports cohort members to help lead the work at their sites," says Rebekah Kim, Highline's executive director of teaching, learning and leadership.
To measure progress and ensure that training options are effective, the district seeks feedback from cohort participants and leaders to ensure ­content and learning is relevant and aligned to the work taking place in schools. "We want to know what they got out of it, what worked and what didn't," Kim says.
VIDEO: See where K–12 schools should invest to start a successful blended learning program!
Teacher-Led Professional Development Programs Are Effective
Enfield and Kim say that tapping into and supporting teacher leadership is the single most important step for ensuring a successful — and lasting — transition to blended learning. 
"If teachers are part of leading the initiative, their colleagues are going to respond very differently than if it's a central office person or an outside partner," Enfield says.
Let Teachers Set the Pace for Their Own Development
This concept is so important that Argosy Collegiate Charter School in Fall River, Mass., made it a point to give teachers a strong say in how and at what pace blended learning was implemented in their classrooms. 
"In the first year, it was really up to the teachers to figure out what it looked like for them," says Joshua Miranda, blended and online learning coordinator and a history teacher at ACCS. 
Teachers are also playing a more predominant role in ACCS training ­sessions. The school initially brought in a Google instructor to help teachers understand how to effectively use Google classroom and sharpen their ­understanding of ­blended-learning concepts.
After that, Miranda and other teachers took over the training. "If it's a teacher doing the training and saying, 'This is really cool,' then other teachers are more apt to listen," Miranda says. 
The teacher-centric training approach worked for Argosy Collegiate. By the end of the first year, 100 percent of teachers were effectively using technology in various ways within their classrooms, says Miranda.
"Now our professional development efforts will be focused on how to make blended learning that much better and that much more effective," he says.
Photography by Jonathan Robert Willis