#ICE18: Kristin Ziemke Explores Technology's Place in Literacy Lessons
The author and educator cracks open her toolkit for teaching students about how to read the world.
Kristin Ziemke believes that literacy is in the middle of experiencing an evolution of sorts. When people think about literacy — and the goal of increasing it — many educators don't make the connection to technology, but Ziemke does.
"We need to redefine what it means to read," explains Ziemke, author of Amplify: Digital Teaching and Learning in the K-6 Classroom and co-author of Connecting Comprehension and Technology. "We want students to read video with the same type of intensity that they would read informational text, and we want teachers to give kids that specific strategy and instruction about how to do that."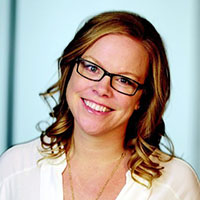 Kristin Ziemke, educator and literacy expert. Photo courtesy of Linkedin.
As a keynote speaker and session presenter at the #ICE18 conference — from Feb. 26-28 in Schaumburg, Ill. — the Chicago Public Schools teacher will discuss what it means to read the world and how teachers cannot just use new devices to teach traditional reading strategies, but also need to supply students with new opportunities to interact with information.
EdTech magazine sought out Ziemke to distill her knowledge for those who can't attend the conference.
Watch on #Periscope: #WATCH @KristinZiemke Discuss #DigitalLiteracy Tools that Improve Reading and Comprehension https://t.co/6VpPemkVVt

— EdTech K–12 Magazine (@EdTech_K12) February 27, 2018
SIGN UP: Get more news from the EdTech newsletter in your inbox every two weeks!
EDTECH: What does it mean to be digitally literate?
ZIEMKE: To keep it simple, it's looking at all types of information presented to us in a variety of different formats: print, media, texts, graphics, video, etc. If you apply the language of reading to new media and tech pieces, we can bridge the new to the known and ask, "What do you see? What do you think? What do you wonder?"
Just like you ask questions of a piece of text, students need to apply the same comprehension strategies and ask questions of a piece of media. I refer to it as reading the world. Yes, we can read print and we can read a graphic. There is more than one way to read or comprehend social media just as there is a different way to read a paper book.
EDTECH: What is one of your pet peeves as it pertains to using technology to promote literacy?
ZIEMKE: I don't like the term "digital natives." It promotes the assumption that kids know how to navigate technology. Yes, our kids have grown up in an era of technology, but they haven't received explicit instructions on how to use it as a tool for thinking. That's where we as educators must come in and must build bridges for them.
We really need to watch kids, notice what they are doing, look for moments where they stumble or struggle and become more responsive teachers than ever before, giving them that follow-up instruction that they need.
EDTECH: How can gaining digital literacy help educators build up their literacy goals for students?
ZIEMKE: My friend Jordan Schugar out of West Chester University of Pennsylvania did a ton of research about digital reading and digital literacy, and the issue that he has found time and again is that the majority of educators haven't received any professional development in digital reading. We have this whole new frontier that no one has been trained on. So that is a hurdle for us to overcome. Teachers must look at all of the number of ways that we as adults are reading across our day. That is a starting point.
Then we must start thinking about where our kids might be reading and look for some of the disconnects as well. Because we as adults read better in print, doesn't mean our first-graders do as well.
EDTECH: In your book, you talk about a student's literacy toolkit, what is a literacy toolkit and how can technology help expand it?
ZIEMKE: This is where we go back to what we know about pedagogy. What are the best practice[-based], research-based, teacher-tested and kid-approved methods. I go back and look at print and paper pedagogical examples for guidance, such as modeling. We know kids need to see a highly proficient reader model how they strategically comprehend text. If teachers are doing the "think-aloud" pieces in the classroom, kids need to see models for highly-competent technology users and embrace those languages and mindsets teachers use as we interact with technology.
Another piece we need to employ is the idea of specific mini lessons for how kids might read, view, listen, respond, collaborate and produce using technology. We can teach kids how to staple together a book in class and write a story. We also need to teach them how to write a story online and what a multitouch book (books with interactive features) might look like — how a blog is different from a multitouch book and a stapled-together book and be really clear about what some of those key elements are.
We also know that approaching it from a mentor-tech model will help students as readers, writers and mathematicians create something in the style of someone they admire, like for example, children's book author, Tomie Depaola or poet and young adult author, Jason Reynolds, as a mentor-tech model for poetry in the middle grades. We need to embrace mentor-techs and guide kids to look for high-quality examples online as well as name and identify quality sites for their age range.
EDTECH: What is one of your favorite classroom tools for advancing literacy?
ZIEMKE: Flipgrid is one of my favorite tools right now. It's almost like a classroom YouTube channel. The teacher creates a room for kids to access via an app or a link and they can record their thinking on video. It's like a reality show video confessional for the classroom. They can watch and respond to each other's videos. It's a great way to invite students to think without being hindered by the writing process.
Follow EdTech's coverage of #ICE18 on the official conference landing page.
FangXiaNuo/Getty Images
More On