Google Launches Classroom and Forms Updates Just in Time for School
Go back to school with more efficiency, organization and personalization.
After just its first year of release, Google Classroom boasted about 10 million students and teachers using it as part of their daily routines. Since its launch in 2014, the learning platform has released many updates with users specifically in mind — from ways to ease personalization to more real-time feedback options.
With a new school year poised to begin, the tech giant announced 10 new updates to Google Classroom and the popular G Suite tool, Google Forms.
"This year, we're sending teachers back to school with updates designed to help them do what they do best — teach," writes Google Classroom software engineer Sarah Wu in the announcement blog post.
Google Classroom Updates Boost Organization
Based on feedback from educators, a big part of the Google update focused on adding features to ease organization. One update makes it easier to facilitate more personalized learning — letting students take control of their own learning — by creating a dedicated page for each student in Classroom that breaks down the student's work by class.
"With this new view, teachers and students can see the status of every assignment, and can use filters to see assigned work, missing work, or returned and graded work," writes Wu.
Also, to assist with organization, Classroom now lets teachers (and students) reorder classes based on schedule and priority.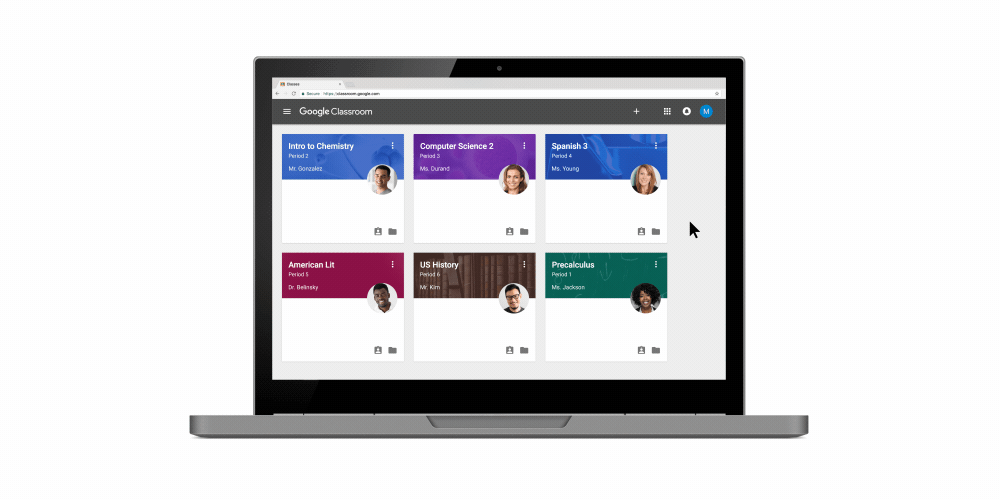 "Students can move classes around so that the first thing they see is the class they know they have work for coming up," notes math teacher Ross Berman in the statement.
Other updates let educators grade with decimals, add profile pictures via mobile, transfer class ownership and display a code to simplify students joining a class.
Other Updates Improve Classroom Integration and Utility
Integration is another big component of the latest Classroom updates. By better integrating the platform with School Directory Sync, admins now can use student information to set up Google Classroom for educators before classes even start. Another update supports apps like Quizizz, Edcite and Kami.
Many educators are already using Google Forms as a tool for midyear check-ins and quizzes. Soon Google Classroom will allow educators to import grades from real-time quizzes in Forms. Also, Forms now has question-by-question grading and feedback, improving the utility of the tool.
With the latest update, Google also launched a community of teachers who range from first-time users to longtime experts. Participants can access and share resources and tips through the Training Center or #FirstDayofClassroom.
"When teachers need help, they don't need to look any further than their fellow teachers," writes Google Classroom's Lindsay Rumer in a blog post. "For every teacher ready to use Classroom, there's a teacher ready to help."
Google