Hyperconvergence and SDN Help K–12 Districts Shed Late-Bloomer Image
IT managers share lessons that can help others in education ensure the success of their modernization efforts.
Think cutting-edge data center solutions, and ­financial services and ­e-commerce enterprises likely come to mind. Education and, more specifically, K–12 school districts? Not so much. But the time has come to question assumptions like these.
K–12 school districts across the ­country are leapfrogging their way to cutting-edge data centers using hyperconverged infrastructures, software-defined networking (SDN) and virtual desktops. At the same time, IT managers at these progressive schools are learning lessons that can help others in education ensure the success of their data center modernization efforts.
"Hyperconverged solutions let IT managers configure systems for specific types of workloads and applications," says Charles King, president and principal analyst with Pund-IT.
He adds that "virtualization, plus simple yet powerful management software, allows for far more flexible, seamless and cost-effective deployment options than in the old days of individual miniservers and single desktops."
Focusing on Data Center Performance for the Long Term
Community Unit School District 300, northwest of Chicago, is one K–12 system that is capitalizing on modern data center technology. The district has been aggressively rolling out new academic technologies in recent years: new science, technology, engineering and math labs as well as a one-to-one ­program using desktop virtualization and Asus C202 Chromebooks. To keep pace with these changes and new demands from administrative software applications, CUSD 300's IT department upgraded its primary data center with a hyperconverged infrastructure using Nutanix Acropolis appliances. "We needed to do a forklift upgrade to meet our current and future needs," says Jayce Bolhous, director of technology.

He and his staff settled on hyperconverged appliances, which integrate server, networking, storage and virtualization resources within preconfigured devices. Requiring a short implementation time, the units quickly overcame the performance limits of the legacy infrastructure. "The old environment just wasn't able to meet the growing need we were seeing for high IOPS [input/output operations per second] disk storage," Bolhous says.
CUSD 300 now supports those demanding performance requirements and reaps additional benefits such as cost-efficient scalability.
For example, event logs recently showed an extreme spike in demand, pushing the infrastructure to run at five times its normal ­utilization rate. "The Nutanix cluster handled that spike just fine," Bolhous says. "In the past, that would have caused an operational issue for the district."
Thanks to the embedded data compression and deduplication tools, the district purchases 33 percent less storage capacity than it previously had. "We're barely touching our available capacity, while before we were feeling swamped," says Wade London, desktop and server coordinator.
Nutanix's Prism management console also gives the IT staff a central view of the 120 virtual machines running across the seven hyperconverged modules. This helps technicians quickly analyze the entire environment to diagnose performance problems faster than when they had to stitch together performance data from multiple management tools.
Another attractive aspect to hyperconvergence: having a single vendor for questions about server, storage, virtualization and networking issues. But that means finding a company that offers strong support services, Bolhous says. "IT departments in education must wear many hats," he says. "Having a partner that you can rely on so you don't have to solve all of the district's problems yourself is invaluable."
Doubling Up to Serve Different IT Needs
Hutto Independent School District, near Austin, Texas, also put its data centers on the fast track to modernization. In 10 years, enrollment rose from 1,000 ­students at one K–12 campus to more than 7,000 pupils across 10 campuses. To support this growth, the IT department made an unusual move by implementing two different SDN solutions: VMware's NSX network virtualization and security platform and Cisco Systems' Application Centric Infrastructure (ACI). "We see the two as complementary solutions that serve different needs," says Travis Brown, director of IT.
Rather than simply implementing newer switches when units in two main data centers reached their end of life, the district installed the Cisco ACI SDN solution and stretched the networking fabric across both locations via a private fiber connection. This move upgraded the networking performance at a quarter of what a traditional hardware refresh would have cost, Brown estimates.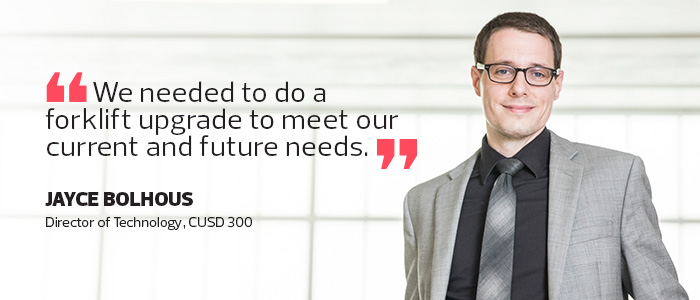 His team implemented VMware NSX in part to increase uptime for the district's extensive virtual desktop implementation. "Thanks to NSX, we can perform maintenance and upgrades on our core virtual desktop systems without having to schedule downtime," he says. Increased IT agility is another plus. "As a fast-growing school district, we are constantly moving classrooms and adding classes," Brown says. "Because SDN is policy- rather than command line-driven, we spend less time having to go in and reconfigure an entire system to make changes."
Security is also enhanced thanks to NSX's ability to create network micro­segments and embed security features into individual workloads, without imposing a performance hit.
Brown appreciates these payoffs but says having a reliable environment that can support ongoing innovation is equally important. Already, the district is experimenting with augmented and virtual reality through the Google Expeditions app. "We couldn't achieve success without having a solid infrastructure that can meet the demands of higher quality video and a growing virtual desktop environment," Brown says. "We're now identifying any legacy systems we can do without to free up financial resources and meet our users' future demands."
Callie Lipkin