3D Scanning Adds New Dimension to Learning
Tools enhance STEAM lab experiences, as well as district curricula.
Want to get early learners psyched about school? Give them easy-to-use 3D scanners and watch their creativity blossom. That's a lesson that officials at Pennsylvania's Berwick Area School District recently learned. "3D technology is getting rave reviews from the kids," says Technology Director Steven Christian.
The district unveiled a modern science, technology, engineering, arts and math (STEAM) lab for K–4 students in the new elementary school that opened in September. The lab includes 26 HP Sprout Pro desktop computers, which include built-in 3D scanners, projectors and touch-activated electronic mats. The lab's technology was made possible by the vision and support of the school board and Superintendent Wayne Brookhart, Christian says.
"We designed the lab to serve classes across the curriculum, including the music and art departments," he adds. "We included 3D technology because that's the world our students will be living in."
The students embraced the technology immediately, especially the youngest pupils who, after spending hours playing games on their parents' phones and tablets, have become adept at interacting with touch screens. "As soon as you put them in front of devices that are touch-capable, they immediately reach out their hands and begin using the equipment," Christian says. "It's second nature to them."
3D scanners replicate the exact size and shape of an object by using lasers to capture data points from the object's surface.
While sales data for 3D scanning in education isn't available, industry analysts see great potential for K–12 and beyond. "3D scanning is all about student empowerment," says Jim Flanagan, chief learning services officer at ISTE. "It teaches them industry principles such as human-centered design, which includes everything from ideation to rapid prototyping. That enables a broad group of students to deeply understand these important concepts."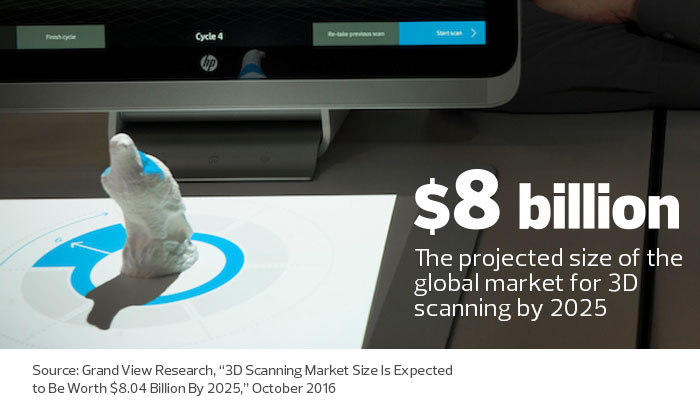 A Model for the Future of STEM
Berwick's new STEAM lab is a prototype for similar facilities slated for two other elementary schools later this year, and eventually for the middle school. "Our plan is for students to use 3D technology more and more as they move into the upper grade levels of the district," Christian says.
It's technically possible, but too time consuming, to regularly create objects using the lab's handful of 3D printers. No matter: Manipulating 3D images on-screen provides a valuable educational experience. "Taking advantage of the touch immersive capabilities of the machines, students are turning images around and merging different shapes together," he explains.
Christian acknowledges that images generated by the HP Sprout Pro 3D scanners aren't as finely detailed as those produced by high-end units. Nevertheless, they provide nearly instant gratification: Scanning coffee mug–sized objects, for example, takes only a couple of minutes.
"Attention span isn't an issue for our young students," he says. "We see these devices as the right tools for our needs."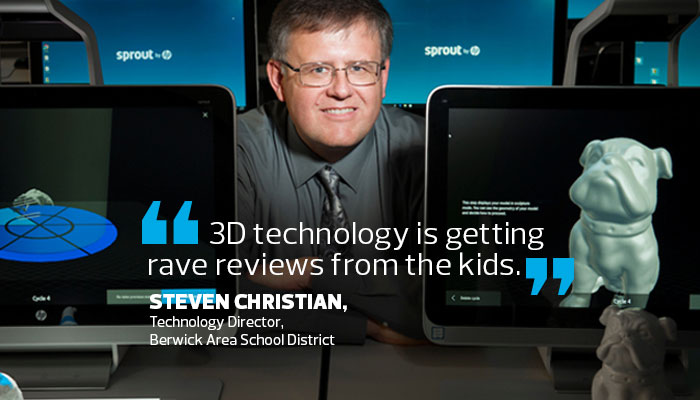 Low-Cost Tools, High-Impact Learning Outcomes
Across the country, at Mid-Pacific Institute in Honolulu, technology instructor Leilani Sills is helping seventh and eighth graders use 3D scanners to delve deeply in a course devoted to design thinking. "We focus on the process of creating prototypes for a given design problem, and then share 3D images of them with the class," she says.
Creating a bobble-head doll was one project's goal, so a student made a 3D scan of a classmate to launch the design process. Students use an under-$500 3D depth sensor as part of their 3D toolkit. The hardware is a model of simplicity: It plugs into a tablet and works with ­inexpensive modeling apps. Sills says the ­low-end scanners have inherent benefits, including scan and processing times that are faster than hardware capable of more detailed images.
The technology is fueling collaborative relationships. "Students have experimented with finding the ideal conditions for scanning," Sills explains. "Do they need certain lighting? Should they scan from a certain height? This allows students to take charge and discover for themselves what's ideal."
Costlier scanners, which deliver more detailed 3D renderings, are used in other Mid-Pacific classes. Heather Calabro, a curriculum developer now working in Connecticut, piloted a 3D-infused historical preservation class at Mid-Pacific. Students used 3D light detection and ranging (LIDAR) scanners to capture images of artifacts from local World War II battle sites and Honouliuli, a Japanese internment camp. "Scanning enables students to interact with history in the flesh — to sense it and experience it," she says.
Photography by John Emerson