Review: Google Management Console Helps Keep Control Over Small or Large Fleet of Devices
Administrators can regulate applications and extensions, and even view specific device activity.
Google's Management Console is a web service used by IT admins to ­control content and settings on devices within a school or district. It's successful not just because of its accessibility and ease, but also because it can scale to fit the needs of any sized school.
The console's cloud-based design eliminates the need for local servers — excellent news for any school that has experienced a local server crash or outage and lost hours or days of valuable teaching time or server-stored content. The Google Management Console renders onsite IT management obsolete. Any assistance or alterations can be made directly through the administrative account and is effective on all enrolled devices within minutes.
Enrolled devices can be altered specifically by the administrator for both teacher and student needs. A designated super-administrator for the domain can control applications and extensions, and even view specific device activity, all in one place.
Super-Admin Status Creates Efficiency
The super-admin also can appoint sub-admins to the account, and can control which settings the sub-admins are allowed to manipulate, such as app approvals, website approvals and bookmark preferences. As a super admin, I set up the console to force-download Google Docs to every Chrome­book within my domain, and it worked like a charm.
Enrolling new devices into the domain is speedy: Tap ctrl, alt, e and enter the admin username and password — done. Any device that has previously logged on must be reset to factory defaults and turned on again to be paired with a Google Class domain. So far, no students have been able to find a way out of their G Suite for Education account once the device was paired with the domain, so schools don't have to worry about students attempting to find a way around administrative settings.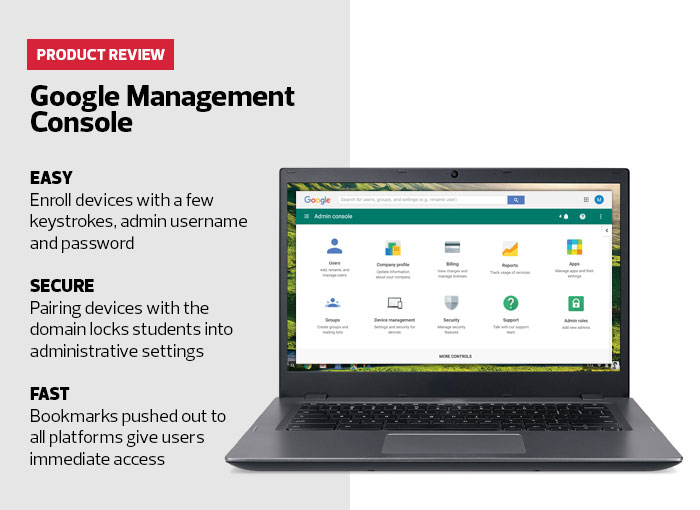 Easy to Follow User Interface Makes Permissions Easy
Question-mark icons located throughout the interface link to helpful explanations of each setting. Lightbulb graphics indicate what specifications will work on certain platforms and notify users if there are restrictions on the scope of certain controls.
All G Suite accounts grant free access to eight of the most efficient and necessary applications Chrome has to offer: Calendar, Classroom, Drive and Docs, Gmail, Google Talk/Hangouts, Google Vault, Sites and Contacts are all preinstalled and can easily be turned off or made available only on certain devices.
Chrome Management Console's Features Help Manage Tech Programs
As schools adopt the one-to-one approach to technology, students are given more responsibilities and are often allowed to take devices home. Schools may be justified in their fear about losing devices, but if the device is registered with a Chrome Class domain, the administrator can disable the device via the admin account. A personalized message also can appear on the lost tablet or computer screen requesting its return.
Chromebooks now support the Google Play store, which allows Android apps to be downloaded and accessed in addition to apps already available from the Chrome web store. This enables millions of free and commercial apps to run seamlessly both online and offline on Chromebooks and other Chrome devices which, until now, only ran Chrome applications. Administrative settings constantly are updated to ensure this monumental transition is made with ease.
Within device management settings, app management allows the administrator to choose apps to be installed immediately on either teacher devices, student devices or both. This feature ensures that access to any app store — Apple, Google or Chrome — remains strictly within administrative control, so users never have to deal with purchasing or downloading, as all the apps they need will download directly to their device via the cloud server.