Get the Most Out of 1:1 Technology Implementations with a Cloud Backbone
Three districts share tips on computing in the cloud with Chromebooks.
Last August, Huntley Community School District 158, located in a suburb of Chicago, rolled out 9,650 Chromebooks to its K–12 students and launched its one-to-one device program for the year.
Those students joined more than 20 million children worldwide who use Chromebooks as part of their educational journey. They also joined a trend that's picking up speed — 5.5 million of Google's Android and Chrome devices have been shipped to schools in 2015, according to research firm IDC.
K–12 IT managers are finding value in the ease of managing a fleet of devices via a cloud-based infrastructure. Chris Budzynski, IT director for Huntley CSD, says the time saved is immeasurable. "Of course, we have the management infrastructure in place too" Budzynski says. "That gives us confidence. It takes that concern off our plate."
Budzynski credits the optimized bandwidth that's available to support thousands of devices on his network every day.
"If we didn't have the robust network infrastructure in place, our one-to-one program would be a miserable failure," Budzynski says. "Since we've placed appropriate emphasis on building our network infrastructure, we have found that it's a benefit to the program, and we leverage the cloud every day."
Develop an Infrastructure Plan First
A great deal of planning goes into moving from an on-premises model to a cloud-based infrastructure, says Valerie Truesdale, chief of technology, personalization and engagement for North Carolina's Charlotte-Mecklenburg school system.
"Before we started our program, we had to assess the readiness of the schools, teachers and students," Truesdale says. "When we were ready, we suspended our equipment refresh program for our desktops and notebook computers," she says.
That program, which replaced PCs every three years, served 168 schools, 9,000 classrooms and 147,000 children, and stopping it was a huge savings for the district, she says.
The district was charged with developing a rubric to make sure the program would deliver benefits, and it worked with its local city and county to guarantee that the 135,000 Chrome­books distributed to students in grades three through 12 would have internet connectivity.
"About 54 percent of our district lives in poverty, so some students don't have connectivity in the home," Truesdale says. To bridge this divide, the district is trying to partner with libraries and other local organizations, but it is still a work in progress.
Across the country, the San Diego Unified School District created a 178-point educational rubric and tested every available device against it before launching its cloud-based program. Google Chromebooks scored at the top, but it was the cost of the devices that really sealed the deal, says Dan Stoneman, chief innovation officer with the district's integrated technology support services office.
"When you're buying 47,000 units, you compare the cost," Stoneman says. "We saved almost $10 million over the next lowest cost device."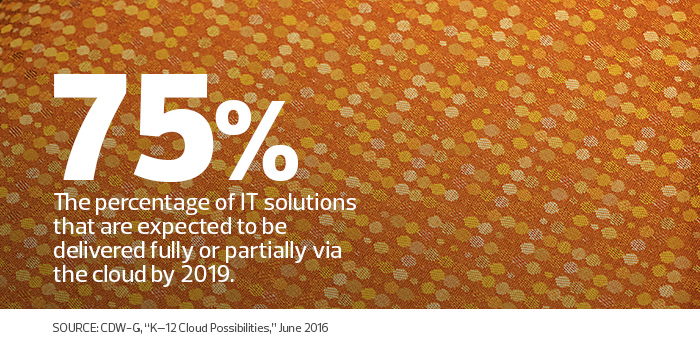 How Sturdy Is Your Network?
Once a device is chosen, experts agree it is imperative to make sure the existing infrastructure is able to handle the ­additional networking and connectivity issues that accompany cloud-based devices. Huntley CSD, for example, is currently in its fifth year of using ­cloud-based devices. Over the years, the district has switched from Android devices to Chromebooks, which is why one of the most important things for Budzynski is making sure his infrastructure is flexible.
"This is one of the most critical aspects of maintaining a program like this. We need to be flexible enough to support it long-term so that any time we need to make a change, we can do it," he says. "We don't have to reinvent our network infrastructure, but at the same time if we wanted to, we could."
When Budzynski started his program, he learned quickly that the network would need a little work — especially with wireless connectivity. "When we first deployed Chromebooks in our high school, we had one access point in each classroom and one in the common area to support a high number of students. We learned quickly how to more effectively provide high-density wireless coverage throughout our buildings," he says.
However, Budzynski says he couldn't just keep putting in new APs without running into channel interference. "It's a balancing act," he says.
To relieve pressure on the network, he installed Meraki's wireless infrastructure. "The Meraki dashboard allows us to configure our entire wireless network from anywhere," Budzynski says.
Charlotte-Mecklenburg's Truesdale had her own issue: making 1,100 portable classrooms into wireless ones. "We had to build a proxy of a data closet in order to do it well," she says.
Choices In the Cloud
The final step for IT is app selection and management. While there are plenty of educational and productivity apps to choose from, IT organizations using Chromebooks have only two options for making apps available: They can lock down devices, allowing teachers and students to download from a list of approved apps, or allow them to download anything publically available.
There are pros and cons to both strategies, says Budzynski, who offers his district an approved list of apps. "If you give people a list to choose from, the downside is, if something new and innovative comes out today, teachers can't just have their students download it. They need to put in a request and ask us to evaluate it."
App Management Made Easy
Budzynski, who manages all of his apps with Google Management Console, is currently working on an initiative that will take all of the apps and tools being used and put them into one web-based resource that explains terms of use, privacy policies, and compliance with the Family Educational Rights and Privacy Act (FERPA), among other elements. "We want to make it easy to explain," Budzynski says.
This "single pane of glass" view is one of the reasons cloud-based technologies are such a boon for school districts, says Mike Fisher, associate director of education technology for Futuresource Consulting. "Practically speaking, it means that a district purchasing large volumes of devices is able to save significant manpower in setting up and rolling out devices," he explains. "The Google education ecosystem is easy to use and easy to understand."
Truesdale also has a standardized set of usable apps. Students log on to the apps using Clever single sign-on, an important best practice, she says.
"Many of our children go to before- and after-school care and have multiple teachers. It was mind-boggling to think of having to pass sign-on information from teacher to teacher," Truesdale says. "Now, they have one sign-on, and it moves with them as they move from room to room."
Tools Keep Networks Safe and Secure
San Diego's Stoneman suggests that every district should have secure internet filtering. His schools use Lightspeed Systems' Web Filter.
Charlotte-Mecklenburg's Truesdale scans email and web browsing to identify activity that isn't appropriate for school. Her district uses Gaggle technology, which incorporates machine learning so new terms and slang are constantly updated.
Huntley CSD's Budzynski says that having backups is good practice with any network. He also runs SolarWinds Orion for network monitoring and alerting. "What does even a minute of downtime cost us? With 9,600 students, one minute means we've lost out on 9,600 minutes of educational opportunity," Budzynski says.
"We want to get as close as we can to zero downtime. With a strong backup and recovery program, we can simply restore to last night's backup. You're not going to prevent every issue, because people are always clicking on things they are not supposed to, but if you have a good recovery technology in place, you minimize downtime and risk."
Bob Stefko