Udonis Haslem Gives the Gift of Tech to a Miami School
The Miami Heat player and three-time NBA champion partners with CDW and Lenovo to give back to his community and put technology in kids' hands.
While children certainly seem to have a natural aptitude for embracing technology, without regular access to it, they are unlikely to achieve the tech proficiency needed to keep up with their digital-native peers.
Ensuring that students in schools with a high percentage of low-income students have access to technology is part of a broader problem within K–12 that's often referred to as the digital divide. This divide is acutely felt in South Florida, where "estimates for the number of Miami-Dade children without Internet range from 45 percent to 25 percent, according to the library system and the school district, respectively," reports The Miami Herald.
Miami Heat player Udonis Haslem considers himself an advocate for education technology. He believes that the kids in his old stomping ground in Miami deserve to learn without limits. As a sign of his commitment to ed-tech, Haslem partnered with CDW and Lenovo to donate 25 Lenovo Chromebooks on Oct. 27.
"There's so many barriers to getting kids motivated and educated, and this is a great way to educate them and fast-track the process of education," Haslem says. "I'm from this area. It's important to come back and give back to the community."
More importantly, Haslem wants to be a living example of how students can use education and hard work to propel themselves beyond their current circumstances.
"Everything around them is not bad. There are people who made it out of the same environment as them," he says.
Empowering Students Through Technology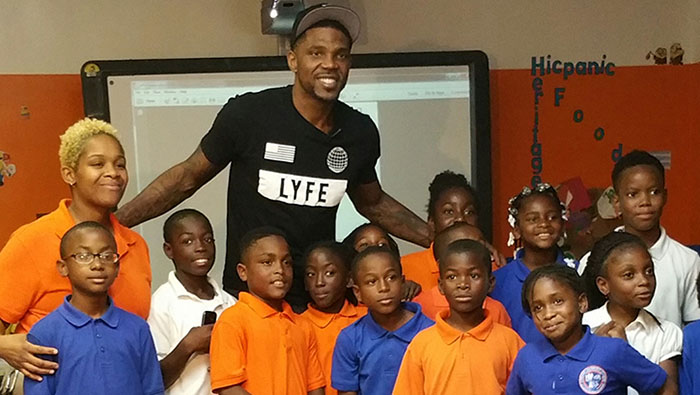 The B. Wright Leadership Academy is a private K–12 school established in 2013 by basketball player Brent Wright, who played alongside Haslem at the University of Florida and most recently played overseas for BC Oostende in Belgium.
Like Haslem, Wright was raised in the Miami community where he has set up shop with his leadership academy. Technology in particular is an integral part of the academy's vision, which aims "to not only teach students how to use technology, but to guide students in acquiring the skills needed to be successful in the 21st century."
For Wright, seeing the reaction from some of the kids as they received the Lenovo Chromebooks made the impact of the gift hit home.
"The kids are very, very excited. They were so shocked and stunned that some of them didn't know what to say," he says. "One boy said he never thought he'd be able to own a computer. His family simply couldn't afford it."
Chromebooks in particular have been incredibly popular with K–12 schools. The notebook devices, which are affordable and cloud-driven, were named as the best-selling devices in the K–12 market by IDC last year. Teachers, IT leadership and school administrators have praised the way the Chromebooks have changed their students and learning environments.
"The Chromebooks have been huge, and it has changed the classroom environment," said Donna Teuber, team leader for technology integration at Richland County School District Two in Columbia, S.C., in an EdTech: Focus on K–12 article last year. "Students are taking ownership of their learning."
In a statement of support for the gift, CDW reaffirmed its dedication to partnering with schools to build technology solutions that help drive more interactive and engaged instruction.
"We are delighted to contribute to B. Wright Leadership Academy alongside Udonis and Lenovo," says Jim Mitchel, vice president of marketing at CDW. "CDW is proud to continue our longstanding commitment to the education community by providing technology that enables students to maximize their potential."
The Impact of Tech on the Court and in the Classroom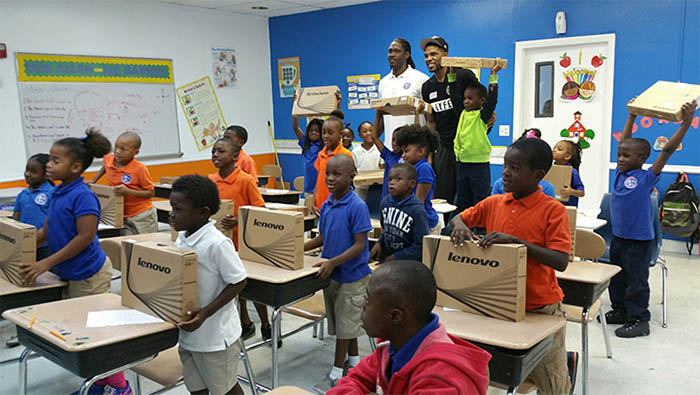 Using technology to train and do good work is something Haslem can relate to as an active Miami Heat player.
Haslem relies on his tablet to review game footage and statistics to understand what he did or didn't do well in a game, he says. This has become part of Haslem's daily routine as part of a much broader shift within the NBA to embrace technology on all fronts.
The technology that enables Haslem to be a better basketball player can also help students become extraordinary learners. Thankfully, the technology kids have access to is light years ahead of what Haslem had back in his day.
"We were using floppy disks," he says with a laugh. "Now you have kids that are 8-year-olds and using tablets better than a grown-up."
With the donation from Haslem, CDW and Lenovo, now a group of kids who might not have access to expensive tablets or smartphones at home won't miss out on the benefits of a modern learning tool like the Chromebook. Gifts and donations like these are critical for a small private school like B. Wright Leadership Academy, where funds for technology initiatives aren't always easy to come by.
"Technology is huge, but we don't always have the funding," Wright says. "We're very grateful Udonis and CDW came out here and donated those laptops."