Chromebooks: The Right Answer for Testing and More
The Mukwonago Area School District uses the Google-powered devices as a tool for high-stakes assessments and classroom learning.
With statewide testing related to Common Core standards slated to begin in the 2014-15 school year, Mukwonago Area School District (MASD) in Wisconsin needed affordable devices to deliver the online assessments to its 4,700 students. By purchasing Samsung Chromebooks, the district will be able to provide much more for students and teachers than testing hardware, says Kelly Kovnesky, MASD's supervisor of network operations.
"We wanted to bring in a device that would achieve multiple goals," she says. "It had to be a qualifying device for online testing initiatives, it needed to be lightweight and portable but still have a full-sized keyboard and decent screen size, and as we looked at alternatives, the suite of tools integrated into the Chromebooks became important to the teaching staff."
MASD comprises six elementary schools, a middle school and a high school, and serves students from nine communities near Milwaukee. A high-achieving district that Milwaukee Magazine has called one of the best in the city's suburbs, MASD has long invested in technology to support learning: As the Chromebook deployment began last spring, the district already provided at least one wired computer lab in each school, at least two desktop PCs per classroom and library media centers with 10 or more PCs in each building. The district also has tablets for student and teacher use, largely in the elementary schools. By the beginning of the coming school year, the district will have rolled out 900 Chromebooks, distributed on two or three carts of 36 at each of the schools. MASD has been using carts of mobile netbooks, which are not qualifying devices for online testing and will be replaced by Chromebooks for classroom use over time, says Kovnesky.
Budget constraints weighed heavily in the thinking of MASD's Technology Council — which is made up of administrators, teachers, IT staff and library technology specialists — as the group considered the district's options for a qualifying testing device with additional capabilities, says Kovnesky.
"Affordability was a big issue," she says. "The deployment with a tablet or PC would have been much more expensive and would not have provided some of the features that were included with the Chromebook. The Chromebooks were truly the whole solution, pricing out at about $300, including the warranty and management features."
But while cost always matters in public educational settings, calculating the potential value of a technology has more to do with how it meets the district's needs, says Robert Slane, principal of MASD's Section Elementary School.
"Affordable tools are only a great value as long as they work for us," he says. "We were looking for something reliable and easy for the kids to operate — we were impressed by the almost instant Internet access using the Chromebooks. The Chrome browser allows easy use of Web 2.0 tools, which may be the most important factor."
Looking beyond their enticing low cost to see how Chromebooks fit into an educational strategy is the effective way to deploy the devices, says Bill Rust, research director at Gartner Inc.
"The schools that have a particular purpose in mind and look for an affordable tool that can meet that need — and do other things in the classroom as well — are on the right track," he says. "Districts go wrong when they see the attractive price point and decide they'll just throw it out there to teachers and students and see what happens. Without a strategy, not much is going to happen."
The Perfect Gateway to the Cloud
MASD's Chromebooks wed Google software to Samsung hardware, with the result being a portal to the resources of the Internet cloud. The device runs on Google's Chrome OS, which is essentially the Chrome browser on a Linux kernel. Applications and data reside in the cloud and are delivered to the Chromebooks as services; instead of downloading software to the devices, users access web-based applications. Data is automatically and continuously saved as the user works. Application updates, including anti-virus software, are delivered automatically. Access to the popular Google Apps suite of web-based applications, including Search, Gmail, Maps, YouTube and Drive are built into Chromebooks. The devices are solid state but provide Flash storage so users can also work offline with access to Gmail and Google Docs for writing and editing.
Each Chromebook has an 11.6-inch display and a built-in, full-sized keyboard, but is only .7 inches thick and weighs just 2.4 pounds, including the battery. Battery life of 6.5 hours was a significant factor in the choice of the Chromebooks, says Eric Kirch, MASD's senior network technician.
"The Chromebooks stayed charged longer than anything else we looked at," he says. "We have seven classes a day and we needed something with strong battery life or connectivity becomes a challenge at the end of every day."
Dual-band 802.11n Wi-Fi connects Chromebooks to the Internet. They also have two USB ports, an HDMI port and are Bluetooth 3.0 compatible for additional connectivity. With no hard drive to heat up, Chromebooks don't require a fan, thereby making them lighter and quieter than many of the ultraportable PCs they resemble. Samsung Chromebooks boot up and offer Internet access in 10 seconds or less, which can be an important feature in a room full of fourth-graders, Kovnesky says.
"Instant-on is a huge advantage for teachers," she adds. "Waiting is not acceptable when you're in the classroom and trying to keep the attention of your students."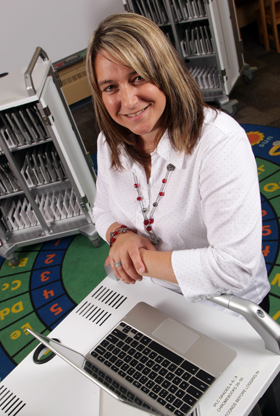 Photo: Paul S. Howell
"Instant-on is a huge advantage for teachers. Waiting is not acceptable when you're in the classroom and trying to keep the attention of your students," says Kelly Kovnesky of MASD.
For the MASD IT staff, the central management capability of the Chromebooks was an important selling point, says Kovnesky. Using one interface, the Google Apps for Education management console, IT has all the tools it needs to create user groups, push out applications and options, blacklist or whitelist web-based applications, track assets, manage logins and passwords and change network and device settings, among other functions. The console allows an administrator to change or upgrade every Chromebook at once, or to target a subset of them or even a single device.
"It's a very attractive option for IT departments in schools. Other products we looked at didn't provide effective management tools at an enterprise level," Kovnesky says. "The management console saves time and effort, which is extremely important since we can't necessarily add staff every time we add technology. Delivering a suite of tools like Google Apps that the kids are familiar with while maintaining granular control of what they can access is pretty powerful."
The flexibility of the Chrome platform and the capabilities offered by Google Apps makes Chromebooks an important development in personal computing, says Ezra Gottheil, principal analyst at Technology Business Research, Inc. Other advantages are the device's low total cost of ownership, resistance to malware, the elimination of software installation problems and the fact that Chromebooks are easy to use and manage in settings where there are serial users, he says.
"Chromebooks build on the popularity of tablets, which proved you could get a lot of computing power without having a PC, but they have the important extra feature of a keyboard and they are much easier to share," says Gottheil.
Chromebooks Offer Easy Implementation
Although the process of authenticating and enrolling each device in the management system is detailed, the district is already seeing time savings in the early stages of the Chromebook implementation. It takes MASD staff one day to completely prepare a cart of Chromebooks, in comparison to the seven days required to get a cart of netbooks up and running, says Kovnesky.
Once the individual Chromebooks are enrolled, providing access to applications and services is quick and simple, says Kirch. "You just go to the Google management interface and add certain icons," he says. "From the console I'm able to put things on the taskbar for easy use. It makes deployment easy, whether you're pointing to a specific Chromebook or to a group."
The most persistent technical issue in the deployment was the search for the cart that would best accommodate the cabling for the Chromebooks. After experimenting with some other products, the district has purchased 18 Bretford Netbook/Ultrabook 36 carts, which have a slightly larger footprint than some alternatives but provide space for effective cable management, offer easy access to front and back panels and are very quiet, says Kovnesky. The Bretford carts will be the MASD standard in the future, she adds.
Throughout the installation, Google has been responsive to inquiries and provided advice and support, says Kovnesky. And CDW•G account manager Oleg Krylov has been "absolutely instrumental" at all stages of the project, she says.
"I can go to him with a concept and he makes it happen for me. He put me in touch with the right people," says Kovnesky. "He's been a true technology partner. His input is invaluable and time-saving. He also knows me well enough to tell me we should consider something else, so we can be aware of all our options."
Staff development and training remains the most critical part of the implementation challenge. For users accustomed to a Windows environment, the new devices can take some getting used to, says Kirch. "I've been working with Windows PCs for a long time and the cloud atmosphere is very different for me as well as for teachers and students. You don't save data to your hard drive; it's automatically saved to the cloud. You don't download Windows apps; you access web apps on the cloud. But once you get used to them, the Chromebooks are very useful."
All of the district's teachers and the library technology specialists in each MASD school are receiving training with the Chromebooks over the summer and into the coming school year. Once the new school year begins, the library technology specialists will also be conducting training and will support students and teachers in the learning environment, says Kovnesky.
"Getting that done on a timely basis will be a challenge, but our library technology staff has always been supportive of new learning technologies," she says. "The devices are pretty intuitive and so far there haven't been many questions from users."
Right Tool for the Task
Slane says the staff at his school, which will pilot the district's Innovative Personal Learning Community (IPLC) program next year along with preparing for the Common Core assessments, are eager to use the Chromebooks. "It's a tool that's helping them to teach as they want to, but there's a lot to learn in terms of management, user rights, formatting, the most efficient way to use them."
Looking to the future, MASD will continue to provide a range of technologies to fit learning needs, says Kovnesky. "We offer our teachers a matrix to assist them in knowing which device is used for which learning strategy — they know if they use the Chromebooks they can only access cloud applications and tools and if they grab a laptop, they have a different set of tools."
As the newest addition to that matrix, the Chromebooks are a great fit to deliver the high-stakes online testing that lies ahead, Slane says. The Smarter Balance assessments adopted by Wisconsin in conjunction with the Common Core standards are substantially more rigorous and require more computing skills than the tests they replace. "The test taker will interact with content on the computer," he says. "We're anxious to have our kids on the Chromebooks getting used to using search engines, saving things in the cloud, using tools online and exploring apps because that's what the assessment will have them do as well."
The ILPC program is designed to provide students with a "connection to the world" using a mix of technologies, rather than one designated device per student, says Slane. As a device that's relatively easy to master, equipped with a full suite of useful applications and can easily be passed around, the Chromebooks will be essential tools for ILPC and other learning initiatives, he says.
"There are a million companies out there with great products," Slane says. "Our job is to try get down to the affordable tools that will allow kids to research, read, write, think, access information and communicate without breaking the bank and that's what I think the Chromebooks will help us do."
<p>Paul S. Howell</p>