Video Conferencing Takes Education to the Next Level
How schools are using video conferencing to bolster interactive learning.
The 7,900 students of New York's Massapequa Union Free School District are now participating in live pathology procedures and engaging in one-on-one discussions with NASA astronauts, thanks to a video conferencing initiative that kicked off in late 2009.
The district invested in Polycom's HDX 7000-series system, which includes a high-definition camera, microphone, interface box and remote control. "The Polycom units are very stable and provide a crisp image with little or no noticeable video or audio lag," says Executive Director for Assessment, Student Data and Technology Services Bob Schilling.
All nine school libraries and the central office are equipped with the systems. Where space constraints made fixed mounts unfeasible, the district deployed LG Electronics 42-inch large-format monitors, with built-in speakers, on Spectrum 55280 flat-screen carts.
To ensure seamless conferencing, district IT staff fine-tuned existing Cisco Systems networking switches and firewall settings to maximize quality of service. "When 25 students are taking time to conference and you're paying a NASA astronaut to participate, you don't want the system to freeze up," Schilling explains.
Forward Motion
Professional development has been key to the initiative's success. Each library media specialist was given an IP address and told to "think of it as a phone number," Schilling says. "Then, we suggested they gain confidence [using the technology] by holding intra-district conferences."
Support also comes from the Board of Cooperative Educational Services of Nassau County, which offers technology services and video conference content to 56 area ­districts. The organization loaned Massapequa a demo unit, ­facilitated a visit to a district that was already using the technology, and conducted post-deployment training, says Trish Iannacone, Nassau BOCES' supervisor of distance education services.
Interest skyrocketed during the 2010–2011 school year, resulting in 100 video conferences. More than 130 conferences already are scheduled for the current school year. — Anne Rawland Gabriel
Voices
"Our distance learning program has been considered a model for other districts because we focus equally on the curriculum and the video conferencing equipment. The collaboration between Technology Integrator Christina Hubley and me has been key to our success."
— Betti Percival, Technology Specialist, Timberlane Regional School District, Plaistow, N.H.

"We have video conferencing units in all but four of our 50 schools. We've been able to afford the equipment through E-Rate funds, district funds and federal grants. We've spent several years making sure teachers understand how to use it as a collaborative tool in the classroom."
— Dr. Dale Bosworth, Distance Learning Consultant, Richland County School District One, Columbia, S.C.

"We recently had seven veterans from six wars talk about their experiences via video conference with students from 13 schools. I found the Desert Storm vet, who teaches in one of our districts, through a Skype for Educators workshop."
— Sarah Martabano, Regional and Distance Education Coordinator (Southern Westchester Region), Lower Hudson Regional Information Center, Elmsford, N.Y.
Access Granted
Schools on a tight budget often forgo a lot of technology, but video conferencing doesn't have to be one of them. Most systems are E-Rate eligible, which means they can be purchased at a fraction of the cost. Aver's HVC310 is one such solution.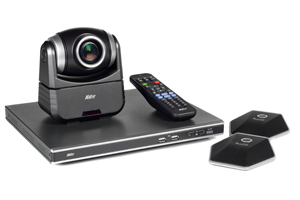 The H.323 standard, 30-frames-per-second system is equipped with a 5-megapixel high-definition camera and two microphones. Key features ­include an integrated multipoint control unit for collaboration across four locations; duplex audio and echo cancellation; and one-touch recording to a USB flash drive.
The system also includes two Aver-designed content-sharing tools. With VCLink, a mobile application, students and teachers can capture images and snapshots with their smartphones and share them with other conference ­participants. With ScreenShare, users can wirelessly share content from their computer during video collaborations.
By the Numbers
$5.4 billion
The anticipated value of the enterprise video conferencing and telepresence market by 2015
SOURCE: "Enterprise Telepresence and Video Conferencing Quarterly Market Size, Share and Forecasts" (Infonetics Research, September 2011)
7%
The percentage of teachers who access online content through video conferencing
SOURCE:"Deepening Connections: Teachers Increasingly Rely on Media and Technology" (PBS and Grunwald Associates, 2010)
69%
The percentage of organizations that have fully or partially deployed video conferencing
SOURCE: CDW•G 2011 Unified Communications Tracking Poll