Universities Use New Esports Programs to Entice Students
Opportunities in competitive gaming boost prospective student applications and campus engagement.
Universities have jumped on board with competitive gaming and seen several benefits, including growing recruitment and student satisfaction. 
Many institutions that have not joined the esports movement are seeing the gains of supporting such programs, leading to an expected surge in competitive gaming over the next few years.
As of 2018, 125 colleges and universities had developed a varsity esports program — a significant growth from the single pioneer in 2014 — and more are launching started all the time. 
The world of esports is new territory for many universities, and for those unsure of where and how to start, it may be helpful to look at existing programs that already found some measure of success.
MORE FROM EDTECH: Universities invest in esports academic programs.
University of California Invests in Esports Arena
In 2016, administrators at the University of California, Irvine recognized the potential impact esports could have on campus life and became the first public research university to invest in an esports program.
The university created a state-of-the-art esports gaming facility, which now stands at the heart of campus.
Students walking into the 3,500-square-foot space are greeted by the whirring of 72 iBUYPOWER gaming computers. Each of these gaming machines is paired with Logitech gear and high-quality gaming chairs to improve the student experience.
Through investments in top-of-the-line equipment and talent recruitment, UCI became a top-tier esports institution, winning the first collegiate esports national tournament in 2018.
UCI's commitment to esports does not stop at competitive play. The university is now host to a number of esports high school partnerships, including a summer program specifically for girls at its gaming facility.
By utilizing its esports program this way, UCI created another pipeline for student recruitment.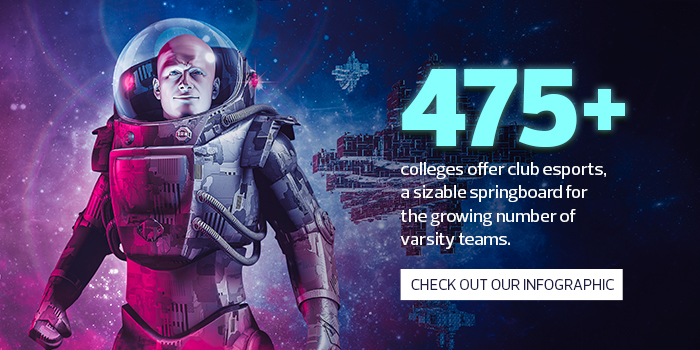 Smaller Institutions Boost Interest and Engagement with Esports
Colleges find including esports in campus programs can greatly benefit their student recruitment and retention rates, even if they lack the funds of larger universities. 
When Randy Sieminski, director of athletics at the State of New York University at Canton, started the university's esports program, prospective and on-campus students showed a surge of interest.
"Since launching the esports program in December 2017, we've seen tremendous uptake," Sieminski wrote for eCampus News. "We've been able to reach new groups of enrolled students who weren't previously engaged in campus life and recruit prospective esports students looking for an opportunity to compete."
The college now has two academic esports majors and a dedicated arena, which includes powerful Alienware computers and Extreme Network's Smart OmniEdge network to support over 30 students who compete regularly.
At Southern New Hampshire University, administrators experienced an impressive uptick in campus engagement after establishing an esports team.
"We had an incredibly large turnout. There were 110 students for tryouts, and another 100 signed up to be involved, as commentary, or just watching and being a fan," said Timothy Fowler, SNHU's first esports director. "I'm working on recruiting next year, for incoming students who might not have thought of coming to SNHU until they saw we had an esports program and they could try out for it."
The esports movement in higher education is still young, and interest is only expected to grow. Universities that have not joined the world of competitive gaming will want to begin planning now to stay ahead of the trend.
This article is part of EdTech: Focus on Higher Education's UniversITy blog series.

normaals/Getty Images
More On