Universities Invest in Esports Academic Opportunities
Higher education institutions take a multifaceted approach to the sweeping popularity of competitive gaming.
Higher education institutions are creating new academic avenues for students interested in competitive gaming as esports become far more than just a fad. 
Universities are ramping up investments in gaming centers and scholarship programs in order to recruit top talent to represent them in what experts are saying will be the next sports craze. 
The benefits institutions have reaped in student retention and recruitment from embracing competitive gaming on campus has gotten education leaders thinking about how else they can cater to students interested in the world of esports.
Forecasts from experts about the employment implications of esports are inspiring administrators to expand their approach to such gaming beyond the screen and into academic opportunities from business management to medical research.
MORE FROM EDTECH: Check out how universities are investing in esports on their campuses.
Esports Degrees Marry New Tech and Game Design
Unlike other professional and collegiate sports, the games that esports teams compete in change as technology and trends progress. 
Games like the current global sensation "Fortnite" — which announced earnings of $1 billion and 700 million hours in viewership just seven months after its release — can take hold of the competitive gaming world practically overnight, which means there are great career opportunities for future game developers.
At Ohio State University, administrators are working on a comprehensive academic esports program, which will include game design and production, according to a video made by the school.
"This curriculum will be one of the first of its kind in higher education, and will include undergraduate and graduate degrees, an elective course in esports content production, online certification programs for specialized credentials and a gaming speaker series," says Deborah M. Grzybowski, co-director of game studies and esports curriculum development and an associate professor of practice in Ohio State's department of engineering education.
With a brand new esports arena joining the facilities on campus, equipped with state-of-the-art equipment like virtual reality headsets and high-performing gaming computers, students will be able to explore the world of game design — and prepare to offer future esports athletes their next battlegrounds.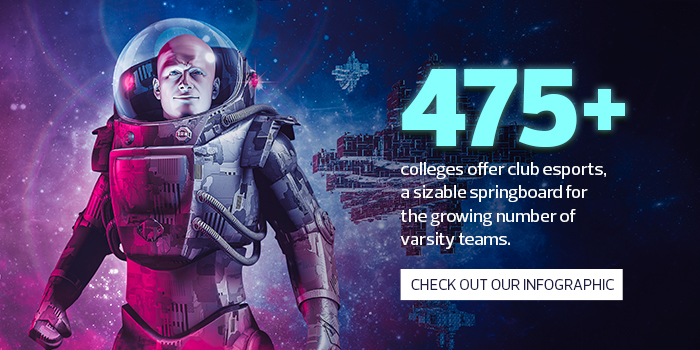 Universities See Opportunity in Esports Management
Market projections predict esports will reach $1.7 billion by 2021, with major U.S. media conglomerates clamoring to get a piece of the action.
If esports continues on its current trajectory, athletes and teams will soon need representation and management just like any other professional players. 
Realizing this, administrators at Becker College in Worcester, Mass., created the first esports management bachelor's degree earlier this year. 
Other universities — including Emerson College, The University of California, Irvine and Shenandoah University — have invested in esports management courses both in the classroom and online. Students will be able to gather skills in effective business communication and esports gaming technology and hardware. At UCI, students will experience how to build and manage live events through a hands-on approach at a brand-new, 3,500-square-foot esports facility built earlier this year. 
"The rapid growth of esports brings with it new jobs and demands from the industry. That translates to tremendous career opportunities for our students," Alan Ritacco, dean of Becker College's School of Design and Technology, said in a statement. "With a spirited college community that gets video games, adding esports management is a perfect fit."
gorodenkoff/Getty Images
More On