Why Esports Should Be on Your IT Team's Radar
Investments in gaming hardware and software can expand learning opportunities in a variety of academic disciplines.
Esports is growing quickly in higher education, with more than 100 member colleges in the National Association of Collegiate Esports. Approximately 50 of these offer scholarships for competitive gaming. 
All evidence suggests the trend is just getting started. One market researcher projects by 2020 the audience for esports will number 589 million. And among young people between the ages of 13 and 17, 72 percent consider themselves gamers. Statistics like these are motivating universities to establish esports teams, many under the auspices of college athletics programs, and to invest in state-of-the-art gaming facilities. 
While many administrators are starting to see the potential of esports, some are hesitant to pull the trigger when it comes to allocating resources to esports programs. Let's take a look at some of the benefits early adopters envision.
MORE FROM EDTECH: Check out how esports is finding its way onto college campuses!
Esports Offers a New Avenue to Increase Enrollment
Esports programs already show potential for boosting enrollment. When Ashland University in Ohio announced its esports program on Good Morning America, for example, approximately 500 interested students submitted applications to the university.
The ability to attract students is important as institutions increasingly compete with online degree programs and higher education alternatives, such as short-term boot camps. Esports can differentiate an institution and attract a more diverse range of students. 
Even if students don't actually play on the team, they can still enjoy the recreational benefits of an esports facility, organizing LAN parties to play with friends. And as esports continues to grow, so are the related academic courses that institutions offer, including programs in game design and esports management.
Esports Arenas Can Serve Diverse Purposes on Campus
Understandably, budget-strapped administrators may be challenged to see the value of investing in a facility designated to host video games. That's why it is important to understand how these arenas can serve other academic purposes too. 
For example, many professors would like to incorporate high-quality video editing software or more sophisticated hardware into their curricula. Because esports facilities require high-performance CPUs, graphics cards and visual displays, spaces designed to support gaming would also be able to handle anything professors in other disciplines might throw at them.
That flexibility changes the conversation from investing solely in an esports facility to introducing a multifunctional lab on campus. For example, one institution's esports space houses an advanced audiovisual system that supports both esports competition streaming and broadcasting booths. For journalism and communications students, these technologies offer access to advanced tools they'll likely see in the workplace.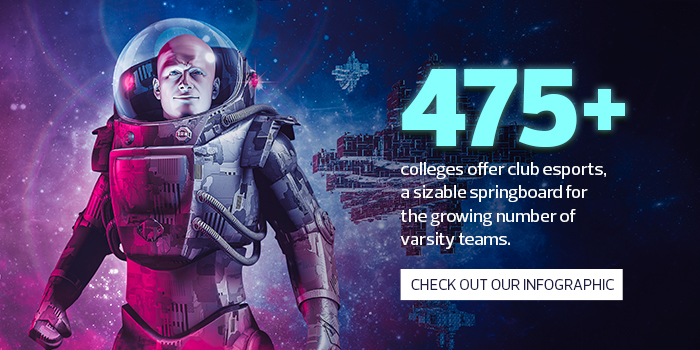 What Universities Need to Create an Esports Arena
Fortunately, most institutions already have the networking bandwidth to support competitive gaming. That means the primary investments will come down to hardware. To reap the greatest benefit, it's important to understand the unique requirements of competitive gaming.
Administrators who aren't familiar with gaming may assume that general-purpose computer labs will be sufficient for a new esports team. Although it's not imperative to provide the most advanced hardware on the market, competitive play does require a set of baseline capabilities. 
For most arenas, institutions will want to invest in computers with GTX graphics cards. HP's OMEN, MSI's Aegis or Dell's Alienware line of computers are reliable picks, complemented by a monitor such as the Acer Predator.
In addition to computers, players need peripheral accessories, such as gaming keyboards and mice, that offer higher performance and more customization than regular tools. A good headset, with noise cancellation and surround sound, is key for competition. In many games, sound is critical: Players can actually hear footsteps behind them, so the less noise interference, the better. 
Furniture is also important. Gamers may sit for an extended period in practice and competition, so chairs should be ergonomic and breathable. 
It's also important to note that esports facilities vary widely, and it's relatively easy to start small and scale up as a program grows. One university may start with a dozen or so gaming stations, while another may install a full-size arena large enough to host competitions. On the large side of the spectrum, the arena at the University of California, Irvine offers more than 90 player stations and Boise State University has more than 100.
As esports continues to grow, these investments are sure to pay off. And regardless of market expectations and potential viewers, universities would do well to keep an eye on what esports programs bring to campus: new digital opportunities for all students and staff and a way to engage students through an activity they love.
This article is part of EdTech: Focus on Higher Education's UniversITy blog series.

gorodenkoff/Getty Images
More On