Review: Dell OptiPlex 7460 Offers Powerful Computing with Simple Setup
This rugged device is painless to install and integrates easy management tools for K–12 classrooms or computer labs.
Within the family of Dell computers, the OptiPlex line is designed to have the most stable computing build. Constructed of reliable, tested components that can be deployed for years without conflict, interruption or obsolescence, the new Dell OptiPlex 7460 is the top of the new lineup.
Perfect for school systems with limited IT support, the OptiPlex 7460 offers an all-in-one model with one of the easiest setups ever created for a desktop-class system. Simply place the monitor, which contains all of the computing hardware inside, and attach a power cord. Even a network cable is optional when using Wi-Fi for connectivity, and both the keyboard and mouse are wireless. The base unit can be locked down using an optional Kensington security cable with the included mounting bracket.
OptiPlex 7460 is ready for nearly any multimedia or educational program thanks to its Intel Core i7 3.2 gigahertz processor, large 23.8-inch display and stereo sound bar. A 2 megapixel camera and a microphone array provide additional features that will prove useful for distance learning. Unlike most monitors that might pose a security risk with an always-on camera, the 7460 mounts its webcam inside the monitor and must be manually clicked to pop up and deploy. And because busy K–12 classrooms are likely more chaotic than most offices, the entire system has been ruggedized to military standards.
MORE FROM EDTECH: Check out how K–12 schools are updating their computer labs to fit modern learning.
OptiPlex 7460 Keeps K–12 Classrooms Connected
Even the line's wireless networking was designed with classroom settings in mind. It uses the newest 802.11ac Wave 2 technology to ensure quick connections to access points, and can reserve bandwidth for specific users or applications as needed. It can also fall back on its Gigabit Ethernet port, although that would require adding a CAT 5 cable to the back of the unit.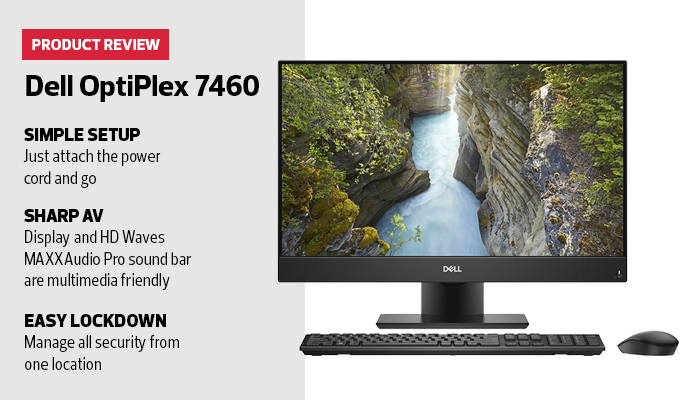 Finally, the Dell Client Command Suite, using some extremely powerful tools, allows easier management of every 7460 within a school. Rarely has it been easier for K–12 classrooms to deploy such powerful and reliable computing hardware with such little effort. The OptiPlex offers a reasonable investment that can pay dividends for years to come.
MORE FROM EDTECH: Here are four ways K–12 schools can boost their wifi.
Inside the New Dell Client Command Suite
Physical, manual set up of a single Dell OptiPlex 7460 takes about five minutes. Often, schools want to deploy, and then manage, quite a few units in classrooms or computer labs. Rather than getting bogged down trying to configure the exact programs, permissions and security levels for every one, Dell's new Client Command Suite offers a powerful set of free tools that can be used to configure everything at once from a central location.
The suite can be a real asset for schools with limited IT support and workers. Instead of spending days or weeks configuring and monitoring individual systems, units can be set up quickly and then managed using the software tools. For example, administrators can add specific programs they want students to access, and then push them out to each client, and even prevent others from being installed.
The Client Command Suite is easy to use and extremely powerful, allowing detailed control of nearly every aspect of deployed 7460s. For example, setting up critical security and policy rules, such as BIOS passwords and device boot order, can be done in just a few minutes, and then pushed out to every system in the network, or just to select ones. That way, system groups can have different policies based on users if needed. More robust security can be configured for systems being used communally by students compared to teacher-only machines, for instance.
Some of the most advanced features, such as how an individual system should react when its TPM security system encounters a specific alert, can be configured easily thorough the management software. Even better, the Dell Client Suite can be used to remotely troubleshoot systems that are experiencing problems through integration with Microsoft System Center and LANDesk. And patching systems becomes nearly a one-touch process.
While individual OptiPlex 7460s are extremely easy to physically set up, the long-term value for education is likely found in its integration with the Dell Client Command Suite. Stretched IT teams will find that they can manage, protect and maintain a nearly unlimited number of Dell units, and keep teachers teaching and students learning without any technical interruptions. 
Dell OptiPlex 7460
Processor: Intel Core i7 3.2GHz
Display: 23.8-inch IPS LED
Hard Drive: 500GB SATA, 7200 rpm
Graphics: Intel HD Graphics 630
Memory: 8GB DDR4 SDRAM
Dimensions: 21.3x13.5x2.5 inches
Weight: 13.3 pounds
More On