How Modern Learning Environments Support Numerous Pedagogies
K–12 schools redesign classrooms to emphasize openness, flexibility and collaboration.
When Neosho Junior High School teachers and students moved into a sleek, new campus last August, they said goodbye to traditional classrooms and hello to modern learning spaces that encourage mobility, collaboration and new ways of learning.
The new school in Neosho, Mo., ­features spacious, glass-walled classrooms that open into common learning areas. Each classroom is furnished with tables on wheels and stackable chairs that allow the rooms to be easily reconfigured as activities change. And with fast Wi-Fi, students can access G Suite for Education and other cloud-based educational apps on their Chromebooks.
The two-story building also includes a makerspace and comfortable chairs in the library, a large courtyard with a covered patio that can serve as an outdoor class­room, and an Innovation Station that houses a computer lab, 3D printers, a video and audio production ­studio and a workshop where students build things.
"Everything is built toward an open environment and geared toward collaboration," says Scott Harris, Neosho School District's technology director. "We have more group-based learning going on, but we also accommodate individual instruction. Our goal is to enhance learning, and it works. Students are more engaged, and schools have ­better retention."
SIGN UP: Get more news from the EdTech newsletter in your inbox every two weeks!
Enable Different Styles of Learning with Flexible Classrooms 
Neosho has joined a growing number of K–12 school districts that are making classroom layouts more open and flexible. These new learning spaces, paired with technology, allow educators to more effectively adopt different pedagogies to improve education, such as blended, personalized and project-based learning.
Studies show that modern learning environments improve student performance. These new classrooms, combined with natural lighting, flexible furniture and mobile devices, audiovisual equipment and a robust Wi-Fi network, foster ­creativity and enhance students' well-being, which in turn make the spaces more conducive to learning, says Chris Johnson, interim program director and assistant professor of educational technology at University of Arizona South.
"This is the next revolution in education," Johnson says. "Space impacts learning, even more so when you are trying to do innovative teaching. A ­normal ­classroom with rows of desks inhibits what teachers can do in a classroom."
Create a Neighborhood Vibe with Classroom Design 
Before designing a new school for its 700 junior high students, Neosho School District officials brainstormed with teachers and visited other Missouri schools with unique classroom designs to help them generate ideas, says Neosho Junior High School Principal Jenifer Cryer.
"We had conversations about the types of classroom designs that would give students the most flexibility, so we could facilitate different kinds of learning and they could meet in small or large groups," she recalls.

Photo: Adam Murphy
Neosho's new junior high school splits seventh- and eighth-graders into six distinct neighborhoods, each featuring five classrooms that flow into each other and open into a central collaborative learning space. Two classrooms in each neighborhood have a retractable whiteboard wall in the middle, which can open up and allow teachers to turn the smaller rooms into one larger classroom if they want to combine classes for a project, she says.
About 125 students and a faculty team that teaches core classes, such as English, math, science and social ­studies, are assigned exclusively to each neighborhood. "It becomes a school within a school," Cryer says.
Each neighborhood team of teachers uses the new classrooms to provide more individualized instruction and have their students pursue hands-on learning activities and work on ­interdisciplinary projects.
"Students move back and forth all day in their neighborhoods to get their projects done," Cryer says.
Bryan City School District in Bryan, Ohio, designed a similar layout for its new joint building for middle and high school students, but each classroom is built with a garage-type door that opens into a common hallway with diner-like booths and ­glass-enclosed meeting rooms for collaboration, says Tom Karnes, the district's technology director.
"When students ­scatter throughout the classroom and into the hallway, teachers can walk around and still see all of them," Karnes says.
Chromebooks, Wi-Fi and AV Equipment Enhance Learning 
Technology helps facilitate new ­pedagogies in a modern learning environment, including the flipped ­classroom approach, where students learn at home through short video ­lectures and reading assignments. This frees up class time for discussions and collaborative activities, educators say.
In Neosho, the IT department equipped every seventh- and eighth-grader with Lenovo Chromebooks this school year. To ensure fast internet speeds, IT staff ­blanketed the school with about 100 HPE Aruba 802.11ac wireless access points, including one AP per classroom, Harris says.
The district standardized on a ­cloud-based learning management ­system where students can access digital learning materials and turn in school work. One educational application ­provides self-paced interactive lessons that ­students can work on individually or together as a class, while another app allows teachers to pose questions that students can answer by writing a paper or recording audio or video.
"Like flexible seating, it allows ­students to have choice," says Mandy Lybeck, the district's educational ­technology director. "Maybe a student wants to record a video or make a ­presentation or type something out using Google Docs. Students have ­different options to demonstrate ­mastery of a topic instead of using the cookie-cutter approach of everyone turning in the same thing."
District IT leaders say it's important to include IT as part of the planning and design process for a new building or new classrooms. At Bryan CSD, Karnes made suggestions on network cabling to make sure there were enough Ethernet drops so he could install a Cisco Meraki wireless AP in every classroom, as well as audiovisual equipment.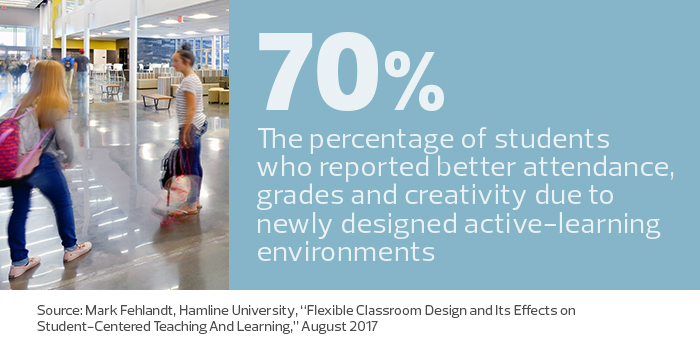 Photo: Courtesy of Sapp Design Architects
Each classroom in the new Bryan Middle and High School features a 75-inch interactive flat-panel display, which works like a giant tablet that teachers can use for presentations or to show videos and websites. Each booth or meeting room in the hallways includes a 42-inch LCD panel that ­students can connect to their Chromebooks to display their screens.
Teachers are also equipped with wireless microphones, and ceiling speakers are installed in each corner of every classroom. That ensures students can hear videos and their teachers because sound is equally distributed, Karnes says.
Flexible Furniture Lets Districts Build Modern Learning Environments 
Flexible furniture goes hand in hand with modern learning spaces and allows faculty and students to easily configure rooms for lectures, individual work, small groups or classroom discussions.
Teachers, for example, can push ­several trapezoid-shaped desks together to form triangles or half-circles to ­facilitate discussion and collaboration, says Sue Wilson, director of instruction at DeForest Area School District in Deforest, Wis.
DeForest began building modern learning environments a few years ago in an effort to shift to a student-centered approach to learning. The district recently remodeled two elementary schools with newly designed classroom spaces and flexible furniture.
Those elementary school classrooms feature a variety of desks (including standing desks), ball-shaped chairs and stools that wiggle. Students have different sitting preferences. Giving them multiple seating options improves their comfort level, which fosters learning, Wilson says.
"Our research shows that kids need to move," she says. "I was just in a fourth-grade classroom. Some kids were sitting under a table. Some were sitting in a window seat. Some used taller tables and stood, and others used low tables and sat on the floor."
Back in Neosho, the junior high school has desks and chairs of all shapes and sizes. Common learning spaces have a mix of square and circular tables and triangular soft seats and cushioned benches to sit on.
In the classrooms, the district has standardized on collapsible rectangular desks and stackable chairs, which ­faculty can push off to the side when the space is needed.
Make Room for Continuous IT Improvements 
Moving forward, Neosho School District plans to further improve its classroom spaces by building a new elementary school, replacing one that had been damaged by a tornado. The new school, which will open in time for the new school year, will have the same open, flexible design, Harris says.
As for the new junior high, Harris says he plans to upgrade the school's existing interactive whiteboards with new 75-inch flat-panel displays and will add charging stations as budget allows.
Overall, the new junior high building, with its modern learning environment, is making a positive educational impact, Lybeck says.
"Flexible furniture is amazing," she says. "Teachers can set up rooms the way they need to for different activities. The students have the flexibility to sit where they want to, and with Chromebooks, they are mobile and have diverse learning materials in their hands. It's exciting."