How to Roll Out Chromebooks for Your District in a Jiffy
With proper planning, training and IT investments, speedy deployments can be successful.
In August 2016, the tech team at the East Baton Rouge Parish School System in Louisiana was loading up new Acer Chromebooks to be delivered to the district's 87 schools when the area was hit with a catastrophic storm. 
Flooding closed schools for two weeks, and officials had to reschedule teacher training sessions, which could no longer be held at the district's water-damaged professional development center. The storm even ruined hundreds of the Chromebooks themselves.
"Some devices were lost in our staging area, and some were lost in the schools," recalls Karla Kiper, director of technology integration for the district. "We had nine campuses that were flooded."
Still, the district needed to roll out 14,000 Chromebooks before the new online state test in March. That meant updating IT infrastructure, getting devices into classrooms and ensuring that teachers and students were comfortable using them — all while enhancing (rather than disrupting) day-to-day instruction.
"There was a distinct time crunch in terms of preparing all the devices and making sure that they had the proper level of connectivity, that teachers and staff knew how to troubleshoot them and that students knew how to use them," Kiper says.
SIGN UP: Get more news from the EdTech newsletter in your inbox every two weeks!
Preparation Is Key for Successful One-to-One Deployment
In the months between the flooding and the state testing, the district was able to reschedule teacher training at school sites and ensure that instructors had the support and connectivity they needed.
Kiper says district officials "felt a lot of relief" once students made it through the initial stages of state testing without any major IT issues.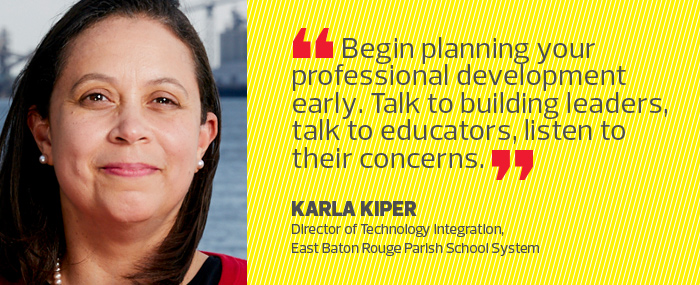 It's a common conundrum: School districts decide to deploy Chromebooks to meet testing deadlines or satisfy passionate administrators, leaving educational technology professionals to figure out how to deploy the devices effectively — often midyear, and within an accelerated time frame. It can be done, but not without careful preparation.
"If a school is going one-to-one, before they roll out devices, they need to do a full audit of their infrastructure and their Wi-Fi capacity up front," says Nancye Blair Black, an independent consultant and instructional coach for the International Society for Technology in Education (ISTE). "Also, a lot of schools forget to think about what they're hoping to accomplish by getting those Chrome­books. That's really important." 
Strong Wireless Infrastructure Supports Successful Deployments
One of the most common — and one of the most detrimental — mistakes that school districts make when rolling out Chromebooks is failing to upgrade their wireless networks to accommodate the new devices. Because students use Chromebooks primarily to connect to cloud-based applications, network disruptions can be very frustrating.
Clinton Public Schools in Oklahoma has rolled out 200 brand-new Lenovo Chromebooks every winter for the past few years in preparation for spring testing, adding nearly 1,200 devices for its 2,300 students.
When the district began deploying devices several years ago, teachers and students had difficulty keeping a consistent wireless connection, says Technology Director Jason Bengs.
"Our infrastructure couldn't handle it," Bengs says. "It caused problems in the classroom. If teachers are not able to connect and use the devices, they'll set them aside, and the Chromebooks become paperweights."
At Beekmantown Central School District in New York, officials have rolled out about 1,900 Dell and Acer Chromebooks over the past three years.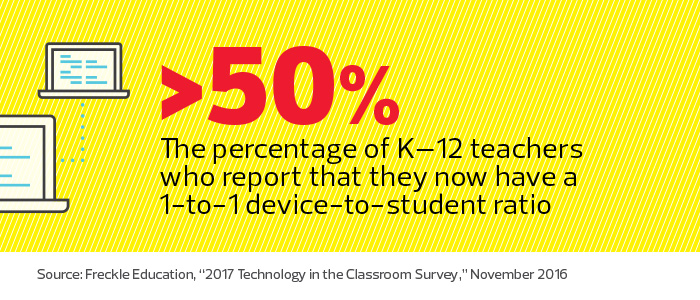 The district planned its deployment over a full school year, taking teachers and IT workers on site visits to other schools and putting leftover school construction funds toward new Cisco Power over Ethernet switches and 802.11ac wireless access points.
While a network refresh can be expensive and time-consuming, there are simple steps that ­districts can take to ensure that students and teachers are able to make the best possible use of their new devices. 
Black says it's essential for the technology team and pedagogical leaders to have discussions about the instructional goals of a Chromebook deployment, so that concerns like ­bandwidth and content filtering can be planned for, taking into consideration how students will use the devices.
Introduce New Tech to Teachers Before the Students
"Begin planning your professional development early," advises Kiper. "Talk to building leaders, talk to educators, ­listen to their concerns." 
The best training sessions, she says, are hands-on and allow teachers to use Chromebooks to collaborate with one another on documents or presentations in the same way that students will be expected to do. "If that's a new thing for them, they're usually pretty amazed at how easy it is to work together." 
Kiper says that management software can help increase teachers' comfort with Chromebooks. East Baton Rouge uses GoGuardian, allowing instructors to monitor what students are doing on their computers.
"That helped put teachers at ease," she says. "They know students won't be misusing the devices." 
During the first year of the Beekmantown Central School District deployment, the district started rolling out devices several weeks into the school year (one grade level at a time) to provide additional support.
Now, the devices are distributed to students at the beginning of the year. Teachers receive Chrome­books the previous spring so that they'll have the chance to familiarize themselves with the product and software, and they're also given practical professional development. 
Superintendent Dan Mannix says that, even as Beekmantown's Chrome­book program has matured, the district continues to make "midyear revisions and end-of-year corrections" to refine both the IT and pedagogy behind the deployment. 
"In this day and age, it's about being prepared to change," he says. "If you're not prepared to change, you can't go on this journey." 
Now that the Chromebooks are in hand, how do you keep them safe off campus? Find out at edtechmag.com/k12/securechromebooks.
Daymon Gardner