Ray Allen Foundation Gifts Computer Lab to Miami-Dade Middle School to Help Bridge the Digital Divide
For schools that are saddled with outdated technology and inadequate resources, technology gifts can be a valuable lifeline.
There's nothing new about kids going wild for a basketball superstar. Names like Michael Jordan, Shaquille O'Neal, LeBron James and Kobe Bryant can stir up feelings of delight, awe and inspiration in children when mentioned.
But the palpable excitement and energy in the auditorium at Lake Stevens Middle School in Miami Gardens, Fla., seemed different. Ray Allen, a retired basketball player in his 40s who last played for the Miami Heat in 2014, was visiting the school on behalf of his Ray of Hope Foundation, not to scout the next great ball player, but to bring a gift: a classroom computer lab outfitted with modern technology.
Allen isn't a technologist by trade or hobby, but he believes students must have access to modern tools for learning because education is essential to keeping American kids competitive.
"Our classrooms still look the same as when most of us adults went to school," said Allen. "I spent a lot of time in Asia, and a lot of the kids in Asia have computers."
This investment in children isn't just about technology for Allen. He sees this form of investment as a way of combating some of the broader problems that plague society.
"So many different issues — homelessness, obesity, etc. — if we put money into our infrastructure and our kids, that will shore up a lot of the problems we get on the back end," he said.
For Lake Stevens Middle School Principal Jorge Bulnes, the gift of 30 Acer Veriton desktop computers and flat-screen monitors is a way of putting his students on equal footing with those who go to school in wealthier parts of the country.
"I want to say thank you for your accomplishments and your efforts to close the digital divide," Bulnes told Allen. "Your contribution will more than help to close that gap and remind students that we have people outside of the school and outside of the community who are willing to make tangible, sound investments in them."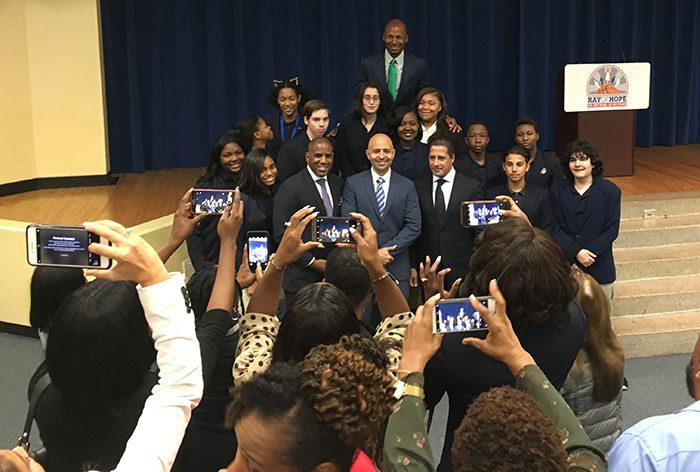 While Principal Bulnes was beaming with pride at the all-day event, he wasn't the only Miami-Dade County Public Schools official expressing his gratitude to Allen for the technology donation. Superintendent Alberto Carvalho also attended the unveiling of the computer lab and commended Allen, his wife, Shannon Walker Williams, and the Ray of Hope Foundation for committing to the community in this impactful way.
New Computers Open Up New Possibilities for Students
If you ask Principal Bulnes, the change that has taken place over the past two months is on par with those incredible home makeovers, where a shabby shack is transformed into chic living space.
"To take room 203 — which two months ago was an old lab that needed repair, filled with dust, the lights weren't working very well — and to renovate it into a 21st-century state-of-the-art computer lab was humongous for our school," he said.

When it comes to pushing boundaries, Acer, which cosponsored the event and supplied the technology for the lab, has focused on empowering students with the most flexible and adaptive tech possible. Derek Shealy, an Acer representative who was on hand at the computer lab unveiling, knows that equipping kids with technology can change the trajectory of their educational journey.
"We partner with Microsoft, we partner with Google to make a lot of different form factors, such as desktops and laptops, that roll out in schools districts," said Shealy. "The handwriting and touch capabilities are built into a lot of them too."
Acer isn't stopping at touch screens — the company is looking ahead to emerging technologies such as virtual and augmented reality for the education market.
"We actually are doing VR, which is something we'll be seeing very soon in education. I think it's absolutely amazing to think about students being able to go to the moon or to the top of Mt. Everest, and they can already do some of that, but VR is going to take it to another level," he added.
The effect that this new computer lab will have on students isn't felt just by school administrators. Drew Singer, the school's microsystems technician, knows that having access to modern computers on a daily basis will be a game changer for Lake Stevens students. The school district has done a decent job of keeping up with the network infrastructure, but getting funding for classroom technology can get lost in the shuffle.
"Sometimes, it's difficult to get the financing for computers to match what we're capable of doing," said Singer. "We all know technology can change from year to year, and some of our computers that were previously in this lab couldn't do some of the required online tests. So to get updated technology here that will take us into the future is the greatest thing that could happen to this school."
Ricky Ribeiro