#ICE18: Robert Dillon Explains the Pillars of Technology Integration
Adopting innovative learning spaces requires awareness, experience and student feedback, says the University City School District director of technology and innovation.
You don't know what you don't know. That old adage sums up why it is so hard for educators, parents and communities to adopt new learning spaces and the pedagogies that go along with them.
Over the past 20 years, Robert Dillon has been a huge advocate for experiential learning. After serving as a teacher, a principal and, currently, the director of technology and innovation at University City School District outside of greater St. Louis, Mo., Dillon recognizes that moving forward with technology integration in K-12 is about closing the experience gap so that administrators, teachers and students see examples of how to improve education.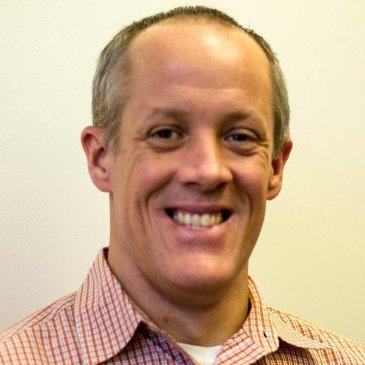 Robert Dillon, director of technology and innovation at University City School District. Photo courtesy of Linkedin.
Dillon met with EdTech at the #ICE18 conference in Schaumburg, Ill., to talk about how districts can make these changes and graduate students who are ready to take on the world.
Watch on #Periscope: #Watch Bob Dillon @ideaguy42 Talk #LearningSpaces, #StudentVoice and Experiential Learning at … https://t.co/Kb4gmStisH

— EdTech K–12 Magazine (@EdTech_K12) February 27, 2018
SIGN UP: Get more news from the EdTech newsletter in your inbox every two weeks!
EDTECH: As someone with 20 years of experience in technology integration, can you give three pieces of advice?
DILLON: First, there really needs to be more synergy between the pedagogical changes, the digital changes and changes to the learning spaces. Too often schools start doing one of those, or one followed by the next, but they really need to be in tandem.
If you are doing one and not the other, you might do it well, but it plateaus in its effectiveness. Change happens so quickly in education. You must run all of these things in parallel to get the most out of them.
My second piece of advice is that we really get caught at times chasing shining things and we fail to focus on the things that are truly necessary for learning. We have to stay focused on engaging learners and bringing joy to the classroom.
The third piece around tech integration is really finding the partnerships that matter, whether that is with a company like CDW that can really get you what you need when you need it, or whether that is finding another peer that you can trust. It's impossible as a tech director to stay abreast of everything. You really need folks in the tech industry that you can rely on.
EDTECH: How do you know what your class's ideal learning space should look like?
DILLON: The learning space design concept is a mindset and a philosophy that allows you to be aware of the things that are impacting learning. It allows you to make micro adjustments to the environment and allows you to think about what the students need and what the students want on an ongoing basis. It's about working around the perimeter of your room and asking, "Do the walls in my classroom really maximize learning or do they distract from learning?" All of those things happen before you buy a piece of furniture.
As you think about personalized learning, you really must ask your students every other week, "How is this classroom serving you? How is it distracting you?" If you are not asking those questions and adjusting to those answers, are you really personalizing your learning space to the needs of your students? I would say the answer to that is no.
EDTECH: What advice do you have about adding interactive whiteboards to the classroom?
DILLON: We live in a visual society, so I really do value large digital displays in a classroom. You need a common visual display to begin conversations, to show kids what great visuals look like. We need to be thoughtful about that purchase for schools. Oftentimes a maintenance crew will install an interactive display, and it will become the de facto center of the classroom and the teacher will stand next to it for way too long. That is an inherent problem that we have to work through.
If you put it in a place where students are getting up, presenting, using that resource, being able to have a voice in the classroom or having interactive groups working with the displays, then it puts students at the center of the learning.
EDTECH: What digital innovations can allow both introverted and extroverted students to show what they've learned?
DILLON: A wise teacher reminded me a while back that schools are designed for extroverts, and there are many introverts — both students and teachers — in the classroom. A couple of things that come out of our book, The Space: A Guide for Educators, is the importance around creating spaces for quiet. That can be obtained by scheduling moments in class to give introverts a chance to reflect and pause, or by creating a space in the room that allows the introvert to do that on their own.
Virtual spaces — whether through Google Docs or other apps — have given a very loud voice to those students who aren't publicly ready to have their voices out in front of everyone. I've seen introverts create amazing student portfolios using things like Seesaw, so as we think about learning spaces, we have to think about the virtual space and how that aids our introverts as well.
EDTECH: What do you see as the biggest challenge schools have in implementing modern learning environments?
DILLON: If you ask anyone over the age of 30 to draw a classroom, we know what they would draw: desks in rows. We've got to change that mental model. Because until we do, folks don't understand why laptops in a classroom should be helpful, or why student-centered learning and personalized learning is something that makes sense.
We need to let parents in because generations of parents and community members have a visual of what a learning space is supposed to be. Unless we retool that mentality and help older generations unlearn that, we're going to have a disconnect. So, educators that are using solutions like Seesaw, classroom Twitter accounts and Instagram accounts help to de-privatize what a modern space should look like. I think once we are all on the same page, we will be able to charge forward even more aggressively about how we deal with learning space design.
EDTECH: In your position, how have you tried to get people to think differently?
DILLON: We've got to get more teachers in different classrooms in different schools to see images of what is possible. I'm just a huge advocate for experiential learning. I'm aiding my teachers by getting them in more classrooms. I'm showing them images of people doing this work around the country. I'm really connecting them with a larger professional learning network around not only learning space design, but technology integration and pedagogical change as well.
Follow EdTech's coverage of #ICE18 on the official conference landing page.
sturti/Getty Images
More On