Advances in Technology Foster Collaboration Between Students and Teachers
Cloud technologies and one-to-one initiatives boost engagement and learning.
On any given day, students at Edmonds School District in Lynnwood, Wash., can be seen working together on ­common projects and academic goals.
Many students work in Google Docs and other G Suite applications to collaborate on group project plans or to peer review each ­other's papers. In one class, a group of seventh-graders teams up to create a podcast using a variety of cloud-based tools. Each student is assigned a different task, including researching the content online, writing and recording the script, editing and revising the audio, determining sequencing and providing sound effects and music. And kindergarteners and first-graders rely on a secure online learning journal and digital portfolio to post their daily work and comment on each other's work; produce videos and other creative content; and share online with the class, their teacher and even their parents and grandparents.
The best part? Students are absorbing critical soft skills — teamwork, leadership, networking and critical thinking — that will take them far in life. But they're so engaged that they probably don't even realize it. "This is about implementing good teaching practices for core subjects, of course, but it's also about preparing our students for the future," says Gavin Lees, coach and coordinator for instructional technology at Edmonds School District, which currently has about 20,000 students. "When students graduate, they're going to be thrown into situations where they need to collaborate, yet be independent and find the information they need. They'll also be expected to lead others in a project," says Lees. "Learning these skills while they're in school, and then practicing them over and over, is going to make them much more prepared for what they'll face in college and the work world, and much more likely to be successful."
Driving Forward Classroom Innovation
Collaboration in the classroom is not a new concept. The notion of working in groups to solve problems has "been shown to be successful for both student engagement and student achievement," says Samantha Becker, the lead author and researcher for the Horizon Project, a series that analyzes emerging technology for the New Media Consortium.
However, collaborative learning is becoming even more pervasive within K–12 schools as advances in digital and mobile technology "are making it much more seamless and much more ubiquitous," she says, noting that the 2016 Horizon Report concluded that the trend toward collaborative learning will help drive the adoption of new educational technologies over the next three to five years.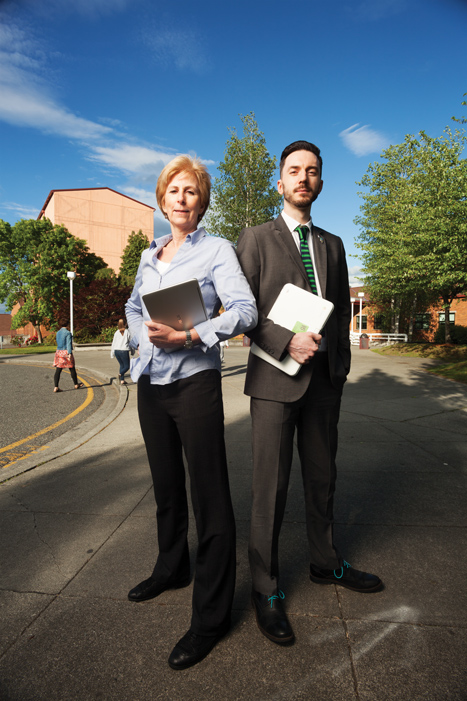 Kim Mathey and Gavin Lees say that a one-to-one program has helped enable learning at Edmonds School District. Photo by Rick Dahms
"Now students and teachers can connect to Google Drive, Skype and other cloud-based platforms that enable them to communicate, share their work with each other, and prepare projects together. It makes the interactivity last throughout the school day and beyond it," Becker says. The Edmonds School District in Washington is well ahead of this curve. Officials decided five years ago to standardize on G Suite for Education, a group of productivity tools from Google, such as Gmail, Docs, Slides, Drive, Classroom and Hangouts.
"It was all about the collaborative features that Google offered," says Kim Mathey, the district's manager of libraries and instructional technology. "And because we did use G Suite, we were then able to use Chromebooks, which meant we could afford to move to a one-to-one program across the district," she says. "Each student having his or her own device helped ­tremendously with getting our teachers to retool their classrooms, move their curriculum online and enable even more collaborative learning."
Designing More Collaborative Spaces
For Emery Unified School District in Emeryville, Calif., collaborative learning has been a driving factor in not only recent technology investments but also the design of its newest school, Anna Yates Elementary, a ­$90 ­million joint-use facility that also acts as a full-service community center after school and on weekends.
"Collaboration could be the most powerful strategy teachers can use for student learning," says Superintendent John Rubio, noting that it is an overlapping requirement within both Common Core and his state's new English Language Development Standards. "We want to make sure that students and teachers have the training and the tools and the environment that enables learning to occur in the easiest manner possible."
As such, the small district recently boosted its network with Brocade wireless switches and Ruckus R710 access points, and it is providing most of its 700 students with their own Lenovo PC tablet (with several high-efficiency, prewired carts available for use by the youngest grades). The district also adopted G Suite and other cloud-based collaborative applications, including those that use gamification techniques to promote collaboration and engagement, such as Prodigy and Front Row.
The district has outfitted each classroom with 82-inch Planar touch screens running Promethean ActivInspire software. These can be used as additional independent/collaborative learning centers or to stream high-definition videos with no buffering as well as enable the entire class to view live cable news programs about current events.
A Solid Foundation for Innovation
Beverly Miller, assistant director for administration and chief technology officer at Greeneville City Schools in Greeneville, Tenn., says that the language and practice of collaboration has changed significantly since she and her team outfitted all students with their own HP Stream device.
"Two years ago, you would have seen a lot of carts and sets in our classrooms. It was more about trying to figure out when to use the tool as part of the curriculum, dealing with setting up the device and ­getting students up and running than I wanted to see," she says. "Now, by putting these devices into the hands of ­students, we've provided a foundation for them to be able to collaborate, communicate and network. It's part of their day-to-day experience."
The district provides a single sign-on to both G Suite and Microsoft's Office 365 cloud-based platforms, along with the school's learning management system (LMS) and its student information system. Miller notes that she is always on the lookout for new cutting-edge collaborative tools.
As such, Greeneville students are often seen sitting on the floor with their tablets, peer reviewing each other's papers. High school English students can enter a collaboration space in Microsoft OneNote to take part in a teacher-led forum or discussion blog, or they can post their work within their own individual online notebook and get quick but private feedback from the teacher. Elemen­tary school pupils recently worked together to create a video describing what was important to each of them in a new principal.
Collaboration By Teachers, For Teachers
Lees notes that a collaborative environment that works for students is just as beneficial for teachers. It keeps them from second-guessing a student's needs.
"Teachers can dedicate their time to providing quality feedback and getting to know where they need to help plug the gaps in a student's knowledge and skills," Lees says, noting that Edmonds uses G Suite's Classroom application in tandem with a dashboard that helps teachers ­monitor and manage students' work in the cloud and other LMSs. This allows teachers to make different assignments to different students depending on their needs, and to collaborate with other teachers about overall student progress.
A strong, collaborative environment can extend well beyond the classroom. Corinne Treadaway, a fifth-grade teacher and the technology planning team lead at Emery Unified, says that her district will leverage its new network and collaborative tools to boost online professional development and mentoring opportunities for teachers. "By giving teachers the opportunity to share easily and learn from each other, we aim to inspire a culture of risk-taking and lifelong learning so we can work together to build each other up," she says.
zhaojiankang/Thinkstock
More On