E-Rate Funds Available to Support Connectivity in Classrooms
Here's how to take advantage of money available to your district in the summer.
On the Chinese zodiac calendar, 2017 is the Year of the Rooster. And, like a rooster, school ­districts looking to take advantage of changes to the federal government's E-Rate program should get an early start.
With $3.9 billion now available ­annually from the Federal Communications Commission (FCC), districts that were previously unsuccessful in their attempts to secure E-Rate funding are now finding themselves higher in the pecking order.
Cases in point:
Bloom Township High School District 206, located in ­suburban Chicago, received more than $280,000 in 2015 to upgrade its two high schools' wireless networks.

Scottsbluff Public Schools in Nebraska received $44,840 in 2015 to help purchase 100 new ­wireless access points (APs) for its five elementary schools. The district planned to take another trip to the trough in 2016, receiving more than $64,000 to pay for another 100 new APs in its high school.

California's Rescue Union School District received more than $15,000 in 2015 to upgrade some network switches and uninterruptible power supplies. It also applied for E-Rate funding in 2016 for 15 external APs to enable students to use Wi-Fi outdoors.
Changes in Store for E-Rate Program
For the next five years, the previously mentioned $3.9 billion figure includes $1 ­billion per year to pay for upgrades to internal connections. The change is an integral part of the E-Rate program's shift toward providing high-speed broadband connectivity and Wi-Fi equipment and services for classroom instruction, while moving away from legacy services such as voice, which will no longer be funded in 2019.
Other changes to the E-Rate program for FY 2017, which begins on July 1 and runs through June 30, 2018, include minor tweaks to the Eligible Services List (ESL), including the movement of the locations of descriptions of Category One and Category Two services.
The classification of connections between multiple buildings has also been changed in the 2017 ESL. A single school with instructional buildings located miles apart will no longer be considered a single campus, and is therefore eligible for Category One ­services — a development that districts with middle and high schools on the same grounds are certain to crow about.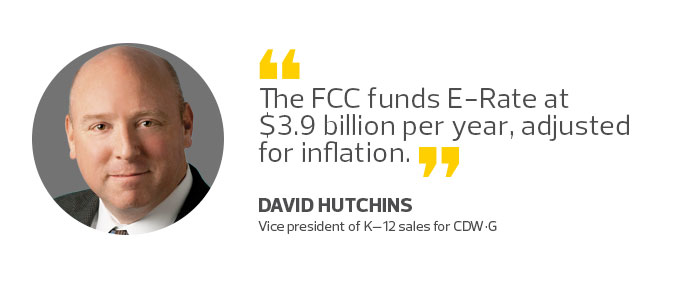 Get Your Fair Share of Funds
According to the consulting firm Funds for Learning, school districts left $200 million on the table in 2015. That money will roll over into the E-Rate pot for FY 2017, boosting it to more than $4 ­billion. The firm also found, according to a recent survey of E-Rate applicants, that nearly two-thirds of respondents will exhaust their Category Two budget cap through FY 2019.
Districts are already making plans for the year, and the ­process for obtaining E-Rate funding ­typically takes 18 to 24 months. The ­survey also found that 93 percent of respondents plan to ­continue to apply for E-Rate funding — all the more reason to apply early. A new online application system for E-Rate funding through the FCC's Universal Service Administrative Co. should make things easier too.
It's my hope that we will see strong E-Rate participation as evidence of K–12 educators' commitment to digital learning.
More On