NBA and Discovery Education Come Together to Get Students Excited About Math
A new partnership and digital tool offer a fun way to teach math.
It was far from an ordinary Friday at John Hayden Johnson Middle School in Washington, D.C. Students piled into the gym where they were greeted by G-Wiz, the red, white and blue furry mascot of the Washington Wizards — and he wasn't the only special guest.
The 6th and 7th graders were joined shortly by NBA legends Bob Lanier and Felipe Lopez and current NBA and WNBA stars Daniel Ochefu and Ivory Latta for a Jr. NBA clinic. All were assembled to discuss an unlikely subject: math.
On Nov. 18, Discovery Education, which provides digital content and professional development to K–12 schools, announced its partnership with the NBA to implement a live basketball statistics tool into their digital curriculum platform, Math Techbook.
"We're going to get everyone liking math the same way they love basketball," Bill Goodwyn, the president and CEO of Discovery Education said to the gymnasium of students.
This isn't the first time that athletes have sought to motivate K–12 students' interest in school and technology. In the summer, EdTech reported on the Chris Paul Family Foundation's donation of technology to students in Los Angeles.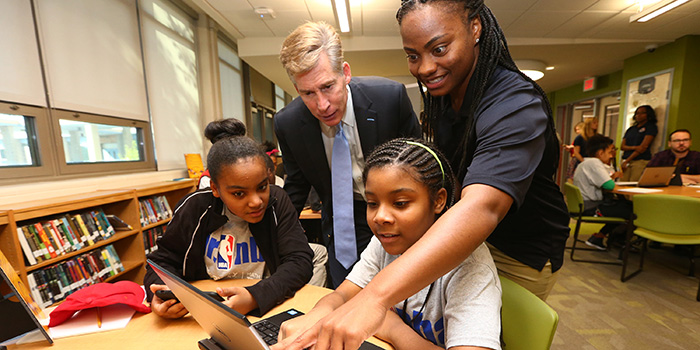 Discovery Education CEO Bill Goodwyn and Washington Mystics point guard Ivory Latta help students use a basketball stats tool. Photo courtesy of Discovery Education.
Using Basketball to Teach Real-World Math
During the event, Johnson Middle School students were able to play basketball with NBA coaches and learn how basic geometry and other mathematical concepts are used in the game.
Students also got a chance to use the NBA statistics tool — which functions much like a Google Sheets or Microsoft Excel spreadsheet — to determine who was the best at shooting free throws on the Washington Mystics, by calculating percentages. Latta came up just short, much to her chagrin.
"This is math coursework that is completely relevant to the real world," says Patrick Vennebush, the director of mathematics at Discovery Education. "It's not like a beautiful, traditional math problem. It's going to be messy for sure."
Vennebush walked the 6th and 7th graders through using the tool while Latta, Ochefu and Washington Wizards legend and current broadcaster Phil Chenier assisted. The tool uses live stats, just like Chenier uses in his broadcasts.
Using technology in the classroom as it would be used in real life has been touted by the Department of Education and other education experts as a key to success.
Technologist and mathematician Conrad Wolfram told EdTech that math in particular isn't taught as it is used in real careers because of the lack of technology use.
"Math is a subject predicated on hand calculating, and that's the bit that the computers should be doing. Humans should be doing a higher level of problem solving using the machinery," he told EdTech.
For Kelvon Manning, a Johnson Middle School 7th grader who has a hobby of writing out statistics for the sports video games he plays, the Discovery Education tool opened up a huge possibility for the role of tech in the classroom and at home.
"I'm excited to use the tool again," says Manning. "It will definitely make it easier."
Photo courtesy of Discovery Education
More On