Collaboration Created with a Facebook Post
Robotics partnership wins Oklahoma elementary school $50K and lots of accolades.
Homer Elementary School in Ada, Okla., 80 miles outside Oklahoma City, knows a little something about the power of collaboration. Their latest efforts paid off big time.
In our Collaboration Nation contest, CDW•G and eSchool News facilitated a way for schools across the country to showcase successful education technology projects that were driven by the power of collaboration.
Homer Elementary submitted this video about its partnership with neighboring East Central University that began last year. It all started when Debbie Claxton, an educational tech instructor at the university, asked teachers on Facebook if they wanted to participate in a project with Finch robots, bird-shaped devices use to teach computer science.
Jayci Harris, a first-grade teacher at Homer, worked with pre-K teacher Sunny Swopes to make the connection, earning their school a grant to buy eight of the robots. When the devices arrived in January, the collaboration was off and rolling.
Our Education Strategy team has the privilege of working with unique districts all over the country, seeing new and innovative ways that technology has been infused into our learning environments. I was honored to help judge these amazing applicants, alongside education consultant Ann McMullan and Stephen Noonoo, editor of eSchool News.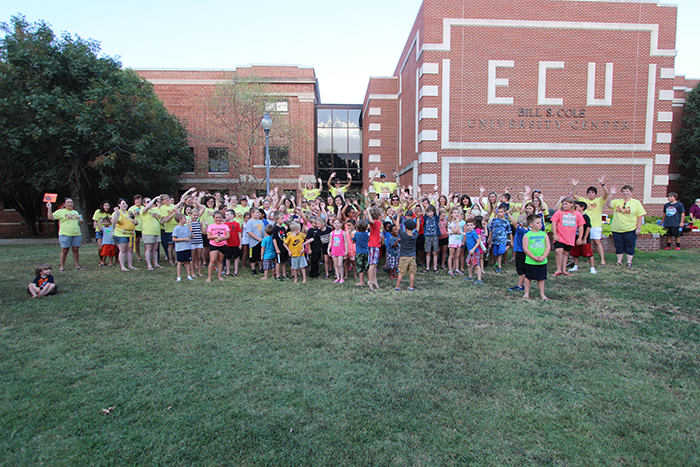 Homer Elementary teachers and students celebrate their collaboration victory. Submitted by Byng Administration
There were Collaboration Nation videos from nearly 60 schools and districts nationwide. I was overwhelmed by the quantity and quality of the activities happening in those schools, and also excited because I know this is only a small representation of what else is occurring in education. In the videos, schools showed us how they were transforming learning spaces with new technology, empowering staff and students to become more creative and innovative through use of devices, and collaborating to improve students' math and reading comprehension. Homer's story stood out to all three of us from the beginning because it was especially collaborative (of course) and it used an array of innovative, fascinating technology.
Homer Elementary distinguished itself for going above and beyond in its commitment to collaboration. The school took 43 pre-K and first-grade students to visit the college campus and worked with future teachers to code the robots. Their winning program embraces the four Cs (creativity, collaboration, communication and critical thinking) by teaching kids to code patterns, utilizing problem solving and creativity to design and navigate courses with the robots. It also is designed to help improve the students' math and science skills.
As the contest winner, Homer Elementary will receive $50,000 worth of products and services from CDW•G partners such as Cisco Systems, Cisco Meraki, HP and Lenovo. The school will most likely use the prize funds to buy Google Chromebooks, says Principal Vicki Wilson.
"Our ultimate goal is for students to leave our rural Oklahoma school knowing they can do anything they want to do and be anything they want to be," Wilson says on the video.
Hopefully, these types of experiences — as well as the winnings — will help them reach that goal.
This article is part of the "Connect IT: Bridging the Gap Between Education and Technology" series. Please join the discussion on Twitter by using the #ConnectIT hashtag.
CreativaImages/ThinkStock
More On