Hands-On Clubs and Tech Challenges Nurture STEM Learning
Schools nurture STEM skills by letting students build robots, NASA rovers and mobile apps.
Learn by doing. In Wheeling, Ill., that's exactly how a pair of teachers are inspiring their students to want to tackle careers in science, technology, engineering and math.
Michael Geist and Tom Steinbach, teachers at Wheeling High School, have created a program that lets their students build cool stuff like robots and concept cars, and then compete in contests.
Each year, about 40 students join an after-school club to design and build remote-controlled robots for combat. In the spring, they compete against the five other high schools in Township High School District 214 in a two-day event called the "Robot Rumble," where they battle each other one on one. The last robot standing wins.
More recently, Wheeling High School students have joined other district schools in an annual regional competition to build fuel-efficient vehicles. This school year, Geist and Steinbach incorporated the project into their engineering and manufacturing curriculum, but to get two vehicles built in time for the May competition, students also spent the winter working on them during free periods and after school.
Fostering a Competitive Spirit
"Our classroom experience is the hook that draws some students to want to stay after school and work on different projects," Geist says. "They want to build robots and beat the snot out of each other. They want to build cars — that's what excites them. At Wheeling, we pride ourselves on providing students a lot of educational experiences that are outside the classroom."
Schools and districts are increasingly taking part in local, regional and national design competitions to help students cultivate important STEM skills. They apply concepts and principles they learn in class as they take on these cross-disciplinary, real-world projects. As they do so, they also develop their problem-solving, critical-thinking and collaboration skills, and are introduced to potential STEM careers.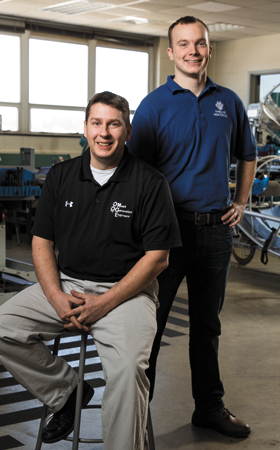 Photo: Callie Lipkin
Michael Geist and Tom Steinbach say Wheeling High School's STEM programs encourage students to learn beyond the classroom.
"It's awesome for the students who do get to participate in these competitions," says Tamara Moore, an associate professor of engineering education at Purdue University. "A formal school day doesn't often allow for individualized learning. But with these programs, they get the opportunity to follow their own interests in meaningful ways — and, potentially, they can get interested in things they were not exposed to before."
Wheeling students, who have now embarked on building fuel-efficient vehicles, are not alone in addressing real-world challenges.
In Reno, Nev., students are building planetary rovers and sharing their designs with NASA scientists. And in Huntsville, Ala., they are creating mobile apps for consideration by the Massachusetts Institute of Technology and Verizon.
Such hands-on projects result in deeper learning, says Moore, who does research on integrating STEM concepts in K–12 education.
"Students get the opportunity to look at abstract versions of questions and see the reality of what happens," she says. "A knowledgeable teacher can discuss theory versus reality and help students make those connections."
All in the Concept
While the students in Township High School District 214 enjoy building robots, Geist and Steinbach wanted to give their students a new challenge, so they signed them up for Challenge Wisconsin, an annual competition sponsored by the Wisconsin Energy Efficient Vehicle Association to create a vehicle with the best fuel economy.
About 45 students in Wheeling's manufacturing and engineering classes began designing and manufacturing the two vehicles in the fall, and expected to complete them about one month before the competition.
"It's an opportunity for our students to look at efficiency in vehicle design as well as the efficiency of the entire engineering design process," Geist says.
Students use Autodesk software to design their vehicles and robots, says Steinbach, an engineering and machining instructor. The district has adopted the Project Lead The Way engineering curriculum, providing students with free access to the Autodesk software.
"Teaching students the importance of analyzing the properties of design, whether that includes stress testing various materials, analyzing geometric properties of these designs or determining final weight, is a crucial step in the design process," Steinbach says. "Autodesk allows us as instructors to teach these fairly complex principles of design to all levels of students."
Once students complete designs using Autodesk Inventor, they fabricate and manufacture parts in the school's state-of-the-art prototyping fabrication lab, which is outfitted with the latest advanced manufacturing technology, including a 3D printer and machining tools. They use Autodesk Inventor HSM software to write "toolpaths" — or computer code that is sent to the metalworking machines to manufacture the parts.
16%
Percentage of American high school seniors who are proficient in math and say they're interested in a STEM career*
SOURCE: U.S. Education Department, "Science, Technology, Engineering and Math: Education for Global Leadership"
"Everything is done in-house," Steinbach says. "Students do the entire process, from design and sketching to 3D modeling and writing toolpaths."
The competitions help reinforce STEM skills that students learn in class. In fact, sometimes students are using geometry and trigonometry without realizing it, Steinbach says.
"It's like performing a math lesson with a fighting robot," he says. "It really sparks their interest as they see the practical aspects of math. It clicks for them."
Shoot for the Stars
In Reno, high school students at the Academy of Arts, Careers and Technology aren't just reading about NASA rovers used for space exploration, they're building them.
In fact, last April, AACT students took first place for speed and design, and won $3,000 in prize money at the NASA Human Exploration Rover Challenge.
The event, held at the U.S. Space & Rocket Center in Huntsville, Ala., drew 38 high school teams last year, including students from Puerto Rico and Russia. The competition challenges students to design, build and race human-powered, two-person rovers over an obstacle course designed to simulate terrains that future NASA astronauts may find on planets, moons and asteroids.
"Our students took ownership of the project and shined," says English teacher Addison Wilhite, one of six AACT faculty members who serve as team advisers. "Because we are a career and technology school, this is like being on a varsity football team for them, and going to Alabama to compete in an international competition is like our version of the state championship."
AACT takes part in the competition each year. Students work on the rover as part of their classes and during free time after school.
Engineering students design and manufacture the vehicles, while medical students focus on vehicle safety.
Business students work on attracting sponsors, while communication arts students write the technical design report that is presented to judges, Wilhite says.
Students involved in the rover competition are getting better grades in math and science, says team adviser Dan Ruby, associate director of Fleischmann Planetarium at the University of Nevada, Reno.
It's also a co-educational experience, which is important. Nationally, educators want to attract more girls into STEM careers. At AACT, half the rover team is made up of female students, Ruby says.
"It's an indicator of academic interest," Ruby says. "You can't get really good at something if you don't practice. Some learning has to be done outside of the classroom, and that's why you are seeing the GPA gains. They're super-engaged."
Going Mobile
At Williams Middle School in Huntsville, technology teacher Paula Malone recently challenged her students to come up with a mobile app idea that would solve a problem or need for their school or community.
The goal was to compete in the annual Verizon Innovative App Challenge, where national winners take home grants and tablets, and have their apps built by a team of Verizon and MIT developers.
In January, seven seventh- and eighth-grade students from Malone's Technology School Association club won "best in state" for their concept: an app that would prevent students from using their cellphones until their homework assignments were completed online.
While Malone's students didn't win "best in nation," winning "best in state" has inspired her kids. She plans to enroll her students in more competitions.
"I'm glad to encourage the students and to assist them on different challenges," she says. "It's of great importance to show the students that they could be the next big entrepreneur or innovator."
Callie Lipkin
More On