Satellite Project Puts the Power of Space Exploration in Students' Hands
A STEM-based educational program powered by satellites is connecting outer space to the classroom.
It's not hard to imagine students performing experiments in space in the far-flung future. But what if that science-fiction concept became reality this year?
Satellite startup Ardusat wants to lower the barrier of entry for those interested in exploring space, and part of that is helping students make their first contact with the vast cosmos. In August, Ardusat unveiled its educational platform, which provides tools for educators that help students learn from satellites in low Earth orbit.
The project is powered by Ardusat parent company Spire's series of 4-inch cube satellites. Each cube is equipped with a camera and sensors like a spectrometer and a Geiger counter, making them capable of taking photos and atmospheric measurements of Earth and sending those readings directly to students in classrooms.
Ardusat's name is a portmanteau of satellites and the Arduino open-source computing platform. The project debuted on Kickstarter in 2012, receiving $106,330 in crowd funding. In July, Spire completed a round of funding led by RRE Ventures, raising $25 million, according to Re/code.
The project is preparing for takeoff after two years in the making, and STEM students in classrooms across the country will be among the first to try it out, Ardusat President Sunny Washington told EdTech.
"No one's doing space and education like we are," Washington said. "I look at it as STEM on steroids. It's taking something that years ago we would have considered abstract or not possible, and bringing to (students) directly."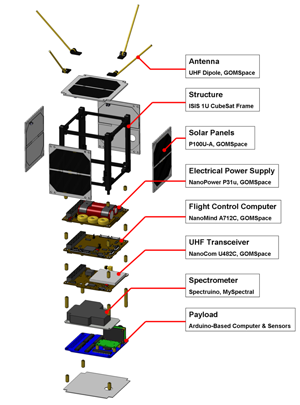 Graphic by Ardusat
Washington, who formerly worked for educational technology companies Instructure and Certiport, says she grew up in the days of the Challenger space shuttle tragedy, when space exploration was a seemingly unattainable goal for students. But she sees the near future as one of endless possibilities for those with the imagination and drive to achieve.
"The broad commercialization of space is opening up unprecedented opportunities to engage in space education and explore career options in STEM fields. In previous generations, kids grew up idolizing astronauts, who were the select few to exceed earth's boundaries. We want to give future generations direct access to the cosmos so they can see science-based education from a whole new perspective," Washington said.
Educators can sign up to receive a package of sensors for hands-on learning with a cube satellite. After performing a few classroom-based lessons, the class can work together to chart out the experiments the satellite will perform while orbiting Earth at 4.79 miles per second.
Students can program a list of scientific measurements for the satellite to take, including magnetic readings from the North and South poles, related atmosphere and temperatures, and effects of solar flares.
In addition to selling access to satellite experiment routines, Ardusat is also developing STEM curriculum it will offer free to educators interested in the program, according to a company news release.
Projects like Ardusat can influence how the next generation sees space, says Andy Turnage, executive director of the Association of Space Explorers (ASE), an organization of astronauts that has partnered with Ardusat.
Turnage called the venture "a totally new horizon" for education.
"We see this as a platform for widening the imagination horizons of our younger generations," Turnage told EdTech. "Space is often seen as difficult and inaccessible. We want to show them that space can be accessible to everybody."
In conjunction with its partnership with Ardusat, ASE has issued the ASE AstroSat Challenge, offering up to 15 teams of high school students the chance to run their satellite experiments in space for free.
Ardusat has two satellites in orbit, with hopes to launch more by the end of the year.
m-gucci/ThinkStock
More On