Classrooms Transform to Fit New Teaching Styles
Schools give classrooms a fresh look with new technology and modular furniture to improve learning.
Say hello to the modern classroom, where technology, room design, furniture and new teaching styles help educators create innovative and collaborative learning environments.
In Washington, the Ferndale School District provides tablets to middle school students and high school freshmen as teachers embrace project-based learning. Mentor Public Schools in Ohio has also invested in tablets to foster blended learning, and administrators are redesigning classrooms and supplying furniture with wheels to let faculty quickly reconfigure learning spaces based on the day's activities.
"Learning is now much more collaborative," says Scott Brittain, Ferndale's assistant superintendent for teaching and learning. "Students sit in groups, there's a lot of discussion, and it's very interactive."
School districts are modernizing their classrooms in different ways. Technology, such as interactive projectors and computers, plays a starring role. And then there's the scenery: Modular furniture, walls with writing surfaces and overall room design create flexible learning spaces for students. Technology and classroom design can enhance the curriculum and promote new styles of teaching and learning, such as small-group instruction and project-based learning.
Research shows that next-generation classrooms can significantly enhance student learning and improve grades, compared with traditional classrooms where students sit in rows of desks and face a teacher standing in front of the room, says D. Christopher Brooks, a senior research fellow at the EDUCAUSE Center for Analysis and Research. "There's a time and place for a lecture, a lab or group activities, and you need a robust and diverse set of formal learning spaces that can accommodate different needs and activities."
Mobilizing Students
To support its tablet rollout, the Ferndale School District — a participant in the Project RED initiative to implement one-to-one computing and personalize learning — upgraded its data center and improved Wi-Fi at its middle and high schools with new Cisco Systems access points. The district shifted from print to digital content (including electronic textbooks), and trained faculty to incorporate technology and project-based learning activities into their teaching, says Mark Deebach, assistant superintendent for business and support services at Ferndale.
Nearly
60%
of parents and more than
75%
of staff believe that the one-to-one computing program has helped students at home and at school, according to a Ferndale School District survey.
The district formally launched its one-to-one program during the last school year, issuing HP ElitePad 900 Windows 8 tablets to sixth- through eighth-graders in both middle schools. Administrators this year expanded the program to ninth-graders at both high schools and will equip the remaining high school grades during the next three years, Deebach says.
Each tablet is secured with an ElitePad Productivity Jacket, a protective case with an integrated keyboard. Before choosing the device, district officials sought feedback from teachers, parents and students, and everyone agreed that the keyboard and the ability to use the ElitePad as a notebook was important because it allows students to easily write papers and produce other content, Brittain says.
Equipped with the new devices, students are not only participating in more hands-on learning activities, but also expanded their learning beyond the classroom — both at home and throughout the campus, Deebach says. "It's a huge transformation," he says. "All of a sudden, they are huddled along the hallways or in common spaces like the library and cafeteria, and they're sitting side by side, doing research and working on projects together."
As for classroom design and furniture, the district is making do with what it's got. Teachers can rearrange the classroom and push desks together to spur collaboration. "The desks are easy to move around," Brittain says.
In Ferndale's elementary schools, students rotate through different learning centers where they get a mix of small-group instruction and hands-on learning activities, Deebach says. At one station, three or four students at a table can work on an art project. Another group can sit on a rug in the story area and read books, while other students can work on math exercises on desktop PCs.
Ferndale will install Wi-Fi and introduce a new tablet station in elementary classrooms next fall. Each classroom will have four or five tablets, giving teachers another technology teaching tool, Deebach says.
Remodeling the Classroom
Mentor Public Schools' classroom redesign project would make an HGTV interior designer proud.
Two years ago, Superintendent Matthew Miller challenged staff and teachers to re-examine how the district educates its nearly 8,000 students and to consider new instructional models to offer them the best possible learning experience.
Jeremy Shorr, Mentor's director of innovation and educational technology, and Ridge Middle School Principal Megan Kinsey proposed a three-pronged strategy: one-to-one computing; blended learning, which mixes classroom instruction with online learning; and a new classroom design that includes flexible furniture.
Miller loved the idea so much that the district decided to launch a pilot midway through the 2012–2013 school year. "We felt this would be academically successful and increase student engagement," he says.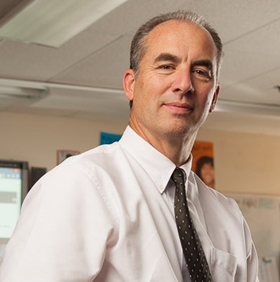 Photo: Rick Dahms
Scott Brittain says the Ferndale School District's tablet deployment has increased hands-on learning.
Administrators are implementing the three initiatives throughout the district in phases. To prepare for the influx of computing devices, the district installed Aruba Networks wireless access points in every school, Shorr says.
The district purchased Chromebooks during the pilot, but standardized on tablets last year. "In our instructional model, we are trying to focus on the higher levels of Bloom's Taxonomy, and content creation is a critical component. The tablet-based tools for content creation are currently more mature than web-based tools," Shorr explains.
In terms of design, Mentor sought to eliminate the traditional classroom design of 27 desks pointed to the front of the classroom and shift away from traditional lectures to blended learning, small-group instruction and project-based learning, Kinsey says. The district is providing professional development to assist faculty with the transition.
"We removed the front of the classroom. Now, every space and corner in the room is an instructional space," Kinsey says. "That has forced teachers to think differently about lecturing and rethink their delivery method."
Mentor equipped every classroom with Steelcase tables and desks with wheels, which let teachers and students quickly reconfigure rooms for their instructional needs. "As teachers are asked to really rethink their instructional style throughout the day, we need to support them with a classroom environment and furniture that allows them to be agile in their practices," Shorr says.
Kinsey says Mentor chose furniture that best supports each content area. For example, most classes have Steelcase Node chairs, which have a small adjustable desk attached, a storage area underneath for backpacks, and wheels so students can quickly scoot to one another to work on small-group projects.
Science classrooms have rectangular tables with wheels to facilitate lab work, while the media center has a mix of individual desks for students who want to work alone and bistro-style tables and chairs and sectional couches for groups, Shorr says.
To set the tone, school officials brightened Ridge Middle School classrooms with a fresh coat of paint and replaced fluorescent lights with full-spectrum lighting, which emulates natural light, Shorr says. The district also installed carpeting so students can sit on the floor and collaborate, and added writeable surfaces on every wall.
New School from Scratch
When Peoria Unified School District in Arizona had an opportunity to build a new middle school, administrators asked staff, teachers, parents and students what they wanted in a new campus, and they all had the same answer: Build flexible learning spaces.
So district administrators did just that. In late August, the district opened Sunset Heights Elementary School, a new K–8 school that features bright classrooms full of windows and flexible furniture that includes amoeba-shaped desks and colorful stools, bistro-style tables, and rectangular and round sofas that can be pulled apart like puzzle pieces and put back together.
"Teachers can quickly do different combinations and arrange classrooms based on instructional need," says Deputy Superintendent Heather Cruz. "They are loving it. Every time I go out there, the furniture is in different configurations."
Some classrooms have movable walls, allowing three classrooms to become one giant space. Doing so allows an entire grade level to work on a project together, Cruz says.
As for technology, every classroom features a mounted projector, while students share 90 tablets in mobile computing carts and 30 desktop computers in two computer labs. The flexible space, combined with the technology, allows teachers to move from direct instruction to facilitated learning.
"We know kids need to move, talk, collaborate and problem-solve, and these spaces let them do so," Cruz says.
Photo: Jason Miller via AP Images
More On