Report Card: Students Self-Assess Their Technology Skills, State Rankings on Digital Learning and More
EdTech compiles the most important news, tips and social trends impacting K–12 IT today.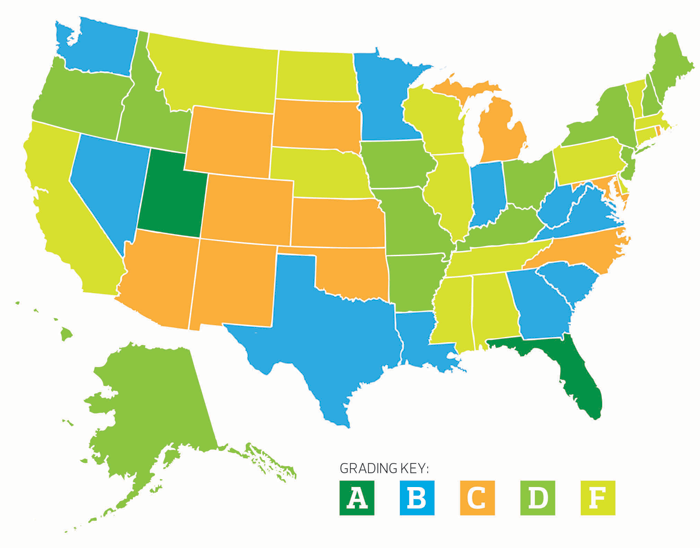 SOURCE: 2013 Report Card (Digital Learning Now)
State of the States
In 2010, the Digital Learning Council ­developed the 10 Elements of High Quality Digital Learning, a framework of state-level policies and actions "designed to advance the meaningful and thoughtful integration of technology into K–12 public education." The elements address everything from student access and advancement to quality content and instruction, assessment and accountability, and delivery.
Digital Learning Now's annual report card measures how states are faring in their efforts to align policies on digital learning to the 10 elements. Just two states — Florida and Utah — earned an "A" grade in 2013; 14 were given an "F."
'A' Game
More than 18,000 educators, thought leaders and vendors gathered in Atlanta in late June for the International Society for Technology in Education's annual conference and expo.
The EdTech team's reporting of conference highlights — along with videos of attendees offering their thoughts on Common Core preparations, the STEAM movement, emerging technologies and more — can be found at edtechmag.com/k12/iste-2014.
Mobile Learning Musts
The Consortium for School Networking's Leadership for Mobile Learning initiative works with district leaders to facilitate their mobile learning efforts. The association's newly updated "Administrator's Guide to Mobile Learning" includes, among other resources, an infographic of mistakes and pitfalls to avoid and things to do when planning, implementing and sustaining a mobile learning program: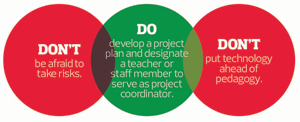 For more mobile learning guidance, visit cosn.org/mobilelead and sites.google.com/site/lmlguide/intro.
Putting the "I" in IT
In this age of ubiquitous connectivity — thanks to Wi-Fi, mobile devices and social media — it's generally assumed that students in school today have at least some experience with (or at least, exposure to) technology. Asked by Project Tomorrow to assess their own technology skills, students across all grades responded as follows:

SOURCE: The New Digital Learning Playbook: Understanding the Spectrum of Students' Activities and Aspirations (Project Tomorrow, 2014)