Report Card: What's Happening in the World of Education Technology?
EdTech gathers the most important news, tips and social trends impacting K–12 IT today.
Been There: COSN 2014
The Consortium for School Networking's annual conference is a must-attend for K–12 IT leaders, and this year's event, held last month in Washington, D.C., was no exception.
Read our editors' dispatches from the show and watch videos of conference attendees sharing their views on mobile learning, IT readiness for Common Core, Big Data's potential impact on K–12 and more at edtechmag.com/k12/cosn-2014.
Introducing the Technology Insights App
Many K–12 administrators, teachers, staff and students already rely on mobile devices to do their jobs, complete their assignments and collaborate with peers. Others are just beginning to explore how mobility — and the anytime, anywhere connectivity, functionality and productivity that it enables — can enhance the teaching and learning experience.
118
The number of grants and awards currently available to K-12 educators and Institutions at GetEdFunding.com
Technology Insights, a new app from CDW, is designed to educate and engage all types of users in all things mobile. Multimedia assets are organized and tailored to four user profiles with varying levels of knowledge about and facility with mobile devices, as well as the wireless technologies and policies that must be put in place to ensure secure, reliable performance. Novices will find the content available along the "Apprentice" track especially helpful, whereas tech-savvy IT leaders will benefit from the educational and planning content provided along the "Expert" track.
What's your mobility profile? Which resources will facilitate your mobility journey? Find out by heading to the Apple App Store here, or here for Android users.
K–12 Stakeholders Speak Up
When asked which mobile devices they have access to that aren't provided by their school, the roughly 325,300 students who participated in Project Tomorrow's Speak Up 2013 survey responded as follows: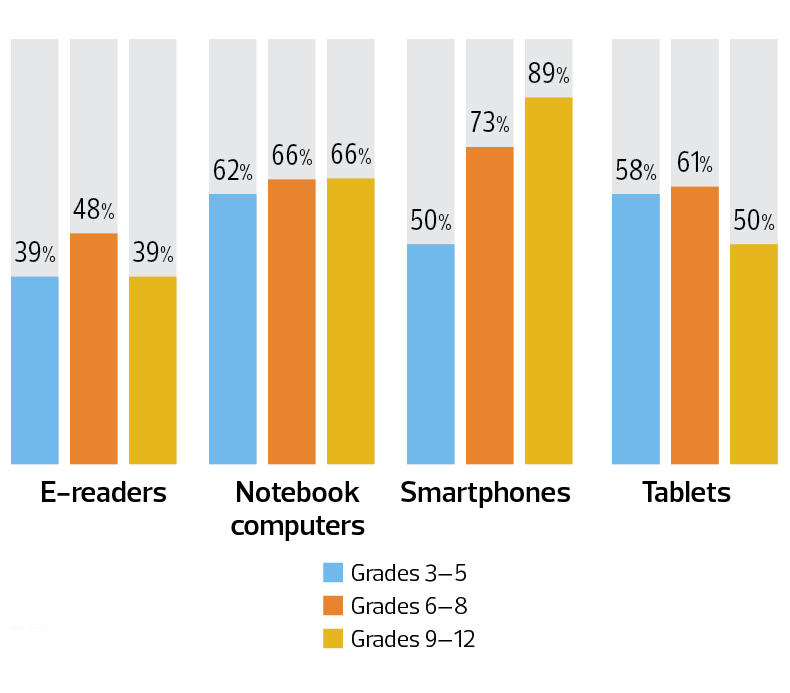 Social Barometer: Listen and Learn
"We need to stop going to war with kids and families over compliance and really listen to their needs and seek solutions." @gunnellAP (John Gunnell, Principal, Jack Young Middle School, Baraboo, Wis.)
"Regardless of how much data you have, it doesn't matter if it is not the data your teachers need." @DQCAimee (Aimee Guidera, Founder and Executive Director, Data Quality Campaign, Washington, D.C.)
"It's never been more important for kids to be surrounded by mentors as they learn and grow. Be a recess attendant on the digital playground." @kevinhoneycutt (Kevin Honeycutt, Technology Integration Specialist, ESSDACK, Hutchinson, Kan.)
"You have to communicate what, why and how to parents — especially when sending devices home. Zero communication = Frustration." @RafranzDavis (Rafranz Davis, Instructional Technology Specialist, Arlington Independent School District, Arlington, Texas)
"The web is the operating system great leveler. It doesn't matter what device you have." @jnetman1 (Jim Klein, Chief Instructional Technology Officer, Las Virgenes Unified School District, Calabasas, Calif.)
<p>@Glowimages / Colin Anderson</p>
More On