Better Tech, Better Learning: Schools Reap the Rewards of IT Upgrades
Investments in infrastructure help schools facilitate BYOD and one-to-one programs while also making students more engaged learners.
When a school district upgrades its network ­infrastructure, the results often are very dramatic. Sometimes, they can even exceed the expectations of the IT people and administrators overseeing the work.
Take Wheaton Warrenville Community Unit School District 200, a 20-school K–12 system in Illinois that serves 13,500 ­students from Wheaton, Warrenville and parts of Carol Stream, Winfield and West Chicago. Throughout 2011, CUSD 200 officials replaced switches and installed wireless coverage in all of the district's buildings and moved its telecom operation from landlines to a Cisco Systems–based Voice over IP solution.
Some of the systems in the older schools were so antiquated that when the IT team installed the new VoIP system, they found that one elementary school had actually been wired by the principal, recalls Executive Director of Technology Rodney Mack. "None of the phones would work," he says, "and all of the switches were in the ceiling, not in a wiring closet. Needless to say, we had to rewire that building."
Today, all offices and classrooms have IP phones that run unified communications functions such as voicemail in e-mail and deliver caller ID by reading the user's address book. By eliminating 380 analog telephone lines, the district can reallocate $150,000 from its annual phone bill to other technology needs.
The new phones were a major step forward, but Mack says the infrastructure upgrade's most important legacy is that it made it possible to put modern ­technologies into teachers' hands. "We knew teachers wanted tablets, notebook carts for the students and wireless projectors," he explains. "But we kept saying no because our old wireless ­network couldn't support the traffic."
Now, he adds, the district can say "yes" to these and other projects. For example, CUSD 200 has rolled out 810 notebooks for research, collaborative projects and online testing. It also has run tablet pilots and can now allow students and teachers to bring their own tablets, smartphones and Amazon Kindle e-readers.
As part of the upgrade, 16 buildings were equipped with Cisco Catalyst 3750-X Series switches; the two high schools, one of the middle schools and the school service center, meanwhile, have Cisco Catalyst 4500 Series switches. Both models offer Gigabit Ethernet capacity and, with the help of a module, an easy upgrade path to 10 Gig-E. The district also now has 672 Cisco Aironet 3502i wireless access points distributed in 20 buildings.
"This turned out to be a much bigger project than I thought it would be," says Dr. Brian Harris, CUSD 200's superintendent. "One of my first ­priorities when I came on board in 2010 was to get our network up to speed. In the first six months, we updated the website and put together our five-year plan to upgrade the ­technology in our schools."
Bill Rust, a research director at research firm Gartner, says three trends are driving districts to upgrade their infrastructures. First, students are demanding that they be allowed to bring their devices to school. Second, schools are slowly replacing traditional textbooks with digital content, which means every ­student will eventually need some kind of device. And finally, states are mandating online testing.
"BYOD is a question of when it's going to happen, not if," Rust says. "When you combine all these trends, districts really have to make sure they have the infrastructure in place."
Meeting the Mandate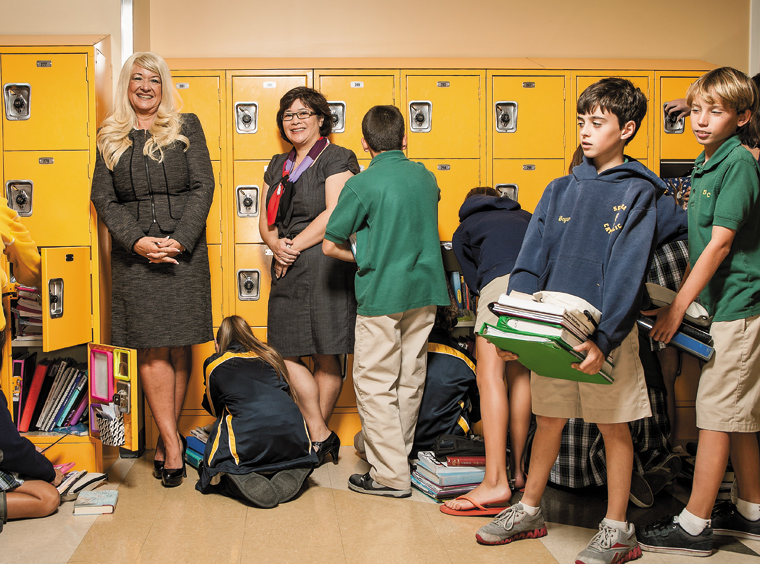 Credit: Shawn Henry
Angeline Trudell (left) and Kathy Tonokawa say a new technology infrastructure will help Serra Catholic School meet a diocesan mandate that every student have a computing device by fall 2015.
Through upgrades to its infrastructure, Serra Catholic School, a parochial K–8 school in Rancho Santa Margarita, Calif., is moving closer to a one-to-one program for its 1,062 students. Serra's upgrade aligns with the Roman Catholic Diocese of Orange's 1x1x15 Initiative, which aims to have a one-to-one program in place for students at all of its schools by fall 2015.
"The way we teach is changing," says Angeline Trudell, the school's president. "Teachers are expected to use technology to help students take an active part in their learning. To move in this direction, you can't just buy the devices; the network infrastructure has to be in place."
Following a tablet pilot program for teachers, school leaders wanted to add more mobile devices and projectors to classrooms, so they contacted CDW•G Account Executive Mike Seki for recommendations. Seki put the school in touch with Akins IT, a CDW•G partner, and discussions began in late 2011 to look at improving the school's wireless capacity using Xirrus arrays.
According to Kathy Tonokawa, Serra's technology director, Trudell determined that the best results would be achieved if the Xirrus wireless network rollout coincided with a back-end upgrade. The main work of installing the Xirrus access points, replacing core and edge switches with HP gear, and repurposing other switches was completed in summer 2012, with help from Akins IT, CDW•G and The GDR Group, an integrator that provided infrastructure services support and consulting.
"That was a very important part of the project," Tonokawa says. "By reusing some of the existing switches, we didn't have to purchase all new equipment, which made the cost of the project more reasonable."
Today, 38 Xirrus access points cover the school, delivering up to 300 megabits-per-second of bandwidth to students, teachers and staff. According to Chris Nelson, CIO of The GDR Group, and David Bell, GDR's field manager, users connect to the network leveraging policies set with Windows Network Policy Server and using 802.1X authentication.
Tonokawa says this robust infrastructure has helped Serra move closer to meeting its one-to-one goals. This past fall, the school added two carts, each containing 40 Lenovo X130e netbooks; two carts with 30 tablets apiece; and 40 touch-screen Lenovo ThinkCentre M71z all-in-one units in the K–4 classrooms. It also upgraded one of the school labs with Lenovo ThinkPad T420s notebooks. All equipment was configured with dual-band wireless cards to maximize the Xirrus technology.
The improvements already are having a noticeable impact in the classrooms. "The new equipment, ­combined with the upgraded infrastructure, lets ­students and teachers more quickly do research and use a large variety of websites," Trudell says. "I was in a third-grade science class where the students were given a lesson on cells. Normally, they would have to wait for the teacher to pull up images on an interactive whiteboard. Now, the students can do the research themselves. They all got very excited. I think, as a general rule, children are more engaged when they can interact."
Providing Equal Access to Technology
Because technology can so profoundly shape teaching and learning, some districts are especially careful to make their technology rollouts equitable.
Waverly–Shell Rock Community Schools officials, for example, were leery of the BYOD trend because it puts ­students without means at a disadvantage. So they chose a one-to-one ­computing model that began with a tablet rollout to middle and high school students.
"Going with one-to-one has really leveled the playing field," says Bridgette Wagoner, director of educational services for the 2,300-student district in Waverly, Iowa. The district paid for the tablets by choosing not to upgrade a computer lab.
As a result, "every student now has the same tools with the same access to technology," Wagoner continues. "Of course, there were students coming to school with Kindles, tablets and smartphones, but we felt very strongly that all students had to have the same access."
Technology Director Matt Nelson says a big component of the new technology program was upgrading the seven-school district's infrastructure. He started with the high school and middle school, deploying a mix of 15 HP 2520 and HP 2810 switches, two Aruba 3600 wireless controllers and 50 Aruba AP-105 access points. Nelson says the district shares among its schools 85 megabits-per-second of bandwidth. Next up is upgrading the wireless network at the four elementary schools.
The new technology opens up a whole new world of educational possibilities, Wagoner says. "Rather than walking to the computer lab to look up a fact, teachers now can look it up right in the classroom on the Internet," she says. "Everyone has Internet access, ­everyone has e-mail via Gmail, and everyone uses Google Docs."
Meanwhile, the Northwest Independent School District in Fort Worth, Texas, is ever mindful of the IT management challenges BYOD presents, says Director of Technology Carl Shawn. "It's not efficient to support 30 types of devices, so we're moving cautiously into BYOD," he explains. "We set up a guest network so that students who do bring their own devices can have Internet access."
Northwest ISD relies primarily on the one-to-one model, rolling out roughly 8,000 netbooks to high school and middle school students over the past couple of years. The 25-school district supported the netbook rollout by deploying a series of Extreme Networks switches to five middle schools and two high schools, and rolling out 750 Aruba AP-105 access points.
"With the technology in place, students and teachers can do research, and access is no longer a barrier," Shawn says. "The best thing is that they don't come to us anymore and say that the network doesn't work."
Callie Lipkin