What NASA Can Teach Us About Social Media
Space agency continues long tradition of creating new learning opportunities in schools.
With its final shuttle mission accomplished, the folks at NASA have their sights set on a new frontier: social media.
A mainstay in schools and at national educational conferences, the space agency has for years orbited the intersection of science and teaching, investing huge sums of time and money into documenting and repackaging its otherworldly discoveries for classroom use.
With the emergence of social media, educators have never had a better, more accessible platform to share the work and wonder of NASA with their students. In a recent post for Cisco's education blog, writer Mary Gorges explains how NASA continues to create new educational opportunities, even as its iconic shuttle fleet is put out to pasture.
"NASA is wowing crowds — on the ground and online — with flyovers of the retired orbiter 'Endeavour' as it travels piggy back on a 747 from Florida to its new home at Edwards Air Force Base in Southern California," writes Gorges. The agency did the same in April, when the space shuttle Discovery was transported over the nation's capital en route to its final resting place at the Smithsonian's Steven F. Udvar-Hazy Center in Chantilly, Va.
If your students weren't able to glimpse the shuttles on their farewell tours, Gorges says NASA has ensured that the public can relive the experiences online. On Twitter, users shared their Endeavour sightings using the hashtag #spottheshuttle. NASA's YouTube Channel features video footage of both flyovers.
The shuttles aren't the only NASA darlings to provide new online teaching opportunities.
Gorges says NASA's Curiosity rover, which continues to make news with the pictures and images it has captured on Mars, has its own Twitter account, @MarsCuriosity. Students can join the rover's more than 1 million followers to get first-hand accounts of its progress and discoveries on the Red Planet.
From chemist to explorer to mayor, I am one busy bot. Just became the mayor of Mars' Gale Crater on @foursquare 4sq.com/QLh1uc

— Curiosity Rover (@MarsCuriosity) October 5, 2012
The rover even has its own Facebook page, says Gorges, with a profile pic that — get this — it snapped of itself!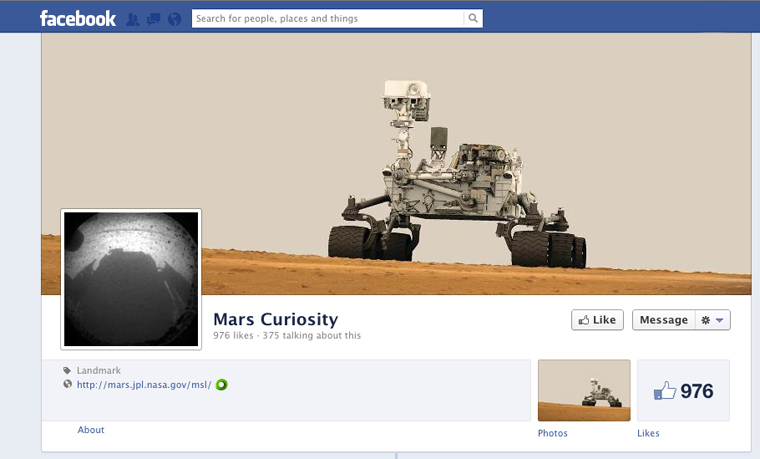 Much has been made about the value — and safety — of social media in schools. Fortunately, as NASA's latest efforts prove, not every social outlet constitutes a risk. If you're looking for ways to safely integrate social media into the classroom, consider getting on board with NASA.
For more, read Gorges' full column.
<p>NASA.gov</p>
More On