Review: NetApp AFF A700s Supports a Wide Range of Storage Needs
Storage platform offers a one-size-fits-all foundation for future expansion.
In higher education institutions, an organization may consist of a single class or a large department, which means there may be anywhere from a dozen to tens of thousands of users. Few vendors offer a system capable of scaling across such a wide range. As a result, standardizing on a single storage platform has long been considered impractical.
The NetApp AFF A700s, however, can support that range beautifully, retaining the ease and simplicity of a small system while expanding to a multinode cluster capable of serving multitudes. What's more, integration with VMware, Hyper-V, and other management and deployment tools allows for easy provisioning of virtual machines or containers for classroom exercises or software-development homework.
MORE FROM EDTECH: Read how to train your IT team to implement an effective virtual desktop system!
NetApp AFF A700s Flexes for the Size Users Need
The basic building block of the A700s is a chassis with four rack-mount units. These accommodate dual controllers, 24 solid-state drives and eight PCIe expansion slots for additional network ports. It can support 32 and 16/8 Gbps Fibre Channel, 1/10/40 Gigabit Ethernet, and both storage area network and network-attached storage functionality in a single unit.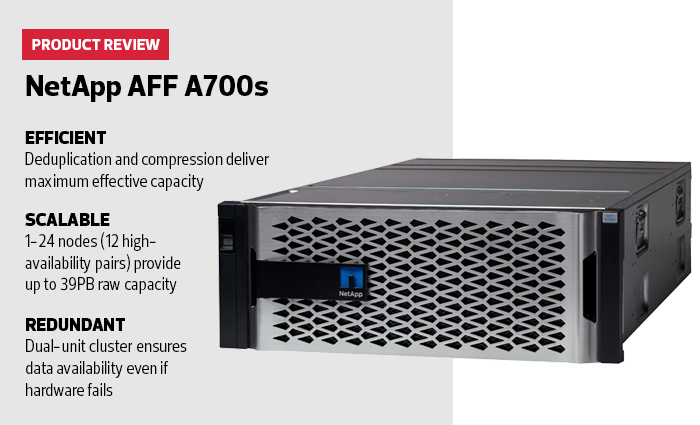 The included ONTAP clustering and management software makes it easy to start with one system and add up to 24 in a cluster. Users can expand that even more with cloud storage (for cheaper replication targets, for offsite fault tolerance or to support workloads that migrate from the data center to the cloud) or legacy storage systems in the data center. 
High Speed and Large-Scale Capacity Support Campus Storage Needs
NetApp specifies up to 7 million input/output operations per second and an effective capacity of up to 155 petabytes, with a maximum raw capacity of 39PB in NAS configuration, or 19.8PB raw and 77.8PB effective in SAN configuration. Of course, the effective capacity includes the effects of both compression and deduplication. Generally, these result in an effective capacity that's five or six times the raw capacity, but the actual number may be smaller or larger depending on the type of data. A single node can hit 600,000 IOps and an effective capacity of up to 13PB.
Together, these capabilities mean that an institution can install an A700s for one department and grow it to support multiple departments or an entire university system. The device delivers speed and reliability sufficient for large organizations, at a relatively low initial price point.
ONTAP Software Optimizes Data Placement and Migration
Tiering software allows ONTAP to automatically move data between tiers. This serves to maximize performance for the most active data, while shifting data that hasn't been used for a while to less expensive storage. The system can also migrate data to keep data with the server instance that needs it — for instance, moving the data needed by a server app in the data center to the cloud as the server instance is moved to a cloud provider. 
As workloads move from one VM to another, which might be on a server in the data center or in the cloud, keeping the data with the application becomes more complex. The NetApp software simplifies this process, allowing a new snapshot of existing data to be created for a new version of the application, or for existing data to be migrated from one storage volume to another. Within a college, where one department's curriculum or application may need to move from one data center to another as a class is revised or moved between departments, this kind of flexibility becomes more important.
NetApp AFF A700s
Solid State Drives: 2529 Drives
Capacity: 39PB
Ports: 8 Fibre Channel, 12 40GbE, 24 10GbE, 8 SAS
Storage Networking: Fibre Channel, Internet Small Computer System Interface, Network File System, Common Internet File System/Server Message Block
More On