3D-Printing Competition Showcases Students' Skills and a Shift in Education
The two student winners just wanted to take home gold, but higher ed leaders hope the successes will carry over to the workforce.
3D printing has barely started reshaping the manufacturing industry, but students from Sheridan College in Wyoming have already proved they have what it takes to succeed in the new landscape.
Kevin Barger and Michael McMahon took home the gold medal in the college division of the 2016 SkillsUSA Additive Manufacturing Competition, held as part of June's SkillsUSA National Leadership and Skills Conference, in Louisville, Ky. The duo beat out teams from a handful of higher ed institutions, including Calhoun Community College in Decatur, Ala., and Wilkes Community College, in Wilkesboro, N.C.
Intended for students in design and manufacturing classes, the competition spotlights a growing trend in education toward providing 3D-printing resources that will help prepare students for careers of the future.
In a blog post late last year, EdTech blogger Aletha Noonan offered one reason for the 3D-printing craze: "A Wanted Analytics audit of online job postings from early 2015 found that hiring companies have become increasingly likely to name 3D printing and additive manufacturing among candidate skill requirements," she wrote.
Barger and McMahon, who took home a MakerBot Replicator Mini 3D printer as part of their prize package, now possess just the sort of resumes that those hiring companies want to see — and that higher ed institutions want to produce.
"3D instruction and 3D skills are a competitive edge for universities and for their graduates," Noonan wrote.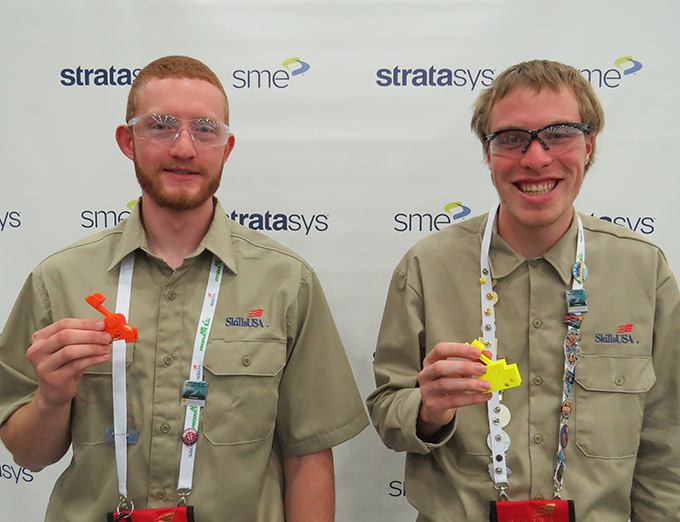 McMahon and Barger show off their projects at the conference. SOURCE: SME Manufacturing via Flickr
SME Manufacturing via Flickr
More On