5 Video-Conferencing Tools for Student Group Projects
These budget-friendly video-conferencing tools allow college students to connect anytime, anywhere.
Group projects are intended to hone leadership skills and provide opportunities for students to work together. As technology removes barriers to collaboration, group projects are playing a more important role in the way students learn.
Personal obligations, such as extra-curricular activities, part-time jobs and long commutes to campus, can make it difficult for students to coordinate times to get together outside of the classroom.
MORE ON EDTECH: Here are 5 videoconferencing tools for student group projects in 2020.
Discussions at EDUCAUSE 2012 revealed that colleges are increasingly adopting tools to expand collaboration, with video conferencing leading the way. Video conferencing allows students to connect with their peers and their instructors anytime, anywhere.
While Skype, ooVoo, and GoToMeeting may be the "go-to" choices for video-conferencing, we found five budget-friendly (read free) video-conferencing solutions that not only require little or no installation but also allow students to interact online in a variety of ways for group projects.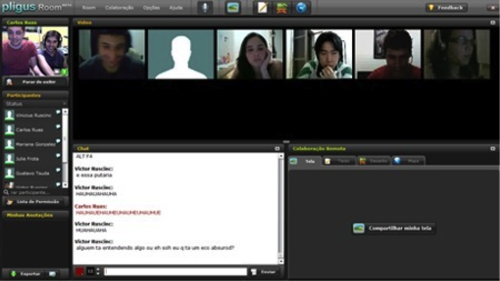 Pligus is a free video-conferencing program that does not require any installation. This multiplatform program runs on Windows, Mac and Linux and allows up to 10 people to interact using their webcams and microphones at the same time. An additional 20 people are able to chat with a group and view their broadcasting. Gustavo Scanferla and Pedro Nunes founded the Brazilian-based company in 2009.
Notable Features:
Screen Sharing: Allows group members to share presentations and videos with one another.
Shared Text: Groups can edit the same document while communicating via audio and video. The text can then be printed or downloaded.
Draw Together: Allows users to upload images for group members to view and draw together in real time.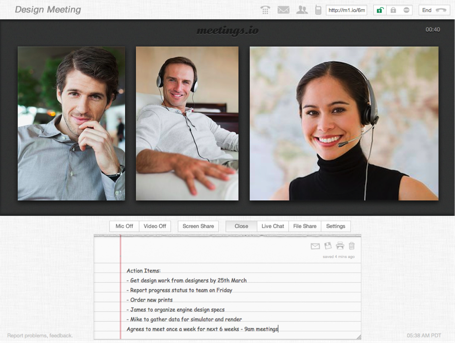 Meetings.io is a browser-based video-conferencing program that allows for up to five people at a time to create public or private group conference rooms. The program officially launched in April 2012 and is compatible with Windows, Mac and Linux. VentureBeat reported that the company grew to 100,000 users in its first two months of operation.
Notable Features:
Screen Sharing: Share all or part of your screen with the rest of your group.
Profile Page: Create a personal profile page to conduct regular meetings or hangouts. Each profile is personalized with a URL and style, allowing for users to invite group members to meet them in their "room."
Notepad: Enables group members to take private, personal notes during a meeting.
Live Group Chat: Group members can share links to presentations, photos, entire web pages and other online resources.
Conference Calling: Call mobile, landline and international destinations from your meeting room. Everyone in the group can communicate with the person on the other end of the phone line.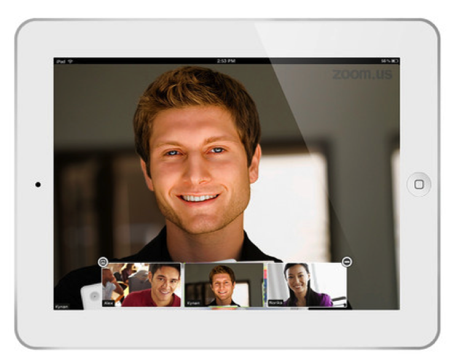 Zoom.us is an HD/High-quality, full-screen video-conferencing program founded by leaders and engineers from Cisco and WebEx. Group members can log in with an e-mail address, Google profile or Facebook ID. The program allows for up to 15 users to join a group from any device. The program requires a quick install to each device it is used on. Meetings can be scheduled via e-mail, SMS or IM or through a video meeting ID.
Notable Features:
Screen Sharing: Users can share either a full desktop or a specific window with group members.
Chats: Users can either chat in private or as part of a group.
Invite your contacts: Users can invite their e-mail, SMS, Google or Facebook contacts to join a group.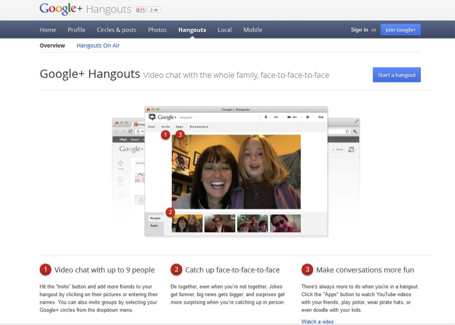 Google Hangout is an application created as part of Google+. Hangouts are a good option for student groups, since Gmail is the e-mail host of choice for many colleges. In fact, according to eduGuru, 50.4 percent of all users on Google+ are between the ages of 18 and 24, and over 20 percent of all Google+ users list "student" as their occupation. Up to 10 people can join a hangout from their computers or through the Google+ mobile app. No software is necessary to participate in a Google Hangout; all you need is a Google+ account.
Notable Features:
Screen Sharing: Group members can share part or all of their screens with one another.
Collaborate in Google Docs: Groups can view presentations and diagrams together in Google Docs, now known as Google Drive.
Public Hangouts: Hangouts can be streamed publicly on a user's Google+ profile, YouTube channel and website.
Circles: Users can create circles for their group and send group-specific hangout and messaging requests.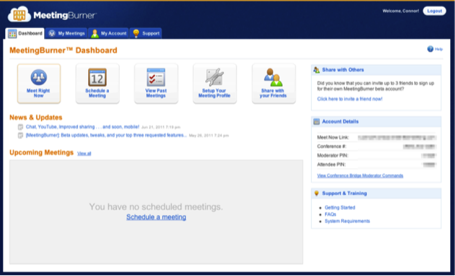 MeetingBurner is a cloud-based, online meeting platform. The program allows for users to create accounts in order to host meetings and webinars. MeetingBurner is compatible with both Macs and PCs. The free plan allows up to 10 people at a time to participate. MeetingBurner also offers an app designed for both iPhone and iPad. However, users cannot host meetings from the mobile app.
Notable Features:
Instant Screen Sharing: Users can share their screen with other group members.
Audio Conferencing: Groups can communicate via telephone, computer or Skype.
Automated Email Reminders: Users can send reminders to group members prior to a meeting or webinar.
damircudic/Getty Images
More On