ISTE 2016: 3 Free Tools for Teachers
Online tools give educators the ability to assess students, find and share video content, and collect multimedia presentations from students.
Innovative teachers find few things more exciting than discovering creative, new educational tools they can implement immediately. That's what brought hundreds of ISTE 2016 attendees out of their beds at 8:30 a.m. Monday for an energetic session focused on easy-to-use digital learning platforms.
The presentation — led by education thought leader Leslie Fisher, PBS LearningMedia representative John Sessler and teacher Clara Pena — detailed the features of several STEM-themed applications, as well as the ways teachers can put those tools to use right away.
Get a feel for three of the featured platforms below, and then head to the ISTE 2016 landing page to see all of EdTech's coverage of the event.
Formative
Going beyond typical multiple-choice assessments, Formative lets students submit full text responses, as well as images and drawings. The free online platform even allows teachers to upload images that students can use as a template when drawing their answers.
Fisher says math and science teachers should find that last capability particularly attractive, as it allows students to draw graphs and charts and show their thinking process as they work through equations. Because Formative shows students' answers in real time, teachers can even step in if they see a student's drawing going astray.
Pena, who used the platform in her eighth-grade science class, said Formative's drawing feature gave her a clear picture of the areas where students needed additional explanation during a unit on renewable energy.
"Teaching is an iterative process," she said. "Formative helped me identify where my lesson needed to be reiterated to my students."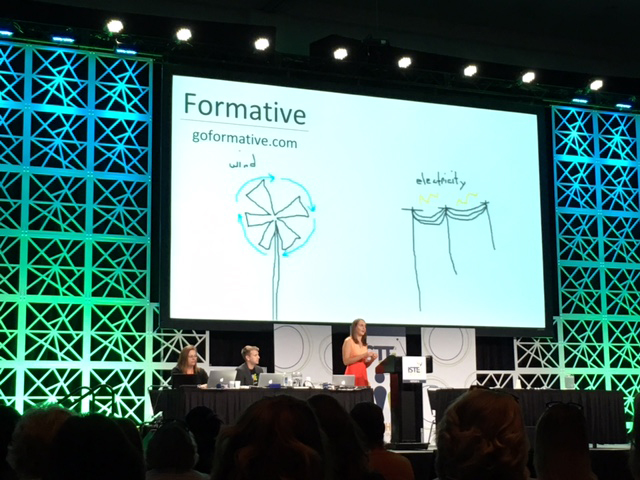 Pena presents a student's drawings on the renewable energy process.
Seesaw
Digital portfolio Seesaw gives students a platform for showcasing their photos, videos, drawings, text, PDFs and links. All content is accessible to teachers as soon as it's uploaded, but students still have the ability to organize their work.
Teachers can browse content from the entire class or single out an individual student, which makes it easy to access and discuss student work during parent-teacher conferences.
Pena said that Seesaw provided her students with the complete picture of everything they had learned to date, enabling them to make connections between concepts.
Adobe Spark
Adobe Spark provides users with three options: Post, Video and Page. Post lets users create attention-grabbing images optimized to social media, while Video's narration function makes it ideal for creating oral presentations online. Spark's third platform, Page, gives students the tools they need to create highly engaging text-based stories, complete with images and graphs.
While studying the environment, Pena's eighth-grade class created Page presentations that illustrated concepts they'd learned throughout the course of the project.
"It helped my students expand on it, add those images and make it interesting for me to look at," she said.