Review: Dremel DigiLab 3D45 3D Printer Offers Simple and Speedy Creation
STEAM lesson plans get a boost from this quiet, easy-to-use classroom 3D printer.
Dremel, a company known for creating award-winning rotary power tools, has built a 3D printer that deserves a spot in today's modern classroom. The DigiLab 3D45 is a network-enabled 3D printer that features a heated bed, fully enclosed build chamber and its own cloud-based printing solution. 
The unit looks and feels very solid. Hinges on the lid and front door are tight. The enclosed build space is a plus for printing materials that require a temperature-controlled environment, such as ABS or nylon. A glass build platform, which can reach 100 degrees Fahrenheit, helps the filament adhere to the surface during printing.
MORE FROM EDTECH: See these four ways to use 3D printing in a K–12 classroom.
Easy Setup Lets Students Start Creating in Minutes
A 5-inch, full-color touch screen on the front displays a menu for controlling the printer. From there, users can get to all the controls, such as leveling or changing the filament, as well as other tools. The filament spool mounts on the inside of the printer and can be easily accessed through a side panel.
Dremel materials are tagged for radio-frequency ID, so the printer automatically detects the type of filament and configures the appropriate temperature settings for that material. The filament then feeds up a tube and into the direct-drive extruder.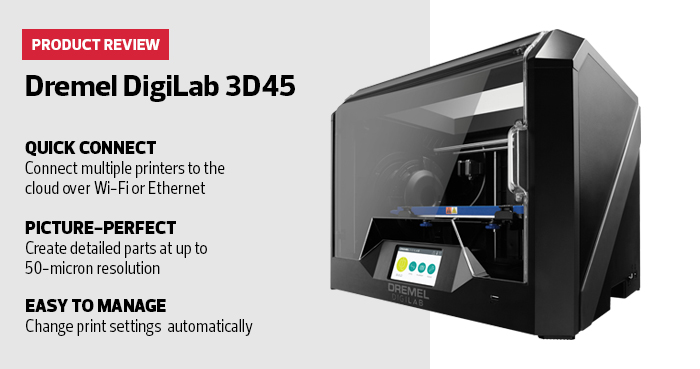 Initial setup was quick and easy. In fact, with some supervision, I tasked two middle school students to unbox and set up the printer, and in less than 15 minutes, we were printing our first test object. The setup takes the user through the leveling process, during which a small sensor drops down from the extruder to detect the height of the build plate. The screen indicates if any of the leveling adjustment knobs need to be turned, and which way to turn them. The knobs are located in the front part of the build plate and are easy to turn.
JOIN THE CONVERSATION: Do you have 3D printing lessons or projects to share? Tweet ideas @EdTech_K12.
K–12 Students Can Print from Anywhere
During testing, I printed several objects, some in high resolution and others in standard. Print quality was great, with no imperfections in any of the printed objects. One of my students designed a replacement part for a kitchen drawer using Tinkercad by Autodesk. He printed the part using PLA — a biodegradable thermoplastic polyester made from renewable resources — and it came out very well.
The machine itself is quiet. The printer includes a carbon filter and a fan, so it filters out any potentially volatile organic compounds, which could be a concern. A flash drive is included and can be plugged into the USB port. With an Ethernet port and built-in Wi-Fi, the printer can connect to any network and be accessed through the Dremel Print Cloud solution.
The Dremel DigiLab fits in well with most lesson plans in a science, technology, engineering, art and math (STEAM) curriculum, and offers a lot of features for its price point.
Use the Dremel DigiLab to Build Teamwork in K–12 Classrooms
Teamwork makes the dream work. That's what my middle school football coach told me. It was true then, and it's true today, especially in a modern classroom that follows a science, technology, engineering, art and math (STEAM) curriculum.
Teachers looking for a project that incorporates the use of a 3D printer and teamwork should check out the Dice Game Challenge. Using the engineering design process, students are asked to design a new dice game that could revolutionize the toy industry. They work together to build their product and present their ideas to the class.
As a judge, the teacher is asked to play and rate each product fairly, using a rubric — for example, awarding a maximum of 5 points for each of the following categories: introduction; product explanation; graphics; marketing strategy; directions; and presentation.
Any physical game elements, such as game pieces or dice, must be designed and 3D printed. Dice do not have to be traditional, six-sided dice, nor do they need to have dots. Students have a lot of fun with this project. Some of my teams went above and beyond, and created a board game complete with a game box one might expect to buy at the store.
Dremel DigiLab 3D45
Build Volume: 10x6x6.7 inches, 402 cubic inches
Materials: Nylon, Eco-ABS, PLA
Operating Interface: 5-inch full-color IPS touch screen
File Types: STL, OBJ
Build Platform: Semiautomatic Leveling
Manifest
More On