For example, while Midlothian ISD leased dark fiber, Arizona's Payson Unified School District purchased lit fiber services. In both cases, the districts used E-rate funds to hire service providers to build their networks. 
The service providers retain ownership of the networks and must maintain them; in exchange, the districts get the speedy WAN connections they need for a low monthly fee. It's a good trade-off, says Eaton, who calls it a once-in-a-generation opportunity to build fiber networks for remote or rural schools.
"These remote area providers would never have put money on the networks because the return on investment is so bad," he says. "What we do is pay for the construction and hardware up front, so we can get 10 gigs for pennies on the dollar."
Take Advantage of Funding Opportunities to Increase Network Speeds
Midlothian ISD's new fiber network includes a centrally located 100Gbps fiber ring that connects four hub sites: the administration building, one high school and two elementary schools.
The fiber ring allows for easy expansion — when a new school opens, the district can connect the school to the closest hub. It also allows dual links to each school for reliability. The ring currently connects the district's ten other locations, including eight schools, over a 10Gbps connection.
The district strategically submitted multiple funding requests to pay for the network. In addition to construction costs, Midlothian used E-rate's Category One funds to buy four Cisco NCS routers to build the fiber ring, Garakani says.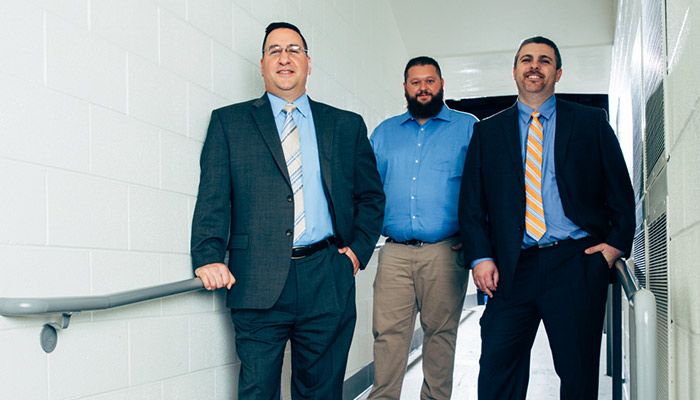 Through E-Rate Midlothian ISD's IT leaders were able to boost networking speeds 10-fold. Photography by: Justin Clemons.
E-rate also has a second funding category that pays for internal connections, such as wireless networking equipment, routers and switches. The district used Category Two funds to purchase Cisco Catalyst 4500-X Series switches to connect the remaining schools and other sites to the network.
The routers cost about $1 million, and the switches cost $320,000. In each case, E-rate reimbursed the district for half the cost of the equipment, Garakani says. The district also subscribes to an ISP for a 1Gbps internet connection, for which E-rate also pays half. As for fiber networking, the increase from 1Gbps to 10Gbps at each school future proofs the district's bandwidth needs for the next decade and beyond, he says.
MORE FROM EDTECH: Check out EdTech's full coverage of E-rate.
Consultants Can Help K–12 Schools Navigate E-rate
Districts should consider hiring an E-rate consultant, Garakani says. Consultants manage the application process, from meeting deadlines and ensuring compliance to helping formulate responses to questions during the review process.
"Hiring an E-rate consultant comes at a cost, but the benefit to the district is great," he says.
State E-rate coordinators, a free resource, also provide training and guidance. Payson USD paid very little for its new $158,000 fiber network, thanks to assistance by Arizona's state E-rate representative.
E-rate initially committed to paying 80 percent of the network's construction. Because Arizona agreed to pay 10 percent, E-rate matched it with another 10 percent. The district paid for some incidental costs — less than $1,000 — so it was virtually free, says Payson IT Director Victoria Andrews.