Product Review: DJI Phantom 4 Pro+ Enables to Unique Film Production for Students
The popular drone comes with controls and equipment that make flying simple.
School districts use drones to survey property for new school sites, while video production teachers — like myself — use them to achieve sweeping, cinematic shots, replacing bulky equipment like cranes and dollies.
Among the most popular of the DJI drones, the Phantom 4 Pro+ is a state-of-the-art consumer-grade quadcopter featuring a rigid design and an iconic white and gray color scheme. The unit, which weighs about 3.1 pounds, is identical to the Phantom 4 Pro, but adds a 5.5-inch Android tablet affixed to the remote controller. 
SIGN UP: Get more news from the EdTech newsletter in your inbox every two weeks!
Simple Controls Make Learning to Use a Breeze
The controller includes 16 gigabytes of storage and a microSD card slot to hold more if desired. A full-sized HDMI port allows users to also add an external monitor. The superbright screen connects to the base by a rotating arm that allows users to find the perfect viewing angle.
Setup was easy. Charging the drone and controller was simple, and navigating the touch screen made creating the required DJI account a breeze.
What impressed me the most about the Pro 4+ was how intuitive it was to fly. This drone's ability to hold its position while hovering also impressed me. Its landing gear includes obstacle avoidance sensors that, when activated, prevent a crash in all directions except up.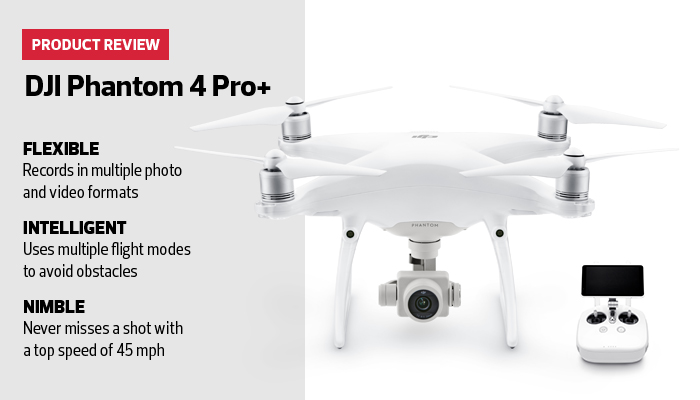 Phantom 4 Pro+ Boasts Stress-Free Operation
The drone offers several intelligent flight modes. In Draw mode, users can simply draw a route on screen for the Phantom 4 Pro+ to follow while keeping the altitude locked.
For those new to flying drones, Return to Home mode makes flying almost stress-free, and allows the unit to automatically choose the best return route. Because it records its route as it flies, the drone can return along the same route and avoid obstacles if the control signal disconnects.
The camera, suspended from a three-axis gimbal and attached to the drone's undercarriage, boasts a 1-inch CMOS sensor capable of capturing 20-megapixel stills and 4K video. During testing, the video footage I shot was crisp and clear, and photos were bright and vibrant. Even in moderate winds, the gimbal stabilization produced no shake or bounce. 
With these features, the Phantom 4 Pro+ provides schools with an appealing and versatile tool.
Useful For Visual Tasks Beyond the Classroom
As a middle school video production teacher, I researched and tested my share of drones before choosing the best one. I was looking for the right balance between ease of use and high-quality video footage. I concluded that the DJI Phantom 4 Pro+ blends the two perfectly, and it easily became my top choice.
Across the country, school districts, city managers, law enforcement agencies, and real estate professionals are starting to use drones to achieve high-quality aerial shots for a variety of reasons.
City managers use drones to showcase new buildings and boast large crowds at city-sponsored events; law enforcement agencies and security companies are starting to use drones as an alternative to pricey helicopters, providing cost-effective aerial surveillance and improving public safety. 
For individuals who are part of a federal, state or local government and wish to fly an unmanned aerial system to support a specific mission, such as search and rescue, the Federal Aviation Administration outlines three ways one can obtain clearance to fly a UAS for work or business purposes:
By following the requirements in the Small UAS rule (Part 107)
By following the rules in your Section 333 grant of exemption
By obtaining an airworthiness certificate for the aircraft 
For more information, visit the FAA FAQ on drones.
DJI Phantom 4 Pro+
Communication Distance: 4.3 miles
Flight Time: 30 minutes
Controller Display: 5.5 inches, 1920x1080 resolution
Global Navigation Satellite System: GPS; GLONASS
Camera Sensor: 1-inch CMOS
Photo Resolution: 20 million megapixels
Video Resolution: Up to 4K
DJI
More On