Review: NETGEAR ReadyNAS 424 Easily Saves Data in Educational Environments
The drive combines capacity, speed, ease of use and security to make the grade.
School districts need reliable storage and backup for data. Everything from student records to grades, as well as all the other files typically needed to run an organization, must be safely stored and easily accessible.
For K–12 schools that don't have huge IT staffs, the new NETGEAR ReadyNAS 424 four-bay disk array offers advanced storage technology that is all that and more.
ReadyNAS Balances Capacity and Redundancy
Setting up individual 424s is easy: Simply pop either 2.5- or 3.5-inch disks into any of the four empty bays, and the ReadyNAS will configure them for use. The RAID configuration, which perfectly balances capacity and redundancy for the environment, is conveniently set using a graphical user interface.
Each ReadyNAS is powered by an Intel Atom processor, which helps to boost read and write performance without draining too much power or generating excessive heat. Combined with 2 gigabytes of RAM, a ReadyNAS 424 can easily support up to 40 users and a maximum of 40 terabytes of storage, assuming four 10TB drives are installed.
Increased Storage Supports a Whole School
Beyond providing quick and easy storage for local groups or classrooms, each ReadyNAS is designed to combine with others to form a mutually supporting campuswide storage network. From the main interface, critical files and folders can be flagged for backup to other ReadyNAS devices that are on the same network, but might reside in separate buildings or even across campus.
For example, the math department at a large school might back up their files to a ReadyNAS in the English department, and vice versa. Or, schools might set up a separate, secure cluster of ReadyNAS arrays to which all groups could back up their files. The interface also supports cloud backups, which removes the physical considerations altogether.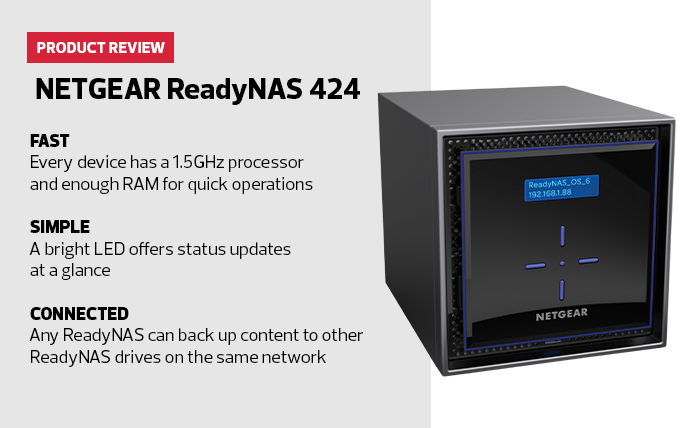 Data integrity is paramount with the 424, even as a stand-alone device. In addition to protections offered by the configured RAID level, each ReadyNAS comes with unlimited snapshots. Files can be examined by date and rolled back to earlier versions with a single click.
Today's connected classrooms have a lot of storage needs that will only continue to grow. The NETGEAR ReadyNAS 424 can help with a simple interface, quick performance and a focus on keeping data safe.
The NETGEAR ReadyNAS 424's Offer Layers of Data Protection
In an educational setting, losing critical data is not an option. To address this, every NETGEAR ReadyNAS 424 comes with five layers of protection. All of them are optional and easy to implement, letting users choose how much capacity and performance they want to trade for increased data security. With many of these features, those decisions can be made folder by folder, or even file by file.
Protection 1: RAID Level
Every ReadyNAS 424 comes with four open drive bays, which can accommodate either 2.5 or 3.5-inch drives. To optimize total storage capacity, set the 424 to RAID zero; this will make available all the capacity offered by the drives, with no disk-level protection.
However, higher RAID configurations that provide some backup, or even fully redundant drives that halve the capacity but offer total drive failure protection, are available. Once set, new drives are automatically formatted and put in place according to the RAID level protection scheme.
Protection 2: Unlimited Snapshots
With unlimited snapshots, the ReadyNAS 424 records the state of protected files at various times set by the user. This snapshot interval can be configured based on folders or files, or set as a blanket policy for everything. Going back to a previous version of a file from another day, week or year is as easy as finding the proper date in the interface and clicking to restore the data exactly as it existed when the snapshot was taken.
Protection 3: Anti-Virus
Incurring no additional fees for use, anti-virus protection for stored files can be enabled from the main interface. When tested, the onboard anti-virus program prevented an infected file from being dropped onto the ReadyNAS.
Because scanning files for viruses and malware adds a bit of time to the write process, it is deactivated by default. But running without anti-virus these days is risky, so it's probably best to activate it, especially because it's free to do so.
Protection 4: Bit Rot
It sounds bad, but Bit Rot is essentially a description of both performance loss due to fragmentation and the loss of tiny sectors on a disk, which can occur over time, especially with traditional spinning media drives.
Enabling Bit Rot protection on a folder in the ReadyNAS 424 tells the device to check that folder from time to time to ensure it is defragmented and doesn't contain any failing sectors or bits. If it does, it will move that data away from the failing sector or defragment the files as needed.
Protection 5: Offsite or Off-Device Backup
Because all ReadyNAS devices share a common operating system, they are designed to easily communicate with one another on the same network. Users can take advantage of the shared interface to set certain ReadyNAS devices to backup core and critical files from other systems.
This type of protection works best if the two ReadyNAS devices (they don't both need to be 424s) are sitting at different locations, or even different buildings. That way, something like a fire or flood that takes out one device might not affect the backup.
Data can also be backed up to the cloud using a service like Dropbox. For both cloud and local backup, everything can be managed easily from either a local ReadyNAS interface or a central management console.
NETGEAR ReadyNAS 424
Processor: Intel Atom C3338 1.5GHz Dual Core Processor
RAM: 2GB DDR4
Free Drive Bays: 4
Capacity: 40TB
Dimensions: 9.4x7.3x7.6 inches
Weight: 8.71 pounds