Schools Invest in Infrastructure for Their Students' Futures
K–12 districts anticipate and adapt to changing technology needs.
What does the future hold? This is far from an abstract question for K–12 administrators as they prepare students to enter a rapidly changing world upon graduation.
"The jobs that students are going to apply for when they finish high school or college don't even exist. They haven't been imagined yet," says Amy McLaughlin, vice chair of CoSN's Smart Education Networks by Design and an information services director at Oregon State University.
Add the rapid evolution of educational technology, constrained budgets and the disruption of technology deployments and facility renovations to the calculation, and it's easy to get overwhelmed. There's no single way forward, because every school has a different mix of students with different needs. But future-proofing is not impossible, experts say. It's all a matter of approach.
Start with a Vision for Tech Transformation
Cicero Public School District 99 in Cicero, Ill., serves more than 12,000 ­students, most of whom are English Learners. Around 95 percent of the students qualify for free or reduced-price lunches. In 2015, the district had only 3,000 Microsoft Surface tablets for students to use.
Unlike their more affluent peers in other districts, many students in Cicero District 99 did not have personal mobile devices or access to the internet at home, leaving them at a disadvantage when it came to gaining critical digital-era skills.
But Superintendent Rudy Hernandez had a vision, says Cao Mac, the district's CIO. "His mantra has always been, 'It doesn't matter what ZIP code you live in,' " Mac says.
Knowing that the goal was one-to-one devices from the first day of the 2016–17 term helped guide the tech team's planning and purchasing. Working with partners, including CDW•G, Mac oversaw a major infrastructure upgrade during the summer of 2016. The school leveraged Category Two E-rate funding to make it happen.
"We ripped out the entire network infrastructure, from the access points to the core switches," Mac says. Every AP was upgraded to the second wave of 802.11ac. The new network can easily handle the 13,000 Acer Chromebook R 11 devices students now use, in addition to a fleet of Surface 3 tablets used by teachers.

For Missoula County Public Schools in Missoula, Mont., the technology vision came directly from the community. MCPS serves more than 9,000 students and has seen five years of increasing enrollment; they expect to hit 10,000 students in the next five years. Technology decisions in the district are guided by the 21st Century Initiative, established in 2011.
"It included more than 100 community members serving on teams to re-envision what education should look like in Missoula," says Hatton Littman, MCPS communications director and former technology director.
Choose an IT Solution that Meets Your Needs
With an overarching vision in place, districts can start the search for the best technology solutions for their needs. To future-proof, look holistically at costs over time, says Mark Lamson, technology director at Westerly Public Schools in Westerly, R.I. Lamson is careful to account not only for acquisition but also for operation and maintenance costs. For support plans, warranties and subscription­-based services, he looks at costs for ­commitments of varying lengths.
Westerly schools use HP switching infrastructure for wired and wireless networks. The backbone is built with VMware.
"Make sure your infrastructure is as robust as you can afford," advises Lamson. "If your back end or your infrastructure has a significant hole in it, a flaw or a bottleneck, it's going to become an issue on the front end."
A strong network backbone is also a jumping-off point for schools that want to expose their students to leading-edge technology. Lamson has actively sought partnerships with tech startups to give Westerly students hands-on experience with the latest technology at a reduced cost to the district.
"Technology should augment teaching and learning, which is our core mission — not tech for tech's sake," Lamson says.
Train Teachers and Collect Data
The next step in the process has two parts: professional development for teachers and evaluation of the program. At Cicero District 99, teachers receive three phases of PD to make sure they are ready to make the most of technology in the classroom.
When it comes to evaluation, leveraging data can help tech departments monitor the performance of equipment and the impact on student achievement.The goal is to correlate student growth to investments in technology, and then tweak the district's approach.
Evaluate Tech Efficacy Periodically
Ultimately, future-proofing is about ­getting past the "once and done" mentality, McLaughlin says.
"It comes down to designing our schools to adapt, the way our students will have to adapt — so they are not as rigid, so that school networks are designed for constant growth and re-engineering and redesign," she says.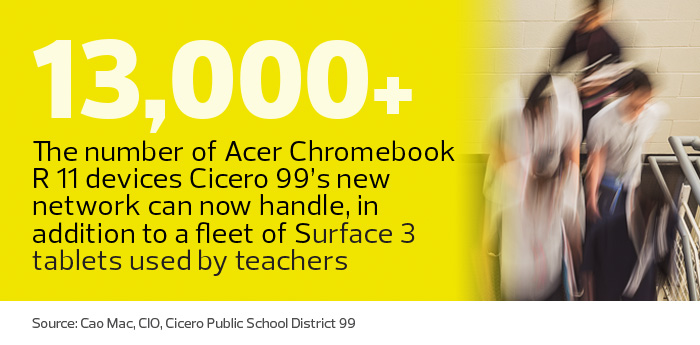 In Missoula, the six elements of change identified by community ­members became part of a five-year technology plan for 2014 to 2019, complete with clear benchmarks.
"We measure ourselves by academic outcomes, like proficiency in reading or math by certain key grade levels. We consider how many buildings have been renovated or completely rebuilt within the timeline," Littman says.
"We also look at operations and financial outcomes," she continues. "And then we examine what we were able to do with regard to safety, security and technology infrastructure."
MCPS now attracts top talent for open positions; for example, an opening for a building administrator might garner 100 applicants. Littman sees that as a testament to the strength of the ­district's approach.
Bob Stefko