ISTE 2017: Districts Work to Close the Digital Equity Gap
Panel offers tips to help eliminate the divide between students with access to the internet and those without.
With 99 percent of U.S. classrooms headed toward robust internet connectivity within four to five years, the next challenge is making sure students who are assigned digital homework have a way to do it. That was the overarching theme of Monday's session, "Join the Digital Equity Action Agenda and Narrow the Homework Gap," led by Consortium for School Networking CEO Keith Krueger at ISTE's 2017 Conference & Expo in San Antonio.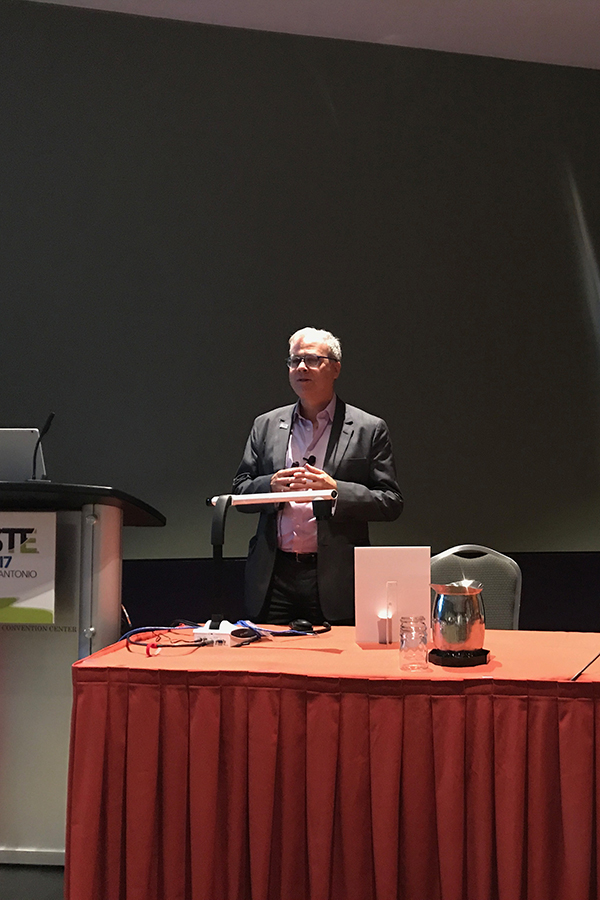 Krueger was joined by former superintendents Darryl Adams and S. Dallas Dance, as well as Kurt Steinhaus, superintendent of Los Alamos Public Schools in New Mexico, to offer strategies for bridging the homework gap.
Adams said he had great success in California's Coachella Valley Unified School District by parking Wi-Fi–enabled school buses in poor neighborhoods and pushing the community to take on a land tax to fund a one-to-one device program.
"We had only one way to go, and that's up. But, those students are able to do just about anything now," Adams said about his students, who were only graduating at about a 70 percent rate before access to the internet. "We eliminated the digital divide and the homework gap. All the challenges we have; they're opportunities. And our students are now graduating at 80 percent — all because the technology had opened the way."
Defining Digital Access
Education has gone digital. "It's no longer a 'nice to have'," Krueger said.
Still, he said, despite $4 billion being spent yearly to improve internet access to schools, the digital divide remains.
"Five million households with school-aged children — low-income households that are disproportionately black and Hispanic households — make up a large share of that five million," Krueger said. "And yet 75 percent of school systems don't have an off-campus strategy for providing connectivity to students at home and after school."
The issue extends beyond the school district Krueger said.
"Digital equity is a community problem," he said. "It's not something that schools alone should solve."
Going Digital S.T.A.T.
Dance started Students and Teachers Accessing Tomorrow (S.T.A.T.) at Baltimore County Public Schools as a "multi-year transformation of BCPS into a complete 21st-century technology learning environment to prepare globally competitive graduates."
The district redesigned its curriculum but spent 18 months planning before rolling out the accompanying technology.
"We knew we had to go slow in order to go fast," Dance said. "We had to be very strategic with it. This was not just about putting technology in the hands of kids."
There were eight parts, but the most important, Dance said, was getting the story out.
"Folks kept saying you're just giving computers to kids," he said. "When you don't communicate your story, someone else will."
6 Strategic Steps for a Successful Digital Strategy
In Los Alamos, where 42 percent of the parents have doctorates and the other part of the spectrum is in high poverty, Steinhouse followed six steps for his digital strategy.
Set hardware and software standards. "This will save money and time," Steinhouse said.

Count the number of devices. "We had more devices than we had staff and students," he said. "We established a one-to-one initiative where everyone in sixth through 12th grade gets a device."

Go to the local community and government and sign partnership agreements for after school. "The governments that have helped the most were county and tribal," Steinhouse said. "We have signed agreements with every one of those. We also signed with half the churches, and the libraries have been helpful too.

Offer professional development about the access to devices. "We do PD in all kinds of creative ways — webinars, blogs, cyber moments, etc.," he said.

Inform parents. The district sent notes to parents and offered sessions for them to learn about internet connectivity.

Create homework guidelines. "This was the most impactful," Steinhouse said. "Each school took a hard look at what they were assigning for homework. Teachers who were well known for assigning the most, made the most change."
To follow more coverage from ISTE 2017, check out the EdTech's event page.
Barloc/Thinkstock
More On