ISTE 2017: 6 New Products Unveiled on the Show Floor
New offerings from big tech companies highlight this year's megaconference in San Antonio.
With more than 18,000 attendees and plenty of press coverage, the annual ISTE's 2017 Conference & Expo has become a prime place for vendors to launch new products and announce updates. This year is no different. Check out some of the latest offerings announced at the 2017 event, and then head over to EdTech's coverage page to read and see more news from ISTE.
SIGN UP: Get more news from the EdTech newsletter in your inbox every two weeks!
1. GoGuardian Expands Digital Citizenship with Admin 2.0
Personalization has now reached all aspects of education.
A major update to GoGuardian's popular web filtering and analytics tool, GoGuardian Admin, "provides filtering settings unique to each student, offering them the best and safest environment in which they can explore," according to a statement issued by the company. GoGuardian Admin also allows teachers to tailor feedback to each student when they get off track.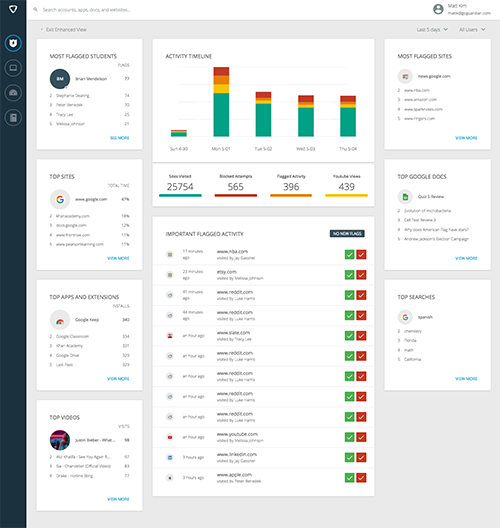 Courtesy of GoGuardian
"The true power of the internet lies in letting students learn and explore on their own, with technology helping educators provide guidance so that students can learn better habits and be more successful," said GoGuardian's CEO and co-founder Aza Steel in the statement. "Admin 2.0 keeps the internet as open as possible, but as safe as needed, for students as they learn digital citizenship."
GoGuardian provides Chromebook management tools to 43,600 educators and more than four million students nationwide.
2. Belkin Offers Convenience, Power
Belkin unveiled a pair of new products: Store and Charge Go, and Rockstar.
Store and Charge Go stores up to 10 devices and charges them simultaneously in portable trays for easy distribution or collection. The base is mountable to a wall or desktop, it's capable of housing all chargers and cables and it comes in AC- and USB-compatible versions, the former of which has surge protection backed by a connected equipment warranty.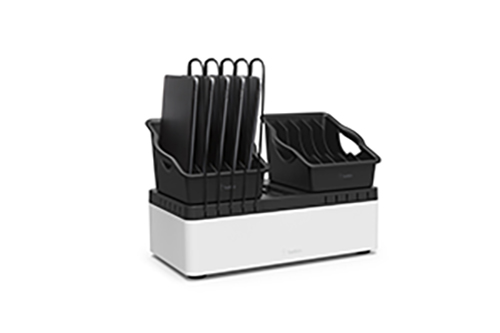 Belkin Store and Charge Go, courtesy of Belkin
Meanwhile, RockStar is a 10-port USB-A charging strip powerful enough to charge that number of devices simultaneously. Equipped with intelligent charging to ensure each device is delivered the correct wattage, RockStar also includes a surge protection warranty and is compatible with Store and Charge Go. Regional plug sets are available for the U.S, U.K., Europe and Asia.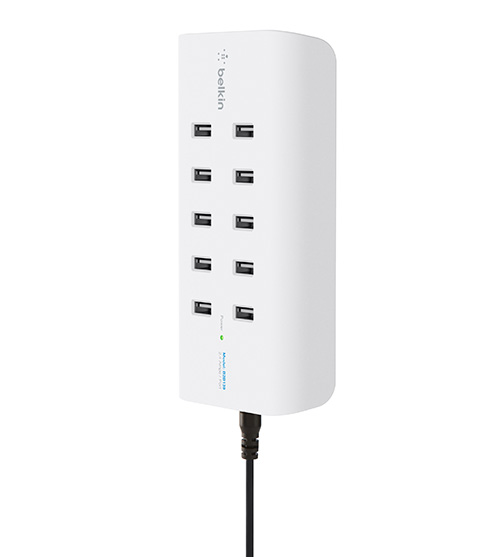 Belkin Rockstar, courtesy of Belkin
Store and Charge Go will be available on July 15, while RockStar will be available on Aug. 15.
3. Epson Launches Ultra Short-Throw Laser Display
Epson, the top-selling projector brand worldwide, showed off its new BrightLink 710Ui Interactive Laser Display at ISTE. The projector offers a large, bright 100-inch image, 20,000 hours of virtually maintenance-free operation and an instant on/off feature.
According to Epson, the BrightLink 710Ui is ideal for the type of large format viewing that takes place in classrooms. The display includes three HDMI ports and an optional wireless module. It also supports enterprise-level network encryption.
"Research has shown that students need large images in order to see content being displayed in the classroom, and our new ultra short-throw laser displays are the latest foray into meeting this need," says Jason Meyer, senior product manager of projectors at Epson America. "Laser displays provide schools with a long-lasting, budget-friendly solution that supports a collaborative learning experience."
Epson says the BrightLink 710Ui enables interactivity through the wireless display of content from the big screen to mobile devices for individualized learning, and it offers simultaneous display options from as many as four devices at a time. The company's iProjection app allows up to 50 devices to connect simultaneously, and it gives users the ability to send content from the projected display to app-connected mobile devices and to utilize the built-in pen tools in the app to annotate the content they receive.
"For instance, teachers can send math problems to students' devices and then, once students complete the problems, display students' individualized work for the whole class to review," Epson says.
The BrightLink 710Ui has 4,000 lumens of color and white brightness with a full HD WUXGA display, and delivers a dynamic contrast ratio of up to 2,500,000:1 and a maximum viewing size of 100, Epson says. A built-in pen and touch annotation allow up to six users to draw, share and collaborate using familiar gestures. The display also works with all software currently used in classrooms and includes a one-year subscription to Smart Notebook.
Epson says its BrightLink with DuoLink feature allows schools to install two BrightLink displays side by side to create one superwide interactive space.
The company says the display will be available in November.
4. Extreme Enhances Its Management Center
Extreme Networks announced enhancements to its Extreme Management Center (EMC). Version 8.0 offers improved management capabilities that make student and device onboarding easy, while enforcing security settings to protect private student information.
The new enhancements provide actionable data down to each individual user, application, policy and device. With EMC 8.0, IT staff now can easily monitor and control activity on the network and therefore deliver superior digital learning experiences for students.
EMC 8.0 includes bring-your-own-device onboarding options with Google and Microsoft support. According to the company, by "leveraging Google or Microsoft credentials, IT staff can now easily and securely onboard students logging on to their Google Chromebook in the classroom to access learning materials and applications on the network."
Other features include a new analytics dashboard that offers improved workflow in a centralized, single pane of glass interface. Meanwhile, Extreme's Information Governance Engine has been integrated into EMC 8.0 to help schools automatically analyze, assess, and secure network configurations for HIPAA and PCI compliance across the entire infrastructure.
David Monachino, network engineer for the Douglas County School District, said his district is thrilled with the enhancements. "Our small IT staff had been stretched to keep up with the latest ed tech trends, and these new capabilities provide the best level of control and visibility that we were looking for in order to support our school's 1:1 computing and BYOD programs, especially during online testing periods," he says.
5. MakerBot Shows Off 2 New Products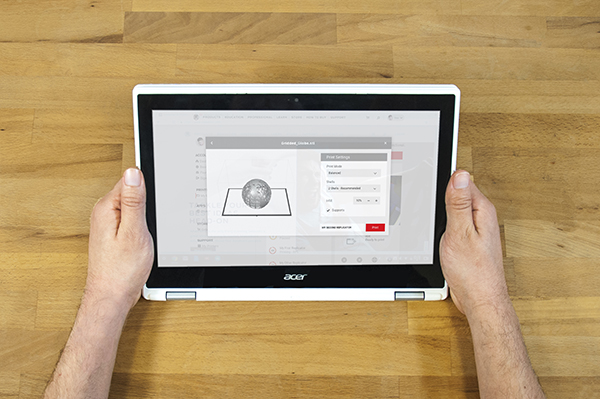 MakerBot Chromebook software, courtesy of MakerBot
Well-known 3D printer manufacturer MakerBot also unveiled two new products. My MakerBot is new cloud-enabled, all-in-browser print software that is compatible with both Chromebook and Tinkercad. For Chromebooks, the new software works on any device via a web browser. Meanwhile, 3D designs in Tinkercad can be exported to print without ever leaving the browser.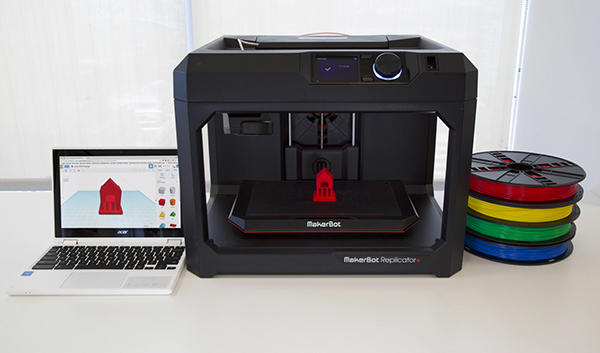 MakerBot Tinkercad software, courtesy of MakerBot
The company also released the MakerBot Educators Guidebook, a 140-page manual that includes a crash course in 3D design and printing. The book was co-written by more than 80 science, technology, engineering and math (STEM) education leaders and contains nine classroom-ready projects.
6. SMART Showcases New Line of Displays and Software
SMART Technologies demonstrated its connected classroom suite, including SMART Learning Suite software and SMART Notebook Player, working with three series of SMART Boards.
SMART Board's 7000-panel series has an interactive display that allows teachers to move from room to room without being tied to a single computer or display.
"We're rapidly advancing the vision of the cohesive classroom with innovative iQ technology that provides engaging, flexible teaching and active learning options," says Greg Estell, president of SMART Technologies.
All SMART educational displays include a one-year subscription to SMART Learning Suite software that combines lesson delivery, assessment, student collaboration and game-based learning software into one education suite.
Visitors to ISTE were able to see a beta of SMART Learning Suite Online, the company's new web-based classroom tool that supports active student participation on devices, offers ways to gauge student understanding, and will soon enable distribution of lesson material (including game-based activities and formative assessments).
The company also announced the SMART Notebook Player, a simplified platform available to download onto a smartphone or tablet at no charge, that allows teachers to easily lead interactive lessons on mobile devices and SMART Board interactive displays with iQ.
Hilch/Thinkstock
More On