IoT Plus K–12 Equals Smarter Schools [#Infographic]
From classroom climate to school bus safety, new tech devices have great potential.
The Internet of Things has often been touted as the future for all sectors — from businesses to schools and government. At some K–12 schools, IoT technology isn't just on the horizon, it's being used each and every day.
At Old Adobe Union School District in California, administrators have used a Mitsubishi BACnet controller tied into Alerton software to create a central dashboard for monitoring HVAC systems in their schools. This solution has saved them some serious cash and created big efficiencies.
"If there's a problem, it tells us, and we're able to regulate the temperatures automatically," says Benjamin Borrego, the district's director of facilities and transportation, in the EdTech feature.
In a 2016 survey from Extreme Networks, 46 percent of teachers said they believed "smart" schools powered by IoT devices would have a big impact on the future in K–12. However, the teachers surveyed also expressed concerns about planning and security.
Of the schools that have implemented IoT, most are using devices like Old Adobe Union School District to create smarter school buildings, Extreme Networks reports.
Check out the infographic below — which first appeared in our Spring 2017 issue of EdTech — for more statistics on IoT usage in K–12.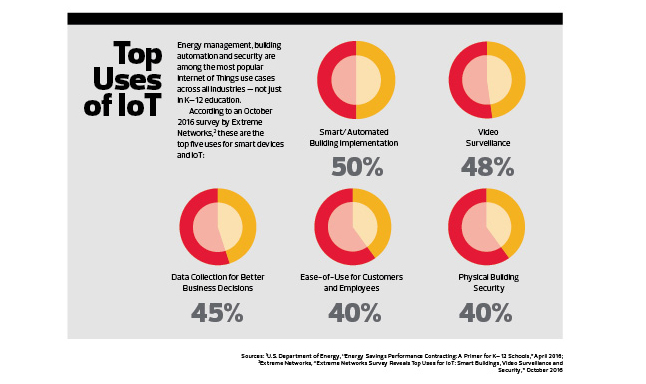 NicoElNino/Thinkstock
More On