LanSchool Review: Classroom Management Software & Collaborative Learning Environment by Lenovo
Software allows teachers to keep a keen eye on students while also collaborating with them.
As a middle school technology teacher responsible for a lab full of computers, I've often wondered what I would do without LanSchool Software by Lenovo. LanSchool, which celebrated its 30-year anniversary in September, lets me manage my entire computer lab from one intuitive interface: the LanSchool Teacher Console. Once the students' machines have been configured, each student's screen appears as a thumbnail on my screen. It's like I have eyes in the back of my head — at a glance, I can tell instantly if students are on or off task.
I can also view their active applications and last-visited websites. But that's just the beginning.
LanSchool Reinvents Screen Sharing
If a picture is worth a thousand words, then having the ability to share my screen with my class is worth a million. Whether I'm modeling a complex video edit or showing them where to find a tool in Photoshop, my students are engaged because they see my screen up close, on their own notebooks — not displayed on a screen across the room, as they would if I were using an LCD projector.
Showcasing a student's work encourages and motivates them. Our class recently held a poster design contest, and I presented the work of one of our ­students using LanSchool. When she saw her design on screen, she grinned widely, and I heard gasps of admiration from her classmates.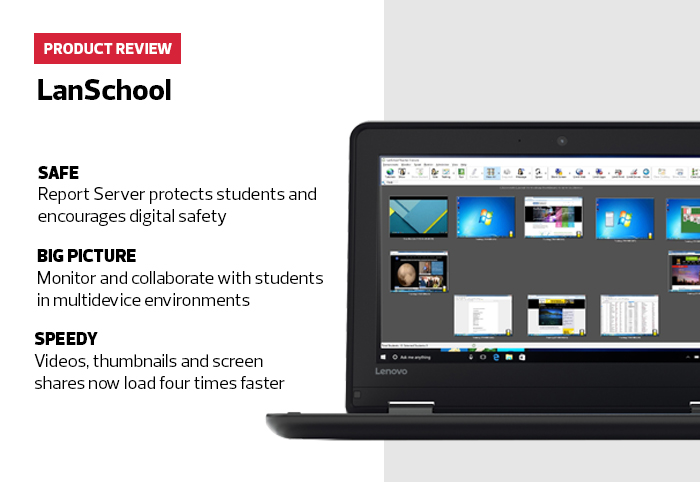 Anyone who is tasked with managing more than a few computers with LanSchool software knows the power of the blank-screen feature — a button that allows the teacher to blank one, some or all computers with a single click. While this feature alone has long been one of my personal favorites, the whole application has become an indispensable tool for me, thanks to its many enhancements over the past three decades.
LanSchool Eases Monitoring of BYOD Devices
As more schools embrace bring-your-own-device (BYOD) initiatives, one might wonder how students' individual devices are made available on the LanSchool Teacher Console. The answer? Students can voluntarily install the LanSchool Student app on their iOS, Android or ChromeOS device from their respective app stores.
Once installed, students simply point the app to the school's LanSchool Connection Service and join the channel. For students who bring their own notebooks to school, LanSchool provides a version of the LanSchool Student application that district IT staff can install for students.
Once deployed, the student's device is accessible on the Teacher Console. LanSchool also supports BYOD by making it easy for teachers to pull students into their class sessions by using class lists. Teachers can release students at the end of class so they can be pulled into the next class session by another teacher. In addition, a manual process lets students opt in by simply entering the teacher's channel.
As for student privacy, because students retain administrator privileges on their own devices, they are free to delete the LanSchool app at any time.
In addition to LanSchool's support for BYOD, the company has also committed to protecting students and encouraging digital safety. They've centralized information for IT staff and teachers by allowing them to view and enable security profiles, see hardware and software inventory, and report on technology use.
LanSchool's biggest enhancement is a central view for reporting all alerts. Using customizable lists of banned words and phrases, alerts are generated from keystrokes, and screenshots are taken and sent to the centralized server for analysis and follow-up. This is great news for schools who want to help students struggling, for example, with violence, bullying, thoughts of suicide, depression or eating disorders.
More On