Data Visibility Can Create Next-Gen Schools
Innovation and improved learning outcomes require a plan for data.
For almost three years working for the Future Ready Schools initiative, I've had the opportunity to travel from coast to coast speaking and working alongside thousands of school leaders and hundreds of district teams.
I couldn't be more impressed with the amazing educators, throughout the nation, who work diligently with kids every day. I've been able to see firsthand how school leaders are implementing exciting innovations to accelerate high-quality teaching and learning.
For example, in our schools today, teams are using adaptive technologies, redesigning learning spaces, making professional learning personal and leveraging ­competency-­based models.
It's incredibly motivating to see the most exciting schools and districts venturing away from the industrial model approaches that many of us experienced as kids. And, they're doing so for good reason: better learning outcomes.
Rethinking IT Infrastructure
With such transformation, districts have been forced to re-evaluate the functionality of their technology infrastructures from the ground up, assessing core data, instructional tools and curriculum content.
But therein lies the problem. From what I have witnessed, many school leaders are not evaluating their data management beyond the surface level. Because of a lack of training in many cases, educational teams often aren't sure how to dive deeper.
That raises questions going forward: Do these school leaders have sufficient visibility into what's happening in each classroom and program districtwide? Without complete data and visibility, can they effectively choose new practices to implement? If not, how are they making their decisions?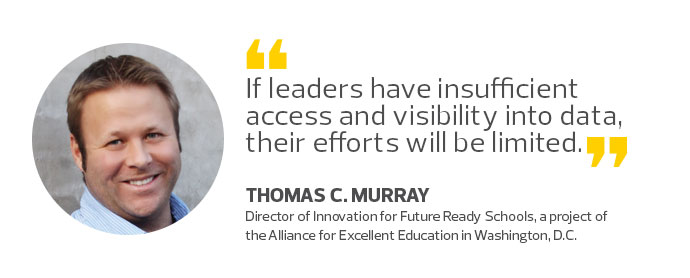 At the top of the tech stack, digital resources, including interactive web tools and apps, can be used to make learning personal (and fun!) for students. When used well, these tools can empower higher-order, authentic learning experiences across all developmental stages.
But if leaders have insufficient access and visibility into data, their efforts will be limited. These limitations likely will yield less-effective approaches further up the learning hierarchy.
Data scattered across multiple systems makes needed progress more difficult. Ultimately, it's the students who will lose out.
At its core, a district's data infrastructure should be built around its student information system. The SIS typically includes all personal, ­demographic and attendance information — and sometimes ­electronic teacher gradebooks.
An infrastructure built upon a SIS platform will help educators comprehensively understand and teach to the whole child.
Going Deeper with Education Data
As districts move to a more personalized approach for students, leaders will also need access to some form of learning management system.
An LMS is the part of the infrastructure that will let teaching teams meet the instructional needs of their students.
Teachers use LMS platforms to gather and analyze formative data from assignments and assessments.
This focus on the instructional side of learning gives teachers the ability to tap relevant data for meeting students' individual needs.
On a national scale, these struggles — along with the need to balance and ensure student privacy rights when using vast data stores — led Future Ready Schools to make "Data and Privacy" one of the seven gears of our Future Ready Framework.
My travels showed me that success is possible — if school districts build on a solid foundation of data. And they must do so, because schools need systems to teach learners today, tomorrow and for years to come.
agsandrew/Thinkstock
More On