TCEA 2017: E-Rate Experts Urge Advocacy
With a new administration, FCC funds are safe — for now.
With national policymaking at the Federal Communications Commission under new leadership, will the E-Rate program, which saw expansions under the Obama administration, be a target of budget cuts?
Sheryl Abshire, chief technology officer for Calcasieu Parish School System in Lake Charles, La., doesn't think so — at least not right away.
"There really is very little immediate impact on E-Rate," Abshire said during a session at the TCEA 2017 educational technology convention in Austin, Texas. "The current funding commitments are the same."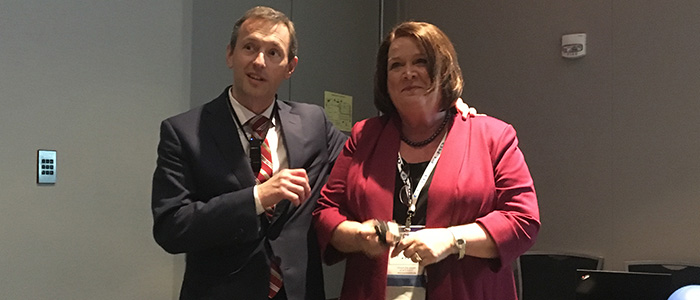 John Harrington, CEO at Funds for Learning and Sheryl Abshire, chief technology officer for Calcasieu Parish School System, tell TCEA audience how new the administration might shake up E-Rate. Photo by Jena Passut
Still, the long-term outcome is uncertain, especially with changes at the FCC, which oversees the program.
The FCC is run by a chairman and five commissioners, usually three from one political party and two from the other. Two seats are currently open. Once President Trump appoints two people to those seats, they will have to be confirmed by the Senate. Republican commissioners will then hold the majority of seats.
The new chairman, Ajit Pai, balked at the funding cap increase while he served as commissioner, but still expressed his support for broadband connectivity to schools and libraries.
"Chairman Pai has sent mixed signals so far, and that should worry us a little," Abshire said.
While he said that bridging the digital divide was a priority for the FCC, Pai also rolled back Lifeline support for bringing internet services to low-income housing.
That should be a call to action for educators who care about keeping robust broadband services in schools, Abshire said. Advocacy is important, especially because eight out of 10 schools rely on E-Rate funds, she said.
"Changes in D.C. definitely influence the FCC," Abshire said. "We shouldn't take E-Rate for granted. We need to be prepared. We need to let our publics know that they need to pay attention."
Educators should tell their legislators and the FCC about the impact E-Rate has had on their districts, she said.
It doesn't have to be an uphill battle, Abshire said. Many of President Trump's campaign goals align with the E-Rate program, including massive infrastructure investments, connecting rural America and rebuilding inner cities.
"E-Rate funds go into every congressional district in this country," she said. "Everyone gets a piece of this action."
Pay Attention to Upcoming Important E-Rate Deadline
E-Rate filers can use the same system as last year, according to Funds for Learning CEO John Harrington.
There will be three deadlines, but the most pressing deadline is Feb. 26. That's when any locations that receive the FCC's Universal Service Administrative Co.  services need to be input into the E-Rate Productivity Center.
"You need to develop an accurate picture of all school sites," Harrington says. "They built a very rigid system. If a site is set up incorrectly in the EPC, it will cause problems later. You need to fix it by Feb. 26."
EdTech is covering TCEA 2017, including articles on breakout sessions, keynotes and the pulse on social media. Keep up to date on all of our coverage by visiting our TCEA 2017 conference page.
For more on E-rate, check out our content hub!
Not sure what tech you'll need to meet your educational goals? Be sure to check out CDW•G's ​resources on E-rate.
chombosan/Thinkstock
More On