Schools Reap Benefits of Using 2-in-1 Devices
Hybrid devices, which combine the convenience, flexibility of notebooks and tablets, are taking off in schools.
Notebook computers don't support every learning model, nor do tablets. But put them together in a two-in-one device, and some school district leaders say they offer the best of both worlds.
That was certainly true for Wendy Jones, director of technology, curriculum and innovation at Leander Independent School District in Texas, who was tasked with finding the right device to fit her teachers' needs.
"We started by asking, 'What do you want kids doing in the classroom?' " Jones says. "Then we asked, 'What functions do you need the devices to do?'"
"Our science teachers needed to use probes and wanted Flash animations that the tablets didn't allow," she says. "Math teachers wanted touch screens because they wanted kids writing math, not typing it. Our social studies teachers were doing online testing through Eduphoria!, which didn't work on tablets and devices like that."
Focus groups with faculty and other stakeholders identified two-in-one devices as the way to go.
Hybrid Devices Are Ideal for the Classroom
Also known as convertibles and hybrids, two-in-one devices, which combine the typical features of a tablet and notebook in a single device, have been around for more than a decade. Windows 8 helped break them out of their niche status by providing better touch and stylus support, and Windows 10 takes that user experience to the next level.
"Windows 10 two-in-one devices are ideal for the classroom. With touch screens and Continuum [a Windows 10 feature that automatically adapts the user interface to the device at hand], they have the flexibility to be used in a number of ways that best fit what the student or teacher needs," says Peter Han, Microsoft vice president for OEM worldwide marketing. "With Microsoft Edge, users can highlight and write notes directly on websites or in documents and virtual textbooks they read for school."
Sales of two-in-one devices are on pace to top 58 million units annually by 2019, Gartner predicts, driven largely by the education market. Leander currently is rolling out the Lenovo ThinkPad Yoga 11e to all students in grades six through 12.
Convertibles Make It Easer to Consume and Create
Cary Academy in North Carolina began piloting convertibles in fall 2005 and has gone through several Toshiba and Lenovo models. It currently has about 940 Yogas deployed.
"The convertibles have been — and will continue to be — the best choice for Cary Academy for several reasons, first and foremost being the inking capability," says Karen McKenzie, ­director of technology and innovation.
"Our teachers and students use them to both consume and create content," McKenzie says. "While other products have started to advance, the convertible's built-in stylus, and software like Microsoft's OneNote, have made it the best choice for our students and faculty."
Oak Ridge Schools in Tennessee, another longtime two-in-one user, began with a faculty deployment over a decade ago.
"Familiarity with the functionality of a convertible device made it an attractive feature to have in student devices, as well," says Oak Ridge Schools' Technology Director Doug Cofer.
Convertibles also complement the district's Digital Conversion Plan, which has paperless classrooms as a goal. That's driving use of software such as Microsoft Office 365, Adobe Acrobat and Canvas learning management system by Instructure.
"With the convertible's functionality, student note taking and the tradition of handwritten markups of work can be part of the classroom practice while achieving a paperless environment," says Superintendent Bruce Borchers.
Oak Ridge also saw convertibles as part of a larger, long-term trend.
"When we initially discovered the convertible notebook a decade ago, interactive whiteboards were taking center stage in the education arena," says Holly Cross, the district's career and technical education director. "With an eye to the future, we envisioned a more collaborative workspace — one in which student-led presentations from any device, anywhere in the room, or anywhere in the world would be the mode of classroom interaction, rather than the traditional 'all eyes up front' model."
How Do 2-in-1 Devices Hold Up?
For districts that are considering migrating to convertibles, one key consideration is durability. "Seek a model line that is considered by the manufacturer to be educationally rugged," says Tracey Beckendorf-Edou, Oak Ridge's executive director of teaching and learning. But as Oak Ridge found, even a rugged device can benefit from a case.
"We had an unusually high breakage rate until we provided a case with much better padding, at less than $32 per case," Beckendorf-Edou says.
Battery life is another critical factor, especially for districts with older buildings, which often lack enough outlets and other electrical infrastructure to charge a dozen or more devices in each classroom.
Pilots are an ideal time to test battery life. A device that delivers the best user experience might not be the most power-efficient, so be aware of trade-offs.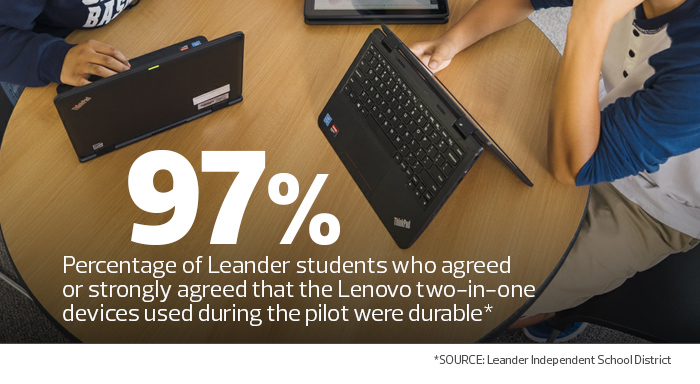 In its pilot, Leander asked students, faculty and parents how well their batteries were lasting. More than 90 percent reported that the batteries lasted all day, an experience that has carried through to the initial deployment.
"It really depends on how students use them," says Sarah Martinez, senior director of IT decision support. "We're seeing them last throughout the entire day, but if students use them to stream music or use them during lunch, those tend to lose their battery more quickly than others."
Respect the Lessons Learned from Past Tech Deployments
What helps ensure that a new technology is successful?
As Leander Independent School District in Texas learned, sometimes it's supporting legacy technologies.
The district started issuing its faculty the Lenovo Yoga S1 to replace aging desktops, but some teachers missed having a large screen and asked for their old monitors back. Those displays are connected via a docking station, which also supports something else faculty missed: a full-size keyboard, including the numeric keypad that's handy for tasks such as entering grades.
The lesson for other districts considering convertibles? Don't force faculty to give up what works, including the ability to use CDs and DVDs.
"I would plan for teacher pushback on screen size and keyboard," says Sarah Martinez, Leander ISD's senior director of IT decision support.
Inti St. Clair