Rise Above Your Silo Mentality with Technology Implementation
K–12 district leaders must learn to work across departments for the good of educating students.
In two and a half years as an education strategist at CDW•G, I've logged more than 75,000 miles in air travel, presented at 35 education technology conferences and worked with more than 250 school districts.
If you follow me on Twitter, watch me present, or read my articles, then you know I've talked at length about the need for professional development, and I regularly advocate for publishing your students' work online. These topics are still high on the priority list of things we need to address in education. However, upon much reflection from my experiences and recent conversations with several schools, I've finally put my finger on one of the biggest barriers schools encounter when it comes to technology initiatives.
It was evident from the early part of my career when I worked in the schools. It also is one of the most pressing issues holding back schools from fully adopting technology. To help explain this concept, I've created the following visual: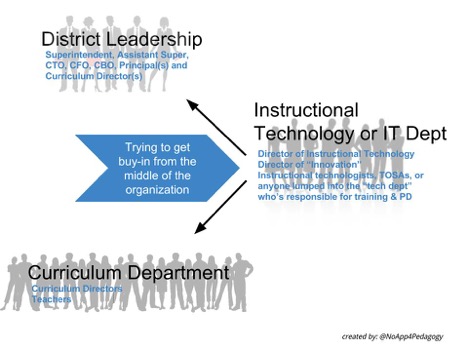 Let me explain. One of my primary responsibilities as an education strategist is to work with administrative, curriculum, and IT departments when they are purchasing technology from CDW•G. We want to ensure that the district's common goals are identified and pursued responsibly, cohesively and strategically. I usually meet the instructional technology or IT department first because our account managers have developed strong relationships with them.
The conversation we then have almost always speaks to the difficulty the IT department experiences to get buy-in from administrators and teachers. They also express frustration when they aren't invited to help with curriculum decisions, or when administrators allocate time for professional development throughout the school year and don't include them.
The Problems of Educational Silo Mentality
There's a term in the business world used to explain what's happening here. It's called the Silo Mentality and it's defined by the Business Dictionary "as a mindset present when certain departments or sectors do not wish to share information with others in the same company."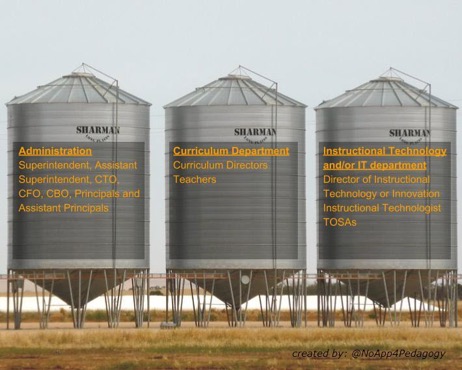 These silos can lead to misaligned priorities, lack of information flow, reduced morale and disjointed decision making. It may ultimately contribute to the demise of a productive district culture. In my experience working with hundreds of schools across the U.S., the instructional technology or IT department has great insight and excellent ideas for bridging the gap from technology to education, but they feel constrained because they can't do anything about it.
Patrick Lencioni wrote in his book Silos, Politics and Turf Wars that "Silos — and the turf wars they enable — devastate organizations. They waste resources, kill productivity and jeopardize the achievement of goals."
Overcoming the Barriers to Collaboration
It's logical to think I would suggest that administration teams focus on removing the silos as they exist in districts today. However, silos are quite important in organizations for creating a structure of accountability, the delegation of responsibility, and allowing for expertise in certain fields. While it's understandable that each head of a silo has different priorities, every single person's job in a school district is about educating students. Instead, I believe district leaders must rise above the silo mentality and implement strategies for effectively working across departments.
Learning Through Technology is Key
Tom Murray, who serves as the director of innovation for Future Ready Schools, a project of the Alliance for Excellent Education, is known for saying, "When implementing one-to-one [programs], we must focus on the right one in the one-to-one, and it's not the device."
Katie Martin, director of professional learning at the University of San Diego, concurs. "Send the message that learning is the priority, and through technology we can access information, connect with people, and create new knowledge and ideas," she says. The goal is to modernize education and empower learners to use devices to create, solve problems and answer their own questions — not simply to put a device into the hands of every student.
It's important to remember that equitable access to technology is not the same as equitable use of technology.
For example:
Teacher A has students blogging about current events and getting feedback from peers outside of the classroom, screencasting themselves solving math equations, Skyping with classrooms around the world to examine cultural diversity, etc.
Teacher B has assigned readings from the new digital textbook, scanned worksheets and assigned them as homework in Google Classroom, uses Kahoot to give multiple choice tests, video records lectures, etc.
It's not a race to get to the seemingly magic ratio of one device to one student. In short, the IT and curriculum departments can work together to create a unified vision of the conditions needed for teaching and learning. They can roll them out in waves, fail on a small scale, reflect and gather data (making informed decisions based on the results), and invest in training and professional learning that's differentiated. That is the surest path to an effective technology implementation.
If the goal of your district is to give everyone a device, explain to your community members why doing it all at once really is not equitable, but can be accomplished through a thoughtful, measured and strategic approach.
The most successful districts I've worked with around the U.S. started by establishing a unified vision and made working across departmental silos a top priority. They made certain everyone has a seat at the table and understands each other's perspectives.
A leadership team driven toward a unified vision creates trust, empowers the masses, and changes the mentality from "my department" to "our district" and keeps the focus on what matters most … kids.
How to Learn Even More
In an effort to support the schools we work with, I'll host a series of free leadership summits in California from mid-October to mid-November. A team of two to five leaders — superintendents, assistant superintendents, directors and principals —would benefit from attending and collaborating.   At each event, attendees will: 
Learn about the importance of using a systematic planning process to align necessary technologies with instructional goals for supporting teaching and learning • Discover how to develop a robust structure for digital learning visioning, planning, and implementation focused on personalized student learning
Hear how other districts facilitated change by implementing the research-based Future Ready Framework
Discuss how to create a systemic digital learning plan that emphasizes collaborative leadership and creating an innovative school culture before purchasing the next round of technology. Gain valuable insight from a national perspective, led by CDW•G's Education Strategist and the Google Apps for Education Team
This article is part of the "Connect IT: Bridging the Gap Between Education and Technology" series. Please join the discussion on Twitter by using the #ConnectIT hashtag.
Jetta Productions/ThinkStock