ISTE 2016: Exciting Gadgets from the Expo Floor
Technology vendors packed the exhibit hall, showing off plenty of tools and toys that teachers will love.
For the 16,000 educators attending the ISTE 2016 conference, stepping into the exhibit hall can feel a lot like walking into a giant toy store.
Technology vendors from across the globe line the aisles with user-controlled robots, 3D printers, interactive touch screens and just about anything a tech-minded teacher could hope to see.
Check out a few of our favorite gadgets from this year's expo, and then head to the ISTE event page for more coverage from the conference.
Microsoft's Maker Space
Designed around the ideas of accessibility and affordability, Microsoft's Maker Space project encourages students to try their hand at making, using inexpensive and easy-to-find materials such as paper plates, gumdrops and batteries.
At Microsoft's ISTE 2016 demo booth, conference attendees were asked to imagine they'd just landed on a new, earthquake-prone planet and needed to build a sturdy settlement from scratch. They constructed houses from paper, wind turbines from spoons and earthquake seismographs from plastic cups. A monitor mounted next to the settlement showed real-time seismic data via an Excel spreadsheet linked to the teacher-built device.
The Maker Space project comes with a STEM resources kit for teachers. The kit is accessible to anyone with a Microsoft account and features lesson plans, materials lists and standards alignment information.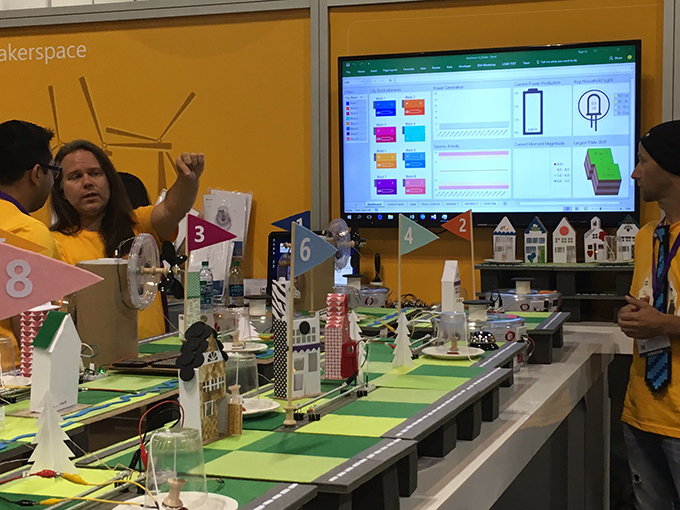 Google Expeditions
Introduced in beta form last November and released to the masses this week, Google Expeditions brings the wider world into the classroom. Students slip on a pair of headphones and lift a Google Cardboard virtual reality device to their face, and they're instantly transported to the Museum of Natural History, the Palace of Versailles or any of about 200 other virtual destinations.
According to Google, the immersive content features panoramic views of each destination, created using 360-degree and 3D images. Voice-overs also indicate points of interest and details about the scene to help teachers integrate the technology into their curricula.
Although Expeditions is currently limited to Android devices, a Google representative at ISTE said the iOS version will arrive "soon."
"And I'm team lead on the iOs project, so my 'soon' means something," he added.
VEX IQ
Created specifically for STEM education, the VEX IQ platform lets students build their very own animated robots using pieces that snap together without the use of tools. At the ISTE booth, attendees navigated their robots around small arenas, where they built block structures or tossed balls at an opponent.
Although students and teachers can easily get wrapped up in the fun of building and driving their own robots, VEX IQ keeps the focus on education by offering course curricula created with help from the REC Foundation.
"The curriculum addresses torque, 3D modeling and all the educational elements of it, so it isn't just playing with robots," said the foundation's Corey McCoy.
More On