K-12 Schools Put Campus Safety First with Latest Security Technology
Investments in high-tech security tools provide eyes and ears in school hallways.
Before December 2012, the Manasquan Public School District in New Jersey had slowly been building up its security capabilities, taking several years to install 40 IP-based security cameras across its two schools and using a simple back-end server to store video surveillance footage.
Then came the horrifying shooting attack on Sandy Hook Elementary School in Newtown, Conn., which left 20 young children and six adults dead. In the wake of the shooting, Manasquan district officials quickly changed the pace and intensity of their security efforts.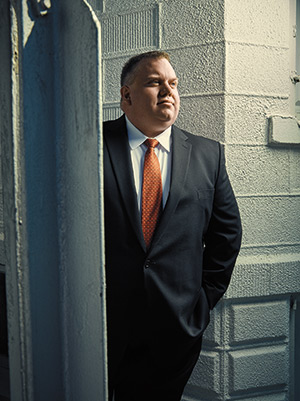 Jesse Place, technology director for Manasquan Public School District in New Jersey, says a new infrastructure gave him an immediate opportunity to populate the campus with more and better security cameras.
"It brought the reality of what could happen fully into focus and has been at the forefront of our minds ever since," says Jesse Place, technology director for the district, which serves 1,650 K–12 students located in two schools near the Jersey Shore.
District officials promptly hired a former police officer, Tim Clayton, as its security coordinator and tasked him with developing a districtwide security policy plan. Meanwhile, Place began investing in more and better technology to fill in any gaps in the district's security posture.
"What we realized was that we really had a lot of holes in our coverage and abilities," says Place. "We couldn't follow people throughout the building. We didn't have live monitoring. Our external cameras could only look in certain directions. And we didn't really know who exactly was coming into the buildings."
Tech Fills the Gaps in Today's Campus Security
The IT team had already been in the process of rewiring both schools and upgrading its network in 2012 for largely academic and administrative purposes, but the new infrastructure also gave Place an immediate opportunity to populate the campus with more and better security cameras.
Over the following three years, he installed another 70 high-definition, zoom-capable cameras made by Axis Communications, along with a Nimble Storage storage area network to hold video surveillance feeds from all cameras for an extended period of time. Now, large-screen, flat-panel TVs situated in key locations allow the superintendent, principals and security officers to view rotating camera angles or pull up any individual camera at any time to get a real-time sense of what's going on at either school.
The system's remote access capability also allows school personnel — and the local police — to log in to the system and view footage at any time. A visitor management system requires everyone who comes into either school to undergo a sex offender background check. The police also provided the district with a stand-alone critical identification notification system, which is essentially a panic button that can be kept handy on a desk or worn on a lanyard. At the push of that button, teachers and other staff can send an emergency transmission directly to police car radios, bypassing the need to get to a phone to dial 911 and explain the situation to a dispatcher.
"It does not require any other human interaction," says Place, noting that the system will be integrated with a planned Voice over IP (VoIP) phone system and an IP-based door access and monitoring system for broader alerting and automatic lockdown capability.
Although there have been no major incidents over the past several years, the high-tech system that Manasquan has invested in has provided a number of security and safety benefits.
"We're much better prepared to handle worst-case scenarios, but what we have in place also gives us new advantages for everyday uses," says Clayton. "If a student tries to walk out and skip school or props a door open to let someone in, we'll know that immediately."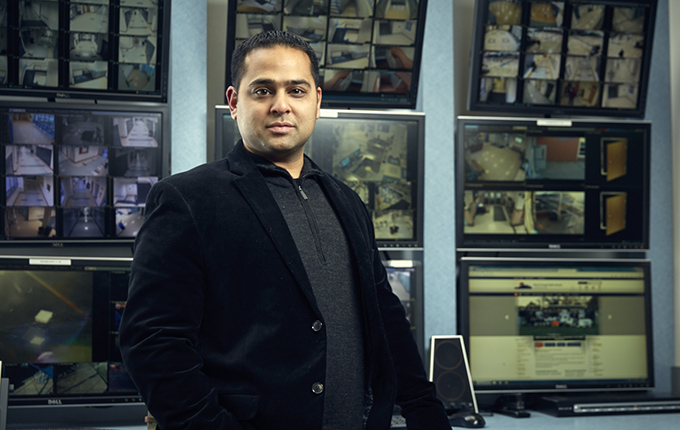 Rishi Ramchandani, West Orange Public School District's network, surveillance and VoIP coordinator. Photo by Matthew Furman.
IT Experts Learn to Be Proactive
West Orange Public Schools in the northern part of New Jersey was also in the midst of a massive high-tech security implementation in 2013, says Fil Santiago, district director of technology and staff development. What had jump-started their efforts, however, was not just alarm over the prospect of a school shooting but a proactive concern about how best to secure the district's only high school, which had recently added a second building and now had 40 entry and exit points.
"There is a lot of staff and student movement going back and forth from one building to another," says Santiago. "And so the conversation at that point became, how do we implement the best possible security initiative with a finite amount of money that will allow us to better control the flow of traffic and keep everyone safe?"
The effort began in 2007 when the IT team installed 80 analog cameras at West Orange High School and another 10 at nearby Edison Middle School, along with door access controls. "We started very small with two separate solutions to handle the surveillance and the physical security, but we couldn't expand and it was pretty costly," says Santiago.
After the district modernized its infrastructure and increased its network capacity, the IT team took steps to transition to a single security system. By 2013, the team had migrated its video surveillance and access control capabilities to a Genetec unified security platform and started broadening its high-tech security initiative to include the district's 10 other schools, as well as its administrative building and bus garage.
"We really wanted hardware and software that was reliable, that was interoperable with other systems, so that we could centralize everything, and we needed it to be scalable," says Rishi Ramchandani, who early on was promoted from IT technician to serve as the district's network, surveillance and VoIP coordinator. "And the system had to be easy to use, not just from a network management standpoint but also for end users like security guards and administrators."
The new platform allowed the district to begin adding digital IP-based Axis cameras run by Genetec video management software and phase out its collection of analog cameras over time as funding becomes available. The district now has a total of 350 cameras, 70 percent of which are high definition, across the district.
"We can't put a teacher in every corner of the building to monitor things, so I basically see every camera as an extra set of eyes that provides us with information that we can act on in real time," Santiago says.
The IT and security teams also have leveraged their new platform to add other supplementary capabilities. Visitor management kiosks at two major entry points of the high school, for example, ensure that visitors check in, pass appropriate background checks and are tracked. High school students must use swipe cards to enter and exit buildings. And detection and alarm technologies, such as a flame sensor in the bathrooms, alert staff to issues before they become a problem.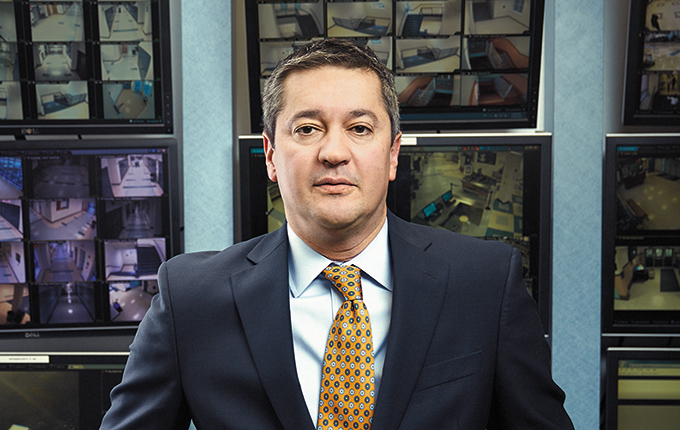 Fil Santiago, West Orange Public School District's director of technology and staff development. Photo by Matthew Furman.
Developing an Integrated Defense at Schools
Shortly after the Sandy Hook shooting, officials at the Shawnee Mission School District, which educates 27,000 students in 44 buildings in and around Overland Park, Kan., took unprecedented action: They reached out to the recently retired local chief of police, John Douglass, and asked him to serve as their new director of safety and security.
Douglass designed an ambitious goal for the district. "The idea was to make our schools as safe from all perils as possible," he states. "That wasn't just active shooters, but any threat, including narcotics, gangs, fights, weapons and even natural disasters. The interior of the school should be a safety zone where our children feel secure and able to focus on their education."
To make his vision a reality, Douglass worked closely with Drew Lane, the district's director of information and communication technologies, to invest $20 million in the latest IT-enabled technologies and build what he refers to as his "integrated school defense system."
Like other schools, Shawnee Mission's solution relies heavily on IP-based, Cisco 6000-series digital cameras and a visitor management system to know exactly what's going on throughout the different campuses. Each high school is outfitted with more than 120 cameras, each middle school with 40 to 50, and each elementary school with 25 to 30.
Lane says the biggest challenge was making sure he had enough IP ports and switches to handle so many cameras. He also decided to set up a separate virtual local area network so video surveillance footage wasn't intermingled with school and student data.
Key to the system is the ability for security officers and administrators to remotely pull up any camera view from any school location. To take advantage of this capability, Douglass put a regional security operations center at each high school that allows school resource officers to also keep close tabs on each of the middle and elementary schools that feed into that particular high school. "They can pull up maps of the building and see if any doors are open," explains Lane. "They can essentially be in many places at once, so it's very efficient from a security perspective."
The effort to boost security at Shawnee Mission is ongoing. "We'll be constantly looking for the next best technology or method to keep this place safe," Douglass says.
Matthew Furman
More On