IT Leaders Discover New Focus After Data Center Renovation
District IT leaders shed light on the pain and perks of data center optimization and relocation.
In 2009, the West Des Moines Community Schools' data center faced increasingly serious power and cooling problems. "Our data center was designed in the early 1990s, before anyone had a concept of what a data center should be," says Scott Crothers, network engineer for the Iowa school district.
Some 75 physical and virtual servers were protected by scores of individual uninterruptible power supplies (UPSs) of varying capacity. Power was often insufficient, and a small cooling unit couldn't keep up with expansion. "The room temperature often rose to 95 degrees," Crothers says.
The moment of truth came when Crothers overloaded a circuit while installing a new server and blew out two other servers in the rack. A few days later, he came to work to find a melted extension cord.
Like West Des Moines Community Schools, school districts that have equipped classrooms and students with mobile devices, wireless access, interactive whiteboards and other emerging technologies may be pushing data centers to their limits.
"Many district data centers were never designed for today's density level, with more and more applications, virtual servers, blades, storage and routers stuffed into a single rack," says Darin Stahl, principal consulting analyst for Info-Tech Research Group. "Power and cooling have become some of the biggest issues they face."
As schools rely on safety systems, email and other critical applications, 24/7 operation has also become a necessity. Eventually, K–12 IT managers discover that they need a bigger data center and a more robust design. According to the Uptime Institute's 2013 Data Center Industry Survey, 70 percent of data center operators worldwide have significantly renovated their data centers — or built a new one — in the past five years.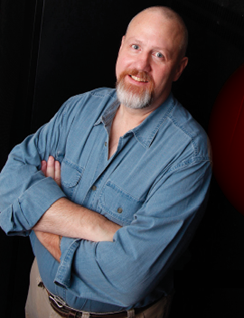 Photo: Paul S. Howell
By opting for a cold-aisle design, Scott Crothers says West Des Moines Community Schools can keep temperatures a little warmer in the data center.
Power Play
Although the building housing the West Des Moines Community Schools data center was slated for eventual renovation, Crothers and Technology Director Brian Abeling convinced the district's CFO to fund the data center renovation sooner. They brought in several engineering firms, architects, vendors and an electrical engineer to help with the new design and plan for future expansion.
For cooling, Crothers chose seven Panduit cabinet units with back chimneys that vented into the plenum in the suspended ceiling. "With this cold-aisle design, we could keep the room a little warmer than the typical 68 degrees," he explains. Crothers also replaced the small air conditioner with two central, 15-ton Liebert air-conditioning units, and deployed a single 40kVa Eaton FS-9390 UPS to replace the smaller units and cabling.
71°F to 75°F
Temperature range for roughly half of data centers
SOURCE: Uptime Institute, "2013 Data Center Industry Survey," August 2013
West Des Moines Community Schools' IT staff installed the Eaton UPS on a dedicated circuit with a power distribution unit and three circuits for each cabinet, monitored for volts and amps. "Now, when I'm setting up a new server, I have the exact information I need to avoid overloading a circuit," says Crothers.
The biggest challenge was keeping everything up and running during renovation. "We had to move the entire data center into my office temporarily and then move it all back," Crothers says.
West Des Moines Community Schools planned both moves in detail months in advance, precisely timing every step and labeling every cable. The IT department also made sure the entire staff had multiple warnings and notifications. During the process, servers were reinstalled carefully to properly distribute power loads across racks and cabinets.
When subsequent summer thunderstorms knocked out power for almost 45 minutes, there were no hiccups, thanks to the new Eaton UPS. Installed in 2010, the generator kicked in in less than five seconds.
Now the West Des Moines district has better uptime, peace of mind and room for expansion. "We know we can provide users with the reliability they need," says Crothers.
Moving Day
For Newton County Schools, the breaking point came when a citywide power outage forced the data center to rely on just one of the room's three air-conditioning units and a single backup generator.
"The original data center was built in 2001 without a raised floor or dedicated air-conditioning system," says Gary Shattuck, director of technology and media services for the Georgia school district. "The temperature in the data center reached 118 degrees."
By 2011, the room was also filled to the brim with servers and other equipment, despite a significant virtualization initiative. In 2012, the IT department received permission to build a data center that was 15 times larger than the current footprint.
Located in the basement of the district's career academy, the new data center — including the walls, raised steel flooring, dedicated air conditioning, an emergency backup generator, a room-size UPS, waterless fire suppression system, network operations center and other state-of-the-art features — took about a year to build. The district walled off and left unfinished half of the new space to accommodate long-term growth.
The server and storage migration took about six weeks. "We would come in after work hours and on weekends, load up some servers, take them to the new center and get them up and running before anyone noticed," Shattuck says.
The district completed the migration by last November. Its old data center now houses backup storage with real-time replication and will eventually have a redundant Internet connection. "We no longer have to worry about storms, and we can take on new projects that were delayed for months for lack of space," Shattuck says.
Redundancy, Please
The original data center for the Northside Independent School District in Texas sat in an old warehouse, in a location remote enough to lack redundant communications. "If just one telephone pole fell down, it would kill every circuit," says Ernest Vasquez, director of integrated infrastructure services for NISD. "We needed more space in a more developed business or industrial area."
The district IT department ­approached the school board, which approved the acquisition and issued a bond in part to build a new data center. Today, NISD's new Kelly Smith Technology Center sits in an industrial park with redundant power and communication.
NISD began data center construction in early 2012 and completed it in June 2013. The new space uses cold aisles with chimneys that attach to plenums in the ceiling, plus four computer room air-conditioning units, two UPSs, a diesel generator and dry-pipe fire suppression.
As with Newton County Schools, only half of the new data center space was developed, leaving 3,000 square feet earmarked for expansion. "We had to plan carefully and consult with all the affected departments to figure out when to move core services such as email and grading applications," says Anthony Edwards, data center manager.
To simplify the move, the IT department virtualized several servers and implemented a new Cisco Unified Computing System blade system and storage to move data over the wire. "We felt this was the opportunity to change and upgrade the way we were doing things," Edwards says. The tape library was also discarded in favor of disk storage and snapshots for backup.
NISD began the migration with applications that were not heavily used, saving critical systems such as student information, payroll and the data warehouse for last.
The new data center will now support a districtwide virtualization initiative, along with nearly 20 other projects that had to wait for the renovation.
Paul S. Howell