Q&A: Digital Storytelling with Shelly Sanchez Terrell
"My hope is to make citizenship and compassion go viral," Terrell says.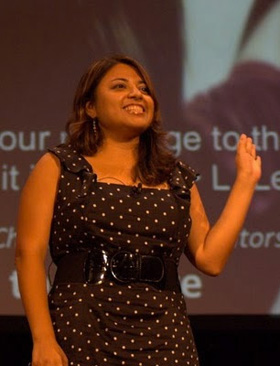 Even the best teachers sometimes need help with moving forward and achieving their goals.
Educator Shelly Sanchez Terrell has written the book on motivating teachers. The 30 Goals Challenge for Teachers walks educators through the process of setting and achieving short- and long-term aims in the classroom and beyond. The website supporting the book brings together a community of teachers who share tips on how they worked through their own troubles to reach success.
Sanchez also keeps an active blog on the changing nature of technology and education — Teacher Reboot Camp — which was recently named one of 2014's EdTech: Focus on K–12 "50 Must-Read K–12 IT Blogs."
We spoke with Terrell recently about how the growing online community of educators has helped shape her own journey.
EDTECH: K–12 is a huge arena. What sets your blog apart from others?
TERRELL: You're right. I learn from so many inspiring teachers who share daily, and I share what they teach me. My blog is part of this incredible culture of sharing. My blog takes teachers on a learning journey where they explore ways to get students to play, brainstorm, problem-solve, imagine, collaborate and create with free web tools and mobile apps.
Each post also ends with an achievable challenge because I believe we should try to put into practice what we learn. I've worked with teachers and students in over 20 countries. I share our experiences and what these experiences teach me. In my blog, it's about a community of educators worldwide that has been developing since 2010. We welcome all teachers to join our free professional development events, ranging from online conferences to challenging each other with small goals.
EDTECH: What made you want to start writing regularly?
TERRELL: Honestly, Twitter! I began following teachers on Twitter and reading their blogs. I was so excited by what I was learning. I felt so behind, and I needed a place to collect and organize my thoughts and plans. I search my blog often to visit ideas and tools I wrote about in the past. I also social bookmark, but my blog captures moments when I first learned or battled with an idea and how I felt at that moment. It also is a record of free resources I came across that inspired me.
EDTECH: Your blog posts often focus on mobile learning and using web tools in the classroom. Could you talk about your interest in that specialty?
TERRELL: Ever LOLed? Taken a selfie? Used a hashtag? Liked someone's status? Our language, rituals, learning, communication, values and routines are influenced by digital learners. Unfortunately, schools have prevented and discouraged teachers from helping shape these new values and norms. As a result, millions are impacted by cyberbullying, sexting, etc.
I try to inspire teachers to get their students to make a meaningful impact with digital devices and web tools. We all have an audience, so we need to inspire our learners to make each act and message meaningful. I focus on digital storytelling, video creation, digital icebreakers, collaborative bookmarking and curation, and playful digital learning. I show teachers how to motivate their students with simple missions and create digital playgrounds. My hope is to make citizenship and compassion go viral.
EDTECH: It was recently revealed that Twitter is dominated by education personalities. What is it about the platform that you think draws educators? How have you grown your audience there?
TERRELL: It's all about relationships. I've never tried to gain followers. I feel very blessed that I get to connect with educators worldwide and they feel I helped them in some way. I try to focus on sharing what moves me or makes me think, even if I don't agree. I try to share what I believe is great learning and practice. I also collaborate with the teachers I meet on several free online projects. I haven't grown an audience. I've shared, supported, collaborated and created with others, and more and more choose to do the same with me. I believe these are grassroots movements that are just gaining momentum and reach.
Read more of Terrell's thoughts on Twitter, where she posts as @ShellTerrell, or on her blog, Teacher Reboot Camp.
Moodboard/ThinkStock
More On